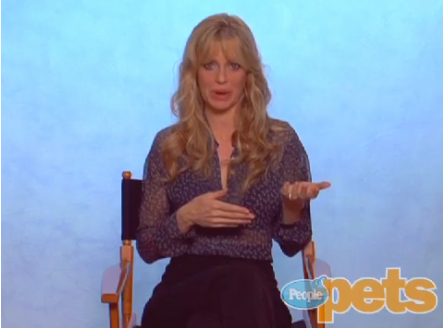 Kristin Bauer van Straten (Pamela Sywnford De Beaufort) is a well known animal lover and advocate. Recently, she sat down with PeoplePets.com to talk about her animals. Asher, her rottweiler was the only dog not to get adopted after an adoption event for the Best Friends animal rescue organization. Unable to bear putting him in the the truck to send him back, she just happened to have the $37 adoption fee in her dog treat bag.
Asher's best friend is Ozmand and Kristin's baby.
The most recent additions to Kristin's and husband Abri van Straten's  family include two ginger cat siblings named Samuel and Abigail who she saw while walking through a rescue. Abigail had a few health obstacles to overcome initially but is now the queen cat around the house. Even the dogs don't mess with her!
"They're my children"
To learn more about how Kristin got her animals, click here to watch People Pets' interview.
Source: PeoplePets.com- "True Blood's Kristin Bauer Rescues Animals in Twos"
Image Credit: PeoplePets.com