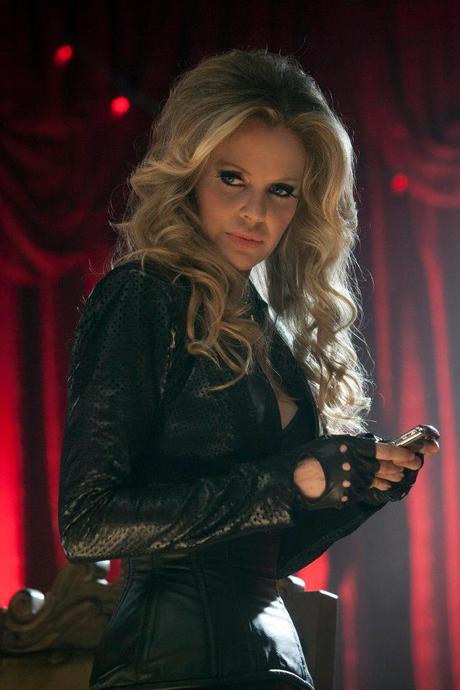 The website More recently attempted to interrograte Kristin Bauer van Straten (Pamela Sywnford de Beaufort) regarding season 5.  However, the notoriously tight-lipped actress gave little about what her upcoming season will entail choosing instead to provide a few hints. She also discussed Pam's fantastic one-liners, ways she stays in shape, and the many guest starring roles she's had over the years including Once Upon a Time's Maleficient.
While she couldn't say very much about her character's turning, Kristin told More interviewer Leslie Van Buskirk that the writing of it was perfect:
"Well….i think I'm allowed to say…(Pause) almost nothing! (laughs) But we do finally see it and I can tell you from my experience—first from reading it and then from seeing it—that the writing was soooo perfect. It really explains their relationship and it finally explains Pam. You know, up until now, we really haven't known much about her, she's been a mystery. She's pretty harsh but she also has loyalty and huge integrity."
The infamous flashback will also help explain why it was difficult for Pam when she felt like Eric (Alexander Skarsgård) put another woman, Sookie (Anna Paquin), in front of her.
Pam also has some great one-liners which Kristin attibutes to the writers on the show and says they are some of the best that she has worked with anywhere. They also don't get enough credit she feels but it is because of those words that she likes coming to work, saying them, and having the audience hear them.
When they moved onto the subject of Pam's wardrobe, Kristin revealed that season 5 has helped her learn why Pam places so much emphasis on dressing and looking well. It stems from being born and raised in a different time, something which this year's wardrobe pays homage to. In fact there's one costume that the show comes back to again and again. Kristin of course cannot discuss it but says when the audience sees it everything will make sense. But stepping into Pam's wardrobe means lots of working out for the actress who plays her:
"True Blood" is adding years to my life because I work out more, especially after wardrobe fittings! (laughs) I eat a ton of fresh salads, and I really look and think about what I'm eating. And I won't have the whole dessert anymore. I do cardio-barre method a few times a week, but mostly I hike and walk with the dogs. I feel better and my dogs are happier because they get longer walks. It's great for all of us."
Kristin also tries to maintain a vegan diet when she's at home in Los Angeles and a vegetarian one when she travels. This means drinking lots of protein shakes, having tofu and organic soy and trying to avoid white foods like breads and sugar. But just because she watches what she eats doesn't mean she won't treat herself every once and a while:
"I had a photo shoot recently where I had to wear swim suits, so I was really good for a couple of weeks leading up to the shoot. But the next day, I got up early and met a friend for pancakes and vegan bacon. Ilove breakfast food—waffles, pancakes, muffins…I love all those things, even more than any kind of dessert."
On the subject of Kristin's guest starring role on Once Upon a Time, the actress is hopeful that she'll return especially after all of the purple fog in the season finale:
"…I had such a good time going to that set to do that. Yeah, I hope she comes back, too. You know, the finale leads me to believe it could happen—it just seems like the purple smoke or fog rolled into town and the curse was lifted. So maybe Maleficent wasn't bad after all, who knows? But I'd love to play her again."
Kristin has also had a variety of other guest-starring roles on series such as CSI and Secret Life of the American Teenager. These kinds of roles came after many due paying jobs she had before acting; being a maid, nanny, and failed bartender just to name a few. She attributes the ability to play many different roles to being a character actor:
"Yeah, it has been fantastic and amazing. I guess I'm character actor—I can play a preacher's wife on "The Secret Life of the American Teenager" and then a vampire on "True Blood." I'm a chameleon. But it's not just as an actor, it's something I've had my whole life. Like, I can run into a guy I used to date and have to re-introduce myself! Oh, that sounds bad (laughs) What I mean is that, physically, I'm a bit of blank canvas. And with acting, it's hair and makeup—it drastically changes my appearance. A friend once told me that I'm a shape shifter, which is a great thing for an actor."
Apparently, Kristin can change enough that when she runs into Jerry Seinfeld, who she acted against as "Man Hands" every few years she has to introduce herself as her character because the hands were actually played by a mans and therefore not hers.
So what do you think of this interview with Kristin? Did anything surprise you about what she said? Let us know in the comments!
Source: More.com- "'True Blood' star Kristin Bauer van Straten Talks Season 5″
Image Credit: HBO, Inc.