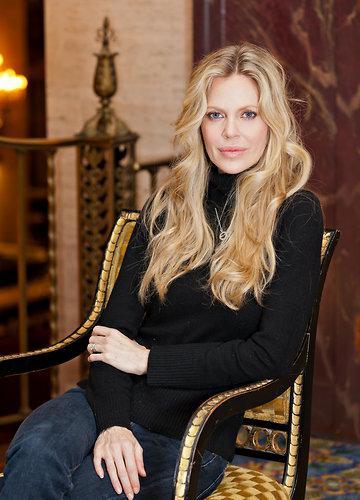 When she's not acting, Kristin Bauer van Straten (Pamela de Beaufort) spends a lot of time advocating for animals. One of issues she constantly raises awareness for is animal testing in the cosmetics industry. Today New York Times writer Abby Elin posted a piece on the topic and featured Kristin's thoughts on it, including her annual ritual when she returns to her home in Wisconsin.
According to the article, Kristin writes "Tested on Animals" in black marker on the products whose manufacturers still engage in the practice today. It is one that Bauer, a spokeswoman for Physicians for Responsible Medicine, says is unnecessary:
"It's so simple for me: we shouldn't be torturing another living being for mascara when we don't have to," said Ms. Bauer, a vegetarian who lives in Los Angeles with her husband, Abri van Straten, two dogs and two cats. "It seems so odd when you think of shaving cream and a bunny, or mascara and a guinea pig. We're not saving a life."

As a spokeswoman for the Physicians Committee for Responsible Medicine, a nonprofit health organization whose goals include promoting animal-free testing, Ms. Bauer has a mission: to get more people to use makeup and toiletries that have not been tested on rabbits, guinea pigs, mice or rats. And while "cruelty-free" has been a basic mantra of certain earthy lines like Aveda, the Body Shop and Kiss My Face, for decades, it's increasingly been taken up by new and glamorous proponents.
To learn more about cosmetics testing on animals including what companies don't test on animals, please click here.
Source: New York Times.com- "Leaving Animal  Testing Out of the Cosmetics Picture"
Image Credit: Peter Wynn Thompson, New York Times
Featured Image Credit: Lionel Deluy