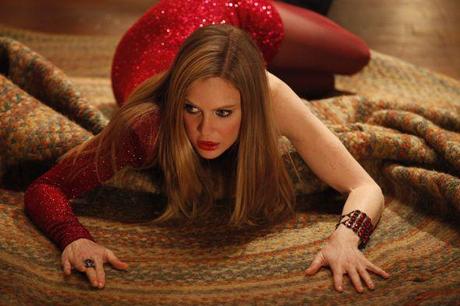 There are three things that True Blood fans worldwide can agree on; waiting sucks, season 4 can't come fast enough, and Pamela Swynford de Beaufort is bad ass.  Recently Pam's portrayer, the wonderfully awesome Kristin Bauer van Straten sat down with Phoenix New Time blog Jackalope Ranch ahead of her appearence at Phoenix Comic Con which begins today to discuss what season 4 may find Pam up to, the possibility of being married to Eric (Alexander Skarsgård) for a thousand years, and what she thinks Pam was in her human life.
With season 4 fast approaching any hopes of Kristin giving up any spoilery details were quickly dashed when she told Jackalope Ranch's Benjamin Leatherman that witches, werewolves, and vampires would be sent after her if she let any of the goods slip.  She did tell him that they were currently shooting episode 10, ""The World's A Mess, It's In My Kiss" After that reveal, the conversation quickly turned to what we would be seeing from Pam this year.
Kristin has said in numerous other interviews that she has not read the Southern Vampire Mystery books beyond the first one because of the divergence between the show and the book for her character.  She says that in the beginning, Pam had these wonderfully funny lines that had this dry delivery and were completely unapologetic. But last season the audience saw Pam in some pretty dire straights which revealed just how much she cares about Eric. Speaking of the tall one, what kind of relationship do Pam and Eric have? Is it former lovers, father and daughter, or co-workers. According  to Kristin it's a little bit of everything:
"…I think it's such an interesting complicated relationship between a vampire and a maker because there's usually a sexual relationship at some point and so there's a romantic one and then there's definitely a progeny relationship a father/daughter relationship. And then they're also coworkers and coadvisers to each other so it's really at any given time the scene calls on a different of that relationship because you would never have in a human relationship a romantic relationship and a father/daughter relationship. But for vampires it works because you know each other over thousands of years. Can you imagine a thousand year marriage? There's going to be some days when you can't stand each other."
When asked about Eric's relationship with Sookie (Anna Paquin) and whether there will be some sort of love triangle involving the two of them and Pam, Kristin admitted that Pam seemed to have a thing for Sookie. But because Eric has a deeper connection to her, Pam has to respect that. Or at least pretend to. Fans may recall that Eric's last interest, Yvetta (Natasha Alum) had a little fling with Pam in season 3…on Eric's desk no less. So it would seem Pam is a bit rebellious.
Playing a vampire on the show, Kristin has to deal with a lot of blood on set. She says that there are six different kinds made of corn syrup and food coloring. But she doesn't taste a lot of it because they use spit cups between takes. Of Pam's history, Kristin says that last year's lines referring to her character being a hooker really got her thinking about it.  Especially since she knows nothing about it on the show as of yet.  So what does she imagine?
"I have this scene in my head I've written that we will never see (and probably isn't the truth), but it's somehow meeting Eric and he's a customer and I'm in an alley and he saves me and I beg him to make me. When I see what they've written, as opposed to what I've written in my head, it's always much better. "
Sounds like a plausible scenario Kristin! Of what we know about Pam, she came from a very well to do family in London. So if she was indeed a hooker, Kristin suspects that she might have been a courtesan of some kind as a way to rebel against that lifestyle.
One thing is for sure, we can't wait to see what this season brings for Pam! To read this interview in its entirety click here. And if you're in the Phoenix area this weekend be sure to stop by Phoenix Comic Con to see Kristin, she'll be there until Sunday!
Source: PhoenixNewTimes.com: Jackalope Ranch- "Kristin Bauer Talks True Blood, Witches, Courtesans, and Phoenix Comicon"
Photo Credit: John P. Johnson, HBO, Inc.