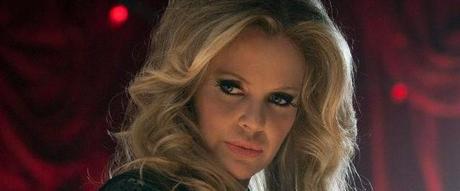 This past Sunday True Blood fans learned that fan favorite vampire Pam would go to any lengths to make things right with Eric (Alexander Skarsgård) even if it meant turning Tara Thornton (Rutina Wesley). In an interview with Hollywood.com, Pam's portrayer Kristin Bauer van Straten talked about the kind of maker Pam might be, vampire family dynamics and what will be coming this season.
So what kind of mom does Kristin think her character will be? She certainly won't be like the actress' own mother. But underneath all of that fabulous fashion and sarcasm there is softness:
"I don't think it will ever look exactly like my mother from Wisconsin…We were watching a documentary last night on Africa, and we saw the crocodile mothers carrying their little babies in those huge jaws and I thought, 'That's a little bit more like what Pam will be…[She has] some room for caring about someone besides Eric."
It won't be easy of course. Pam spent most of last season trying to kill Tara because she was aligned with Marnie (Fiona Shaw) and threatened her with wooden bullets more than once.  But no matter how hard it might be, everything Pam is doing is to repair her relationship with Eric.
On the subject of sleeping with one's vampire relations, Kristin says the line is pretty blurred.
"It's pretty blurry in the vampire world…So, brothers and sisters was fine. Cousins? Great! Mortal enemies? Even better! … Vampires are rock stars and royalty."
That doesn't mean that Kristin revealed any details as to whether or not Pam and Eric will be sleeping together even though we've seen them together in a bed seemingly naked. But she did say we'll learn why she is so loyal to Eric:
"At this point, over a century, [her relationship with Eric is] very close and very paternal..But we also, in the flashbacks, see why she has such a loyalty."
And of course no interview would be complete without discussing the lovely yellow ensemble Pam sported during Sunday's episode:
"That probably is one of my favorite Pam wardrobes, ironically … We put that outfit on in the wardrobe fitting, and burst out laughing. Like, 'Oh my God, I don't think we have to continue. This is the most perfect thing I have ever seen.'"
What do you think about Pam becoming a Maker? Sound off in the comments below!
Source: Hollywood.com- "'True Blood' Star Kristin Bauer van Straten Teases Pam's Future With Tara — EXCLUSIVE"
Image Credit: HBO, Inc.