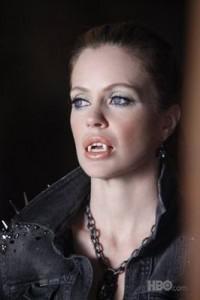 True Blood fans and fashionistas collide! Here's your chance to meet Kristin Bauer van Straten (Pam) in New York City next month during Fashion's Night Out. The actress will be appearing along side Kat Von D and Linda Perry at Sephora for this exciting event on September 8, 2011.
Fashion's Night Out was created in 2009 in a partnership between Vogue,  the Council of Fashion Designers of America, NYC & Company, and the City of New York. The event's goal is to celebrate fashion,  boost the industry's economy, and put the fun back in shopping. To add to the evening, shoppers can mingle, chat and shop alongside celebrities and designers!
Mrs. van Straten will be appearing at Sephora's Tarte counter, located at 200 W. 42nd Street. Earlier this year, Tarte launched an exciting limited edition makeup collection inspired by True Blood. Be sure to check out the one of a kind collection here.
Mark your calendars! Let us know if you make it to the event!
Source: www.bellasugar.com – Your Guide to Beauty Events For Fashion's Night Out
(Photo Source: HBO, Inc.)