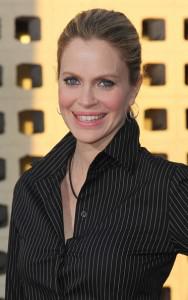 In an interview with About.com Kristin Bauer van Straten (Pamela Sywnford de Beaufort) covers a little bit of everything from how she got her start in acting to her art, charities, how she feels about season 5 being dubbed the year of Pam, and weird fan encounters.
The interview started off by covering how Kristin became an actress. In an interesting twist of fate, the classically trained artist found acting by chance, something she would have never expected growing up:
"No, not at all. I came from Wisconsin — I came from a field with horses in it. The little school I went to didn't have a drama department in it, so this was something I discovered after college. I was looking for a way to put a roof over my head and food in my mouth. I was a maid, a nanny, a window washer and once I moved to L.A., it was almost impossible to avoid the business. I started doing makeup and saw that it paid more than being a maid, so I went to makeup school and once I got on a set, I just loved set life. It's a wonderful culmination of all kinds of dysfunctional, creative, funny, interesting people."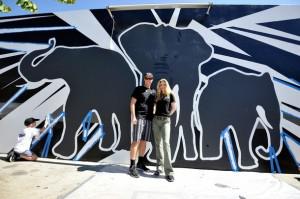 Even though acting takes up a good portion of Kristin's time nowadays, she still finds the time to paint. One of her most notable pieces to fans is her drawing of co-star Alexander Skarsgård (Eric Northman) that she created to raise money for the Amanda Foundation. Her subjects are usually people because that is one of the things that is emphasized in classical training. People are one of the hardest subjects to paint so if one can do them, they can do anything. Kristin says she'll be applying that talent to a drawing of Stephen Moyer (Bill Compton) next for charity. The next project, she hopes, will involve trying to fund her documentary on ivory poaching:
"It's for African elephants because the ivory and rhino horn trade is on a massive upswing, so I'm going to be spending my hiatus trying to do something about that. It looks like I'm going to be shooting a documentary, so I've got to figure out how to fund that and get a camera crew. I've been busy organizing that, so in my spare time I'm going to be painting the cast and auctioning those to fund the project."
On the subject of acting and True Blood, the actress revealed that one of her favorite parts besides Pam was to play Manhands on Seinfeld. But of playing the fashionable vampire, she says she tends to see Pam as being more truthful rather than harsh. And with such good writing, she looks forward to every script. As for how she feels about season 5 being the year of Pam:
"I, of course love that rumor! I got my backstory and I'm a maker now — it's a big year for Pam. We're going to find out about her making and it's very informative about her relationship with Eric. She's not a nurturing gal and I feel like her backstory explains why because she comes from a tough time to be a woman. We get more of her viewpoint on that."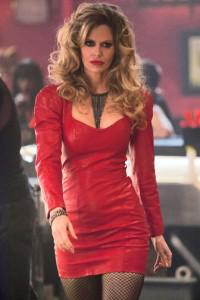 As for whether or not Kristin shares any similarities with her character, she says it depends on who you ask:
"I think that my family would tell you that we have a lot of similarities to Pam and luckily my husband doesn't agree. I have a reputation in my family as being incredibly blunt and over the years I've learned to curb that. My husband thinks that I am very patient and sweet — thank god."
Being on True Blood has given Kristin the opportunity to meet and interact with lots of fans. She does many appearences at events throughout the year. So About.com had to know if she ever had any weird fan encounters, which she has:
"Most of the fans are so sweet and so respectful, but here and there I meet a cuckoo bird. There was one that was wearing a cape — that should've been my first clue. She was keeping a journal that she bestowed upon me and I've had many people look at it and we're not sure what it was about. And then, she grabbed my a**. All I could do was laugh. I get asked to bite people a lot… and I've only bitten Mario Lopez."
One of the last True Blood questions in the interview involved the use of the fangs. Kristin revealed that they go in like a retainer and that lines are said with and without them. The clicking of the fangs in and out is achieved in post-production. Being so busy with filming True Blood, appearances, charities, her art and so on leaves Bauer van Straten very little time to watch TV herself.  But with the advent of HBO GO last year, she's been able to keep up with other HBO series. Game of Thrones and Six Feet Under.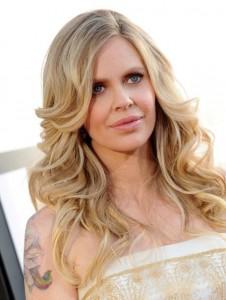 The interview ended with Kristin discussing what social networks she's on and how she responds to fans herself in an effort to keep things personal:
"I'm on Twitter@bauervanstraten and I have a Facebook page called The van Stratens. I am the person writing people back – I do everything myself. I want it to be very personal."
And if she had the opprotunity to say something to True Blood fans what would it be?:
"Thank you. Thank you for the incredible love and support. As long as we have them, we have a job and I'm very grateful."
Source: About.com- "An Interview With Kristin van Straten (Pam, 'True Blood')"
Image Credits: Angela Weiss, Getty Images, Jerod Harris, Wireimage, HBO, Inc, and Bauer-Griffin