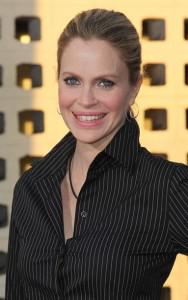 True Blood's Pam, Kristin Bauer Van Straten has a premiere coming up at the end of this month.  Her film "The Story of Luke," has a premiere spot at the San Diego Film Festival on September 29, 2012. 
The world premiere of  The Story of Luke, directed by Alonso Mayowill be seen at 7:00 PM, Saturday, September 29th at Gaslamp  theater.
The film's cast includes:  Lou Taylor Pucci, Seth Green, Kristin Bauer, Cary Elwes
Synopsis:  Luke's world is turned upside down when his grandmother dies and he is forced to live with his dysfunctional relatives who have no patience for him or his senile grandfather, who they quickly force into a nursing home. Luke is left with his grandfather's final semi-coherent words: "Get a job. Find a girl. Live your own life. Be a man!" For the first time in his life, Luke has a mission. He is about to embark on a quest.
The San Diego Film Festival is scheduled for Wednesday, September 26, 2012 – Sunday, September 30, 2012.  For the first time, the Festival will be held at two venues: the Reading Theater in the Gaslamp Quarter (701 Fifth Avenue, San Diego, 92101), and the Museum of Contemporary Art La Jolla, Sherwood Auditorium (700 Prospect Street, La Jolla, 92037). Tickets start at $14 for pre-sale/$16 at the door, and go up to $75 for a one day pass, and range up to $500 for a Festival VIP Pass to all screenings, premieres, events, and panels on all days.  A dramatic expansion this year, Festival organizers anticipate hosting over 100 film screenings.
To learn more about the festival visit www.SanDiegoFilmFest.com.