In an interview with Elle Kristin Bauer talks about the impression hairdo she sported in episode 5.07.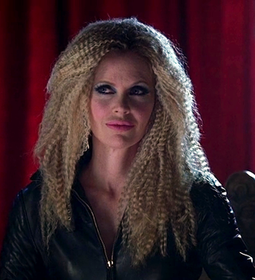 Wasn't that astounding? It was a real story because the costume designer Audrey Fisher dressed me in that vintage black Roberto Cavalli leather dress. And we thought, "What hair could possibly do justice to this incredible outfit?" So we Googled "Roberto Cavalli," and we saw that crimped hair style, which is probably from the '90s or something. I emailed the hair stylist, and she pulled out a crimping hair tool.
The hair styling department thought I was nuts! They told me it would take too long to do, but I told them I thought it would be worth it. They considered using a wig, and I advised them not to. I knew we would be asked about it. It took an hour and a half to do. I loved it. Out of the entire season, that hair was the first time that the guys on set and the crew were interested in me again! I was a sex-amator.
Read the complete interview at Elle.