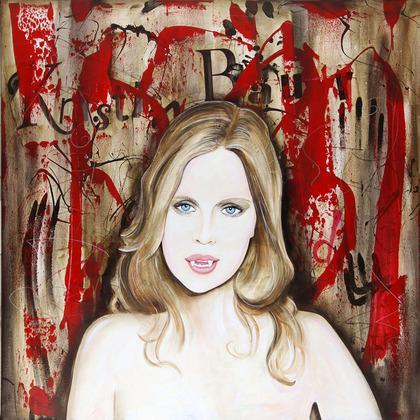 Something special is on offer for True Blood fans — and all in the name of charity! Self-taught artist, Eric Waugh has painted a bloody portrait of Kristin Bauer as Pam the vampire. The portriat measures 36″ by 36″ and has been endorsed on the back with the words "This is an honor. Much love, Kristin Bauer".
The opening bid was $500 and will increase in increments of $50. The auction is open until 2:03 pm EDT, Wednesday June 15, and the painting is valued at $10,000. So why not bid on this wonderful item? Not only could you end up with a fabulous bargain, all proceeds will go to Hopetown Heroes.
Check out the video below of the artist, Eric Waugh, painting it!
Source: Charity Buzz – True Blood – An Original Painting of Kristin Bauer by International Artist Eric Waugh
(Photo Credit: Charity Buzz)