True Blood's Kristin Bauer joins her husband, Abri van Straten at The Viper Room, 8852 W. Sunset Blvd. West Hollywood, CA on May 19 at 10 pm.
These performances of Abri's provide a great opportunity to meet True Blood's Pam and here his wonderful music. Recently, I had the pleasure of meeting Kristin and hearing Abri play, so I know it will be a great night.
The show is incredibly intimate since Abri will be performing in the "Acoustic room" which is ideal for taking in every note and lyric. And, Abri will be performing alongside some other terrific artists in the the world famous Viper Room that is located on the strip in W. Hollywood and happens to be the location of the recent Bullett shoot with Stephen Moyer.
With the flyer below, admission is only $8.
Schedule for the night:
8:00 Lilly Carrico
8:45 Kara Clark
9:30 Tati Rabell
10:00 Abri van Straten
11:00 Triproy
The Green Room bar offers serious drink specials for its guests. Well drinks are only $5. Pabst cans are only $4. These amazing drink specials are only good for those who ASK for the happy hour specials (proving you've caught wind of our promo efforts, otherwise it's full price!) Free street parking is easy for the early shows. Yellow, loading zones are safe parking after 6pm, as are any green curbs. Otherwise there's a lot on property, which is only $5 after 11pm. and a block away, across from Red Rock there's a lot that's $5 all night long. 21+, $8 w/ flyer. Guests will have access to the entire venue. Come early and find a good spot (parking and seating). Learn more about events at The Viper room, by clicking here.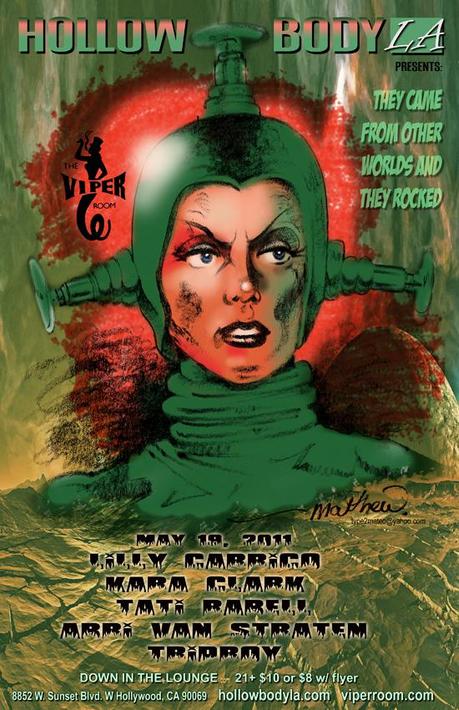 source: Kristin Bauer