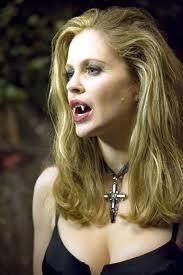 A new movie entitled Subject: I love You, starring True Blood actress, Kristin Bauer, is due for release this Friday at the Newport Beach Film Festival. It is based on the malicious virus that circled the world in May 2000. While it went by many variants other than the one used in the title of this movie, it was anything but romantic.
The film's promotional blurb:
This action-packed romantic drama is based on the destructive 'I Love You' computer virus. This virus spread around the globe at the turn of the millennium, shutting down computer systems at the Pentagon, Parliament and the CIA. For Victor he will do anything to reconnect with the only woman he's ever loved – even if that means entangling himself in an international criminal investigation. Never have the words "I love you" almost ruined the world.
While this movie is saying it is based on the real events that occured in 2000, it has certainly been tempered with creative license. Check it out for yourself in the trailer below:
Source: Naked Security – I LOVE YOU – Virus-inspired movie trailer and world premiere
(Photo Credit: HBO, Inc.)