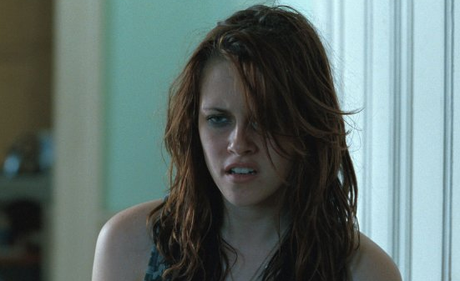 Kristen Stewart in a scene from Welcome to the Rileys. (Photo: Samuel Goldwyn Films)
-Kristen Stewart (photographed Monday night looking happy) is reportedly hanging out with Taylor Swift in the wake of the Robsten breakup. Well, if anyone can guide someone through the pain of a broken heart, it's good ol' Swifty.
-There's also a shady report from The Sun about RPattz leaving her because he found a text from Rupert Sanders on her phone the morning of his birthday.
-Meanwhile, here's a good analysis from Lainey on how both Pattinson and Stewart's camps are playing it in the press.
-Ellen staged a mini-Friends reunion with Jennifer Aniston, Matthew Perry and Courteney Cox, proving once and for all that the world doesn't need a real one. Also, Jen's is the only face that doesn't look completely jacked!
-Justin Bieber is trying to get everyone who comes to his parties to sign waivers because nothing says rock 'n roll like legal documents.
-Also, Justin is the 7th most popular woman on the internet, according to Fox News.
-Kate Middleton gifted us with another belly bump sighting today.
-Danny McBride and Maya Rudolph teamed up for a GQ photo shoot entitled "Awkward Family Photos" — and it's awesome.
-The late night talk shows are having a field day with our buffoon of a mayor. Here's Jon Stewart's take on Rob Ford, and here's Jimmy Kimmel's. This pre-scandal spoof is still my fave, though.
-Leonardo DiCaprio got repeatedly shot down by a 20-year-old model, who is now my personal hero.
-Ryan Gosling's new movie Only God Forgives just joined the ranks of films to be loudly booed at Cannes. I've never seen a crankier audience than at that festival (while I've never seen a more kiss-assy audience than at TIFF).
-January Jones still has no interest in giving up the name of her baby daddy, thankyouverymuch.
-Emma Roberts just joined the cast of American Horror Story.
-In other odd casting news, Rumer Willis is set to become a Pretty Little Liar.
-Rumer's mother Demi is dating a guy who had a pearl inserted into his dick because apparently that's something people do?
-Here's a photo from Gwyneth Paltrow's new Hugo Boss ad campaign, which reportedly netted her a cool $2 million.
-Meanwhile, I'm really digging the leather belt Gwyneth wore with her Prabal Gurung dress, but I seem to be in the minority.
-Speaking of fashion, I want to marry Marion Cotillard's Dior dress!
-Also at Cannes, Bai Ling is back!
-A few days ago I was eating oysters at 1am on a Sunday night in a crowded restaurant and giving the exact same speech about NYC that Aziz Ansari gave last night on Fallon.
-A new Anchorman 2 teaser has landed.
-Eva Longoria just tweeted that she's completed her master's degree. Huh?
-How freakin' adorable are Emma Stone and Andrew Garfield?
-Meanwhile, Emma's opening up about supporting her mom through a cancer ordeal.
-I love that Michelle Rodriguez says that she basically just wrote her own Fast & Furious character as she was filming the series because there wasn't much on the page.
-Sweet! The next season of Luther is landing this summer. Between this and Pacific Rim, it's shaping up to be a Idris Elba-heavy season.
-This is cool: NPR has created an app for watching Arrested Development.
-Meanwhile, the creator really doesn't want everyone to binge-watch all the new episodes in one weekend, but we're all going to ignore that advice, right?
-I like Game of Thrones, but I LOVE FunnyorDie's Gay of Thrones recaps.
-I really did try to get through Rolling Stone's entire interview with Jared Leto. It's just so eye-rolly.
-Speaking of eye-rolly, here's video of Ke$ha peeing into a bottle and then drinking it. I have never, ever in my life sided with the stupid Parent's TV Council, but they might have a point with this one.
-Bill Murray is making kids cry — and being hilarious about it.
-Comedians Marc Maron and Michael Ian Black got into a pretty epic catfight on Twitter this week.
-Watch Girls Gone Wild mogul Joe Francis (who was found guilty of falsely imprisoning three women in his Bel-Air home) rant about how his jury "should be euthanized." Stay classy, kid.
-One of the jurors has already responded with confirmation that he is not, in fact, "retarded."
-I love that Behind the Candelabra is getting rave reviews. Currently 100% on Rotten Tomatoes. I think there should be viewing parties for this thing on Sunday night.
-The new trailer for The World's End (which is still different from This Is The End — one of those movies is going to get lost this summer) is fantastic. Robots? Robots!
-The Stuck in Love trailer looks super charming. Jennifer Connelly and Lily Collins were made to play mother and daughter (or at least their eyebrows were).
-Speaking of trailers, here's the new one for Blood Ties, starring Clive Owen, Marion Cotillard and Mila Kunis.