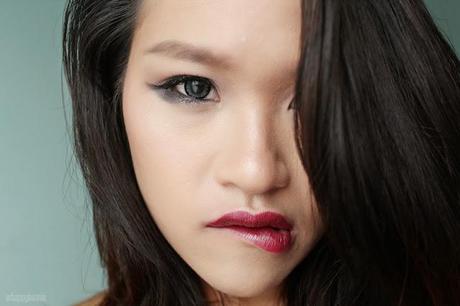 I am a huge Kpop fan - nope, don't even get me started on my biases. LOL. I woke up at 5:30 AM this morning to watch the Mnet Asian Music Awards 2013 that was held at Hong Kong this year. It was a very entertaining show, considering that most of the artists I voted for won. Anyway, I'm not here about the MAMA 2013, but about the fantastic makeup that these ladies, Hyuna, CL, and Lee Hyori, were wearing for the night.
These three ladies are known to be the bad girls in the Kpop industry - Lee Hyori releasing Bad Girls a few months back, CL with her Baddest Female, and Hyuna shocking everybody with her rowdy MV, photos and performances for her Troublemaker song, Now. Apparently being a bad girl has a certain look since the three of them wore similar looks for their song promotions as well as during the awards show. It mainly focuses on their dark red/plum lips.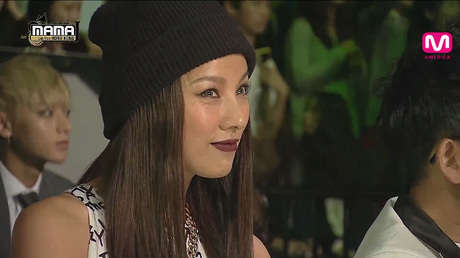 Lee Hyori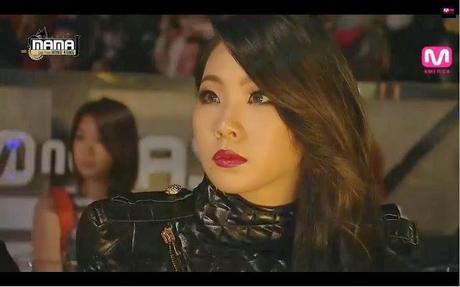 CL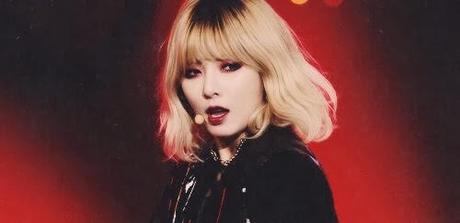 Hyuna They all look super glamorous, edgy and chic with their makeup and I was immediately inspired to try it out. Coincidentally I have the perfect lippie, Stylenanda 3Concept Eyes Lip Color in 604 Vamp. Since the three girls have different eye makeup, I just played around and tried to incorporate all of their looks for one makeup look and here is what I came up with: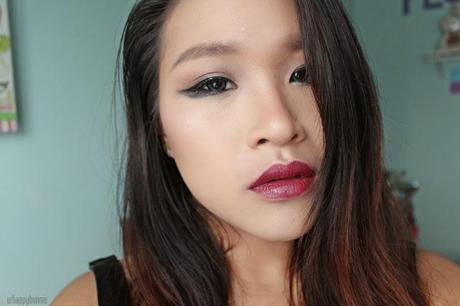 Face/Cheeks:
Maybelline Fit Me Foundation 220 mixed with Graymelin CC Base Cream applied all over the face with a foundation brush
NARS Stick Concealer in Ginger, applied underneath the eyes and blemishes, use patting motions to blend
Maybelline Instant Age Rewind Eraser Dark Circles in Medium, applied underneath the eyes for a brighter under eye. Blend out with a foundation brush or any synthetic brush.
NARS Laguna Bronzer, with an angled brush, lightly contour the face (cheeks, temple, jaw, nose).
With a duo fiber brush, apply NARS Goulue Blush lightly on the apples of the cheeks and bring it towards the hair line.
NARS Devotee Highlighter, using your fingers, highlight the areas where the light or sun will naturally hit, cheekbones, bridge of the nose, forehead, chin, and Cupid's bow.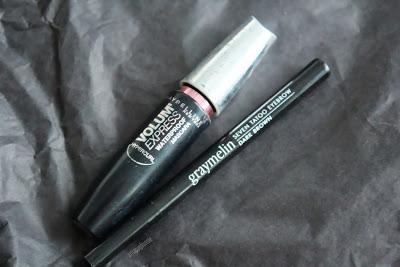 Brows:
I'm using Graymelin Seven Tattoo Eyebrow in Dark Brown and an old, a bit dried out brown mascara which is the Maybelline Volum' Express Hypercurl to achieve that nice sculpted but natural eyebrows that is slightly rough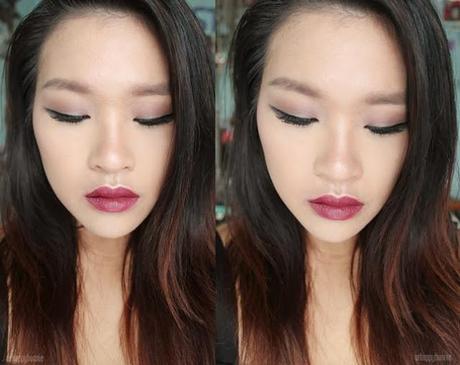 Eyes:
Starting off with an eye primer, I'm using Urban Decay Primer Potion
Using Urban Decay Eyeshadow in Tease apply all over the lid with a fluffy brush since all we need is a light wash of color 
Blend out with Urban Decay Eyeshadow in Toxic, also, bring this shadow to the bottom lash line
Using a clean fluffy brush, apply a matte cream highlight to the brow bone, Urban Decay Eyeshadow in Foxy
Using Maybelline Master Drama Gel Liner, make a straight winged liner on the upper lash line, for the lower lash line out line a diamond (refer to the picture) 
Smudge the outline made by the gel liner on the bottom lash line by a Urban Decay Eyeshadow in Smokeout for a softer look
Tightline the upper lash line and line the lower lash line as well bringing it all the way in with the NYX Slide On Pencil in Jet Black.
Curl the lashes, apply false lashes, (Andrea Strip Lashes #21)
Apply mascara to blend out false and real lashes, Maybelline Volum Express Colossal Cat Eyes Mascara in Waterproof
For a sharper winged line and to cover up clear glue, line the upper lash line using a pen liner, Eyeko Liquid Eyeliner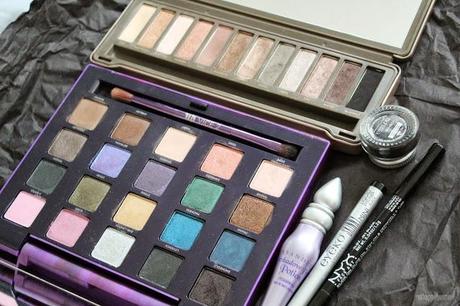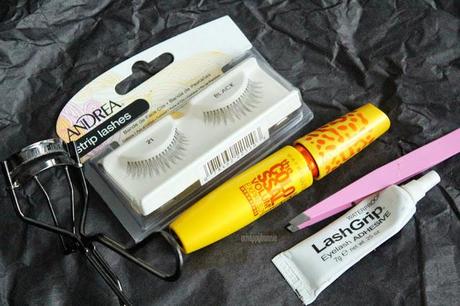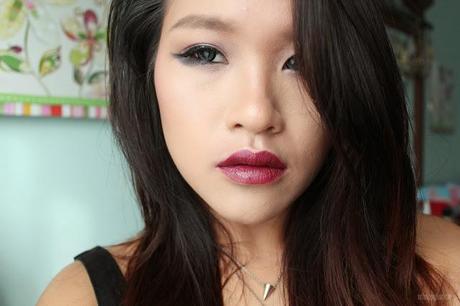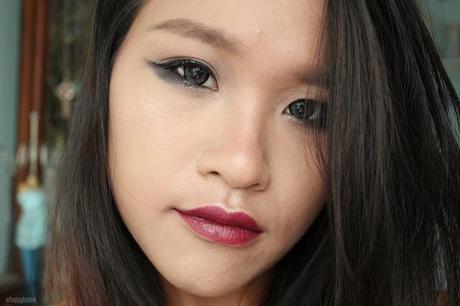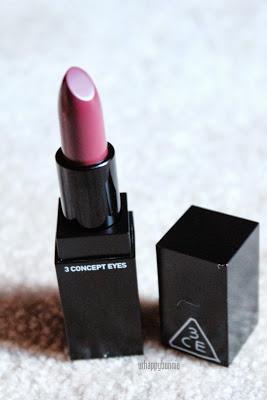 Lips:
Last but not the least, the  main feature, our plum lips - Stylenanda 3Conept Eyes Lip Color in 604 Vamp,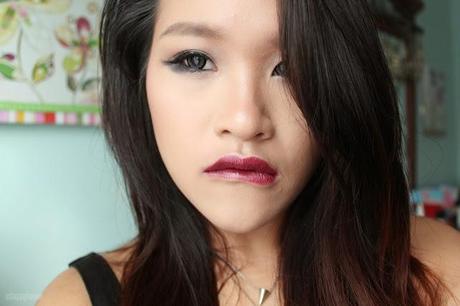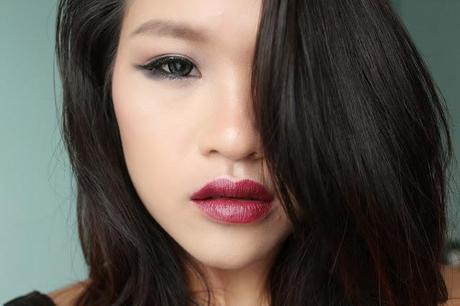 I think I did a pretty good job recreating the looks of these three hot ladies. I think the lip color I wore is the closest to what CL wore for the MAMA 2013. 

Channeling my inner GZB. "

G I Z to the I B E. Nan nappeun gijibae can't you see?" (G I Z to the I B E I'm a bad girl, can't you see?) - CL
Anyway, I really had fun doing this makeup look. I hope you enjoyed this one as well. As always, leave some love below. :)