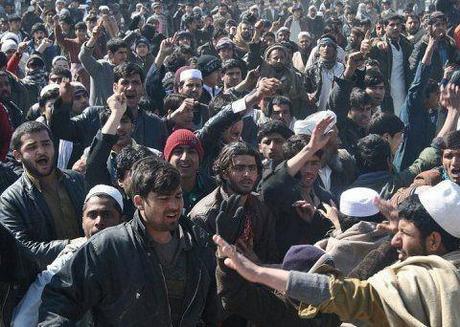 Afghans protesting the burning of the Koran at Bagram Airbase in Afghanistan. Photo credit: http://www.flickr.com/photos/[email protected]/6784976674/
President Barack Obama said this week that his apology to Afghanistan for an incident of Koran-burning at an American airbase, an apology deemed controversial by his political opposition, "calmed things down" in the war-torn nation.
But after two American servicemen were killed on Thursday, the fifth and sixth Americans to die since the protests began, we're not alone in wondering if it has. The two Americans were reportedly shot by Afghan assailants, including a man who was contracted by NATO to teach Afghan soldiers to read.
On February 20, workers at Bagram airbase, just north of Kabul, discovered the charred remains of dozens of the Muslim holy books, reportedly taken off detainees being held at a detention center in Parwan and dumped by NATO personnel at a landfill. Most in the Western media agreed that this was a monumental error in the war for "hearts and minds" and indeed, that was evidenced by the Afghan reaction. In the days after, more than 40 Afghans died in riotous anti-American protests against the handling of the Korans and the presence of NATO troops; six Americans have also been killed, while at least seven others have been seriously injured. The American military, the Afghan government, and a combination of the two have each launched separate investigations into the incident.
Can any apology repair this breach? And should Obama have apologized at all?
Obama says his apology did the trick. Obama issued a formal, written apology to Afghan president Hamid Karzai in the days soon after protests began. "It calmed things down. We're not out of the woods yet," the President told US television broadcaster ABC News. "But my criteria in any decision I make, getting recommendations from folks who are actually on the ground, is what is going to best protect our folks and make sure that they can accomplish their mission…. The reason that it was important is the same reason that the commander on the ground, General [John] Allen, apologised. And that is to save lives. And to make sure our troops who are there right now are not placed in further danger." Even so, protests continued even after the apology and now, two more American servicemen have died.
Calmed things down? As if. The apology, though necessary, most certainly didn't "calm things down", declared Alana Goodman at Commentary magazine. And now, she wrote, "By claiming the apology diffused tensions, Obama is giving a pass to the extremists who've exploited the accidental Koran burning to incite anti-American and anti-NATO violence. Obama needs to stop talking about his apology and start condemning the actions of extremists, for which there are no excuses."
But critics say he shouldn't have apologized in the first place. Obama was forced to defend his decision on American television after coming under fire from America's right, especially those on the right looking for attention right now. Prospective GOP presidential candidate and social conservative Rick Santorum declared, "I think the response needs to be apologised for, by Mr Karzai and the Afghan people, for attacking and killing our men and women in uniform, and overreacting to this inadvertent mistake. That is the real crime, not what our soldiers did." His fellow potential nominees, Newt Gingrich and Mitt Romney followed suit, Gingrich branding Obama an "appeaser". But it wasn't only grandstanding would-be nominees: Veterans' rights organizations also decried Obama's decision to apologize.
Critics are "un-Christian" to condemn the apology. Kristen Powers, writing at The Daily Beast, argued that the GOP candidates sound "un-Christian" and even silly in their self-righteous denunciation of Obama's apology: "So, if you accidentally drop your spouse's Bible in the toilet, don't worry: it was an accident; no need to apologize. It's so freeing to discover that you never apologize unless you did something intentionally." Apologising was the Christian thing to do; the Bible teaches "that humility and repentance are virtuous and that pride goes before a fall".
And they're wrong to never apologize. PJ Crowley, former assistant to US Secretary of State, noted in an opinion piece for the BBC, "The logic of never apologising, never showing what might be weakness in a commander-in-chief, was perhaps appropriate during the Cold War. But today's struggle is different – a war of perceptions, a battle of ideas, a competition for hearts and minds – within a far more dynamic global communication environment."
How to diffuse this crisis? Apology or no, "[t]he wave of violence isn't ebbing," observed Richard Miniter at The Daily Beast. So what should the US military do? The answer is simple, but "culturally difficult": It should hand out Korans. The apology didn't work because it didn't, to the Afghans, seem sincere, and there is a deficit of trust between the two countries. Handing out Korans would show America's sincerity and would help heal fractured relations: "Apologies coupled with actions are more effective than words alone."
Highlights how unsustainable America's adventure in Afghanistan is. This recent incident highlights the fact that Obama's strategy in Afghanistan – troop withdrawal with a concurrent transfer of power to the Afghan government – is a "fantasy", argued veteran foreign affairs columnist Fareed Zakaria in a piece published by The Korea Times. Simply modernizing the country won't stabilize it, largely because the Afghan government doesn't have the support of a major part of the population, the Pashtuns, and the current Afghan army is seen as the reincarnation of the Northern Alliance that battled the Pashtuns in the 1980s. "We need to come to terms with Afghanistan's realities rather than attempting to impose our fantasies on it. This means recognizing that the Afghan government will not magically become effective and legitimate ― no matter how many cell phones we buy or power lines we install."