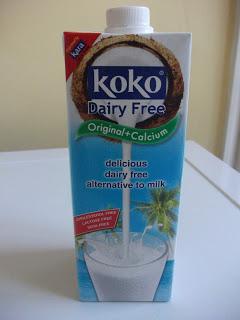 For a while now I've been experimenting with gluten and dairy-free products. I feel much better using them, and usually go for gluten or dairy free options if they're available in cafes. One product I've been buying regularly is Koko (formerly Kara) Dairy Free, so I thought it about time I give it the review treatment!
Koko is a dairy free alternative to milk, and I've found that it goes well with cereal in particular, but it's also good for drinking by itself or making smoothies with. It's good in tea and coffee although it can be a bit watery, so you need to use more of it to get the same effect as regular milk. It doesn't curdle though, unlike some milk substitutes.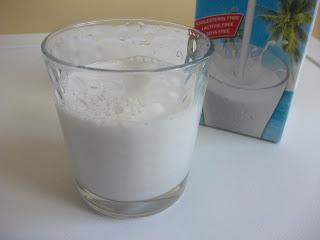 I much prefer Koko over soya or rice milk, as the taste is "cleaner" and it actually tastes refreshing to drink. For anyone who's been put off coconut drinks by trying the likes of Vita Coco, Koko is
very
different as it doesn't have that weird sour taste that coconut water does.
According to the pack coconut has many health benefits, for example it is said to boost metabolism, and the fat is easily digested rather than being stored in the body like other fats. I'm not sure how true those claims are but I certainly feel much healthier drinking it.
Koko contains the same amount of calcium as cows milk, plus added Vitamin D2 and B12 and is sweetened with grape juice concentrate. It's made with freshly pressed coconut milk from Koko's farm in Indonesia, and is Vegan, Vegetarian Society Approved and is certified gluten-free.
Overall, this is a very healthy drink which I would recommend as a refreshing alternative to cow's milk or soya milk. It also makes a nice Bubble Smoothie when blended with mango and ice!: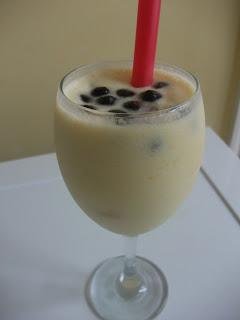 Smoothie with Koko, mango, ice and tapioca pearls
Koko is also available in chocolate and strawberry flavor milk drinks, and comes in a chilled version which is available at Tesco.
Price:
£1.39 at most supermarkets, plus Holland & Barrett.
Suitable for vegetarians?:
Yes, and vegans.
Allergy Information:
Dairy, Lactose, Soya and Gluten free.
Nutrition Information (per 100ml):
27 Calories, 1.9g Carbohydrates, 2g Fat.
For more info and recipes
: http://www.kokodairyfree.com/