by Kiley Kroh / ThinkProgress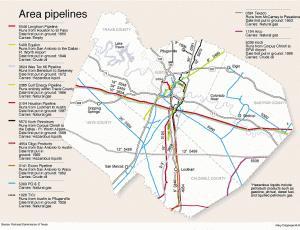 17,000 gallons of crude oil spilled from an eight-inch pipeline owned by Koch Pipeline Company on Tuesday, the Railroad Commission of Texas reported Wednesday.
The spill impacted a rural area and two livestock ponds near Smithville and was discovered on a routine aerial inspection, according to the Austin American-Statesman.
Details are scarce regarding the cause of the spill and cleanup measures underway but, as UPI reported, "Koch Pipeline Co. said it notified the appropriate federal and state regulators but had no estimated time for repairs. Neither Koch nor the Texas Railroad Commission had a public statement about the incident."
According to its website, Koch Pipeline Company, L.P. is an indirect, wholly owned subsidiary of Koch Industries, Inc., the company controlled by billionaire petrochemical giants Charles and David Koch. Koch Industries has also come under fire recently for dumping petroleum coke, a byproduct of tar sands refining, along riverfronts in both Detroit and Chicago.
The crude oil spill is the latest in a string of pipeline incidents that have occurred in multiple U.S. states as oil companies ramp up production and find themselves scrambling to ship their product to refineries. Earlier this month, a pipeline that spewed over 20,000 barrels of crude oil into a North Dakota wheat field went unreported for 11 days until it was discovered by a farmer harvesting his wheat. A subsequent Associated Press investigation found nearly 300 oil spills and 750 "oil field incidents" have gone unreported in the state since January 2012 alone.
The unparalleled expansion of oil and gas pipelines throughout the country has exposed serious deficiencies in oversight and regulation of the industry, particularly since choosing the routes of new pipelines and overseeing safety and maintenance is predominantly left up to the individual companies. In September, Jeffrey Weise, head of the Office of Pipeline Safety at the federal Pipeline and Hazardous Materials Safety Administration (PHMSA), asked conference attendees simply, "Do I think I can hurt a major international corporation with a $2 million civil penalty? No."
Instead of addressing this lack of oversight and the threat it poses to communities across the U.S., Congress instead examined how to make the process easier for industry, holding a hearing in the House Energy and Commerce Committee on Tuesday for a bipartisan bill that aims to speed up the permitting process for oil and natural gas pipelines that cross country borders.