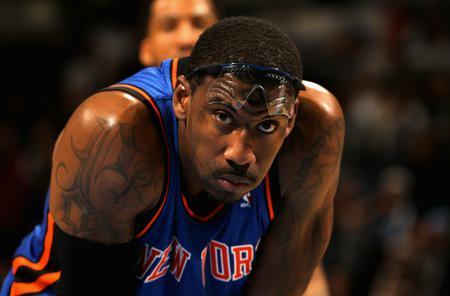 Photo: Getty Images - Doug Pensinger
- Adam Parker
Amare Stoudemire makes his triumphant return to the New York Knicks after missing the previous 13 games with a herniated disk.
Or did he?
True, Stoudemire did make his return, but the Knicks weren't exactly 'triumphant' on the night he did so, losing 98-90 to a lottery-bound Cleveland Cavaliers team.
Not exactly the type of awe-inspiring return to lift up your team that one would normally expect with the return of one of the team's best players to the starting lineup.
The excuse going around to explain for the Knicks' lackadaisical performance against the Cavs' is that they got 'complacent' after clinching a playoff berth and 'took a night off.' I'm sorry, but that's no excuse.
Even if that is in fact the case, I would have to think that even Knicks team allegedly 'going through the motions' that had a healthy Carmelo Anthony and Amare Stoudemire on the floor could beat a Cavs' team who had only won three times in their previous 18 contests prior to last night.
But here's an interesting thought -- what if the Knicks' struggles are actually a direct byproduct of Stoudemire's  return? Call me crazy, but would New York possibly be better off with Amare coming off the pine as the leader of the second unit or off the team entirely?
After last night's lackluster performance against a team they undoubtedly should beat ten times out of ten, you have to wonder if Amare's presence has thrown a wrench into the rhythm the Knicks had while he was out.
After all, with Stoudemire out of the picture, they looked like a completely different team. Carmelo was the one and only alpha-dog on the team and the Knicks ran their offense through him as the focal point. Hell, they even got 'Melo to do something I thought I'd never see him do -- pass the ball.
I am of course referring to 'Melo's triple-double performance against the Boston Celtics last Tuesday when he went off to the tune of 35 points, 12 rebounds and 10 assists.
Ten helpers. Ten dimes.
From Carmelo Anthony. That's an event of apocalyptic proportions, the likes of which we'll be lucky enough to ever see again.
Okay, maybe I'm going a bit over the top with this, but you get the idea. It's nice to see Carmelo showing some willingness to pass the rock.
Carmelo went on a tear while Stoudemire was out nursing that back injury. There's no other way to put it. You also saw role players like J.R. Smith and sharpshooter Steve Novak hit big shot after big shot.
Sounds like keeping Amare, at very least, out of the starting lineup makes sense heading into the playoffs, right?
Wrong.
Carmelo may be a matchup nightmare to contend with offensively, but limiting Amare's playing team at all below the norm will hurt this team when they have to go up against Miami, Chicago, Boston or even Indiana come playoff time.
Why you ask?
Because as good as Carmelo is offensively, he's just as big of a liability defensively against the 'fours' (power forwards) of those Eastern Conference playoff teams.
That's not to say that Amare will be an All-NBA defender anytime soon, because if the first nine years of his career were any indication, it's abundantly clear that he won't be. Nor has he ever been a great rebounder. Not because he doesn't have the talent or physical tools, because he does -- he just doesn't have the willingness to consistently put in the effort on that end of the floor.
However, despite his defensive deficiencies, Amare's presence helps the Knicks in other ways.
For instance, having both Amare and Carmelo on the floor together prevents opposing defenses from double teaming one.
Oh, and did I mention that when Stoudemire's hot, he's HOT? When Amare gets in a rhythm, he can give you 20-30+ points a night.
The point is, you need your best players on the floor if you want to contend against the best of the best in the playoffs.
For the Knicks' sake, let's hope that Carmelo and Amare can learn to play in perfect harmony -- sooner rather than later.
Be sure to follow Beard And Stache on Twitter 
@BeardAndStache
, 
and also Adam 
@Adam_Parker43
, Like our Facebook page 
HERE
!