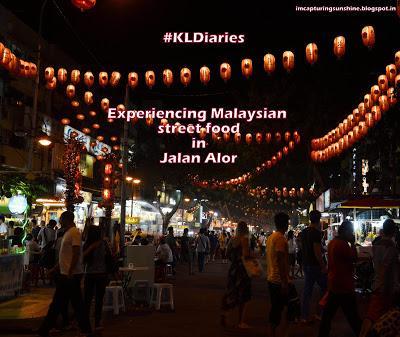 Located in the heart of Kuala Lumpur running parallel to the fashionable Bukit Bintang (Golden Triangle), Jalan Alor is the most popular food destination in KL. A quiet place in the daytime, this street comes alive when the sun sets down and the street fills up with the buzz of the restaurants packed on both sides of the road and the aroma that makes this place a true gastronomical delight. The hawkers fire up their woks and the chatty tourists make their way to the plastic table and chairs placed along the roadside.
This place is something that I find it quite hard to describe in words.
A photo posted by Sakshi Raina (@capturesunshyne) on Jul 21, 2015 at 8:16pm PDT
 I was quite awestruck when I first got here. I saw loud vendors promoting their produce while different aromas filled up the place. The restaurants and their menus were named in Chinese and it was hard to communicate with the localities. It was an utter chaos!
Before I visited this place, I had only seen the shimmer side of KL namely the malls and the posh areas and I was quick to realize that this place is so much different than those. It was formerly the Red Light District of KL and since then it has undergone many changes but this area was enough to make me uncomfortable and see a different side of the city. The other side.
It was a huge cultural shock.
There are so many eateries to choose from that I was confused as to where to start but that confusion didn't last long as I'm a vegetarian and there weren't many options for me. That was frustrating enough to add up in that loud busy and crowded environment.
At least they had freshly produced fruits :)
A photo posted by Sakshi Raina (@capturesunshyne) on Jul 21, 2015 at 5:04am PDT
One of the must-eat that I had to try in KL was Durian. A foul smelling delicacy is a popular local fruit.
I didn't like the taste of it and strongly feel that it's an acquired taste. It had a sweet yet spicy tinge to it and even though many people seemed to enjoy it, I wasn't a big fan.
This made me even worried to find a place to have a decent dinner at. Feeling adventurous, we settled down at a random restaurant and since the menu was in Chinese, we asked the waitress for a vegetarian meal though most menus have a picture attached of every dish available. Now most of the people in KL speak little or no English and there was this huge language barrier that I found which made it so difficult to convey them that I need a vegetarian meal.
After sending a lot of plates back which had meat or egg whites in it, I had a plate of Singaporean Mee Hoon which was the only vegetarian option there.
It was a decent meal. I settled down on the fact that this place is not for me.
At the end to my utter surprise, 
I had the best ice-cream of my entire twenty years of existence.

I seemed to stumble around the Sankaya Creamery. They provide a egg and dairy free coconut ice-cream which is a reminiscent of Bangkok's street dessert. Their signature ice-cream is served in a coconut husk cup with four scoops of mini coconut ice cream sitting below on tender coconut cream with a choice of toppings. I chose the roasted peanuts and I tasted heaven.
Now that's what you call a game changer, right? ;)
--
Jalan Alor is a sharp contrast to the fabulous shopping district of Butik Bintang. It has a distinctive atmosphere with an old sense of charm attached to it. It is full of florescent restaurant nameplates and little red Chinese lanterns strung up in the trees.
This is the true taste of Malaysia.
A photo posted by Sakshi Raina (@capturesunshyne) on Jul 22, 2015 at 7:08am PDT
This place is not just for localities but is a huge must-visit place for travelers who wants a glimpse into the food culture of Malaysia. Inspired heavily with Chinese food and Malay with a hint of Indian, you need to bring your appetite if you come here. There is so much to taste and eat here.
This was a once in a lifetime kinda experience for me and the best that I had in KL. I went through a roller-coaster emotional ride and learned the actual meaning of travelling, this is why I love to travel. 
How to get here?
It is just a stone throw away from Bukit Bintang. If you stay in the area, your best approach is to explore it on foot. It gives you a better idea of the culture of the city. Otherwise, you can take a monorail or a taxi to the Bukit Bintang area.
Also in the series:
The iconic Petronas Twin Towers
Follow me on: Twitter | Facebook | Google+ | Bloglovin | Instagram