In this post, we have shared the Klaviyo v/s Omnisend Comparison in 2019. Read here and know which is a better Email marketing automation platform for your ECommerce website.
Klaviyo v/s Omnisend Comparison 2019: What To Choose?
Detailed Review of Klaviyo 2019
What is Klaviyo?
It is a cloud-based email marketing which is a good solution for eCommerce business problems. There around more than 15,000 brands connected with Klaviyo like Brooklinen, Bonobos, and Chubbies. The free account in Klaviyo gets to cover over 250 contacts and 500 emails and it also includes a newsletter. The main focus of Klaviyo's marketing automation is emails and designs for eCommerce.
It is an easy-to-use marketing system which allows e-commerce marketers to effectively and efficiently target their marketing campaigns which also includes campaigns like Facebook campaigns and Email campaigns.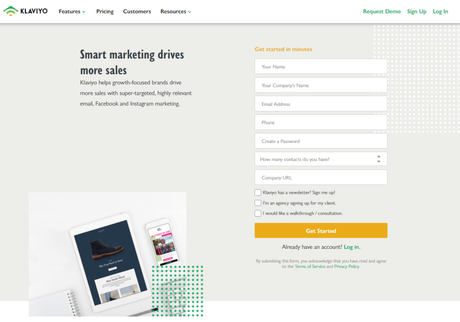 Now with Klaviyo, the segmenting is very easy because now you don't have to use tools like spreadsheets. It has a very powerful marketing system which includes segmentation, website tracking, autoresponders, customer profiles, activity dashboard, drag and drop email designs, ROI-based reporting, and 1-click integration.
You can deliver the right message to the right customer at the right time with the help of its segmentation feature. It helps organize the data on the basis of actual data means now you don't have to work on guesses.
Features of Klaviyo:
1.Contact Manager And Forms:
It is a very basic feature but it is also a necessary feature. Every e-commerce store should have a utility where they can collect details of a customer like email addresses, name, contact number and much more. In Klaviyo's dashboard you can create forms like these, so whenever a person visits a website and after some time, they see a popup on their screen about filling their information.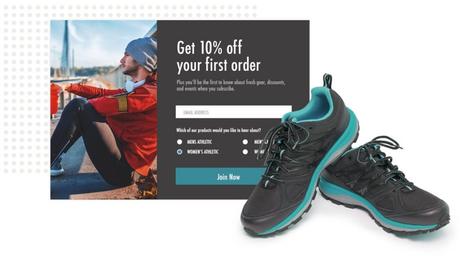 After that, you can check which customers are regulars with the help of a contact manager which is actually handled in the dashboard of Klaviyo. You can receive the information like which customers are opening their emails, clicking on the links mentioned in them, which haven't opened it yet and which customers you should target on.
List segmentation is actually one of the strongest features of Klaviyo and every online store should use this feature to increase their ROI ( return on investment). Segmentation helps you decide which customers you should be focused/target on. People who open the emails from your online stores are the main focus of this segmentation feature because everyone wants to increase their profits so they should focus on that.
2. List Segmentation: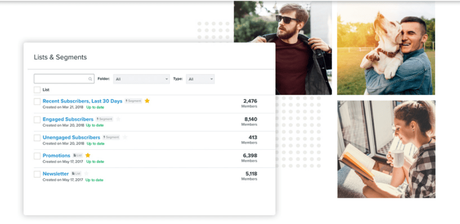 You can separate your customers into those who are actually engaged with your emails and those who are interested in your campaigns. With the help of this feature, you can also create your own lists and segmentations completely based on what the customers are doing on your website.
Klaviyo provides a lot of email templates from which you can choose. So you don't have to start from the beginning you'll get an email template which is already designed by Klaviyo and then all you have to enter the text message you want to include in it.
3. Template Section: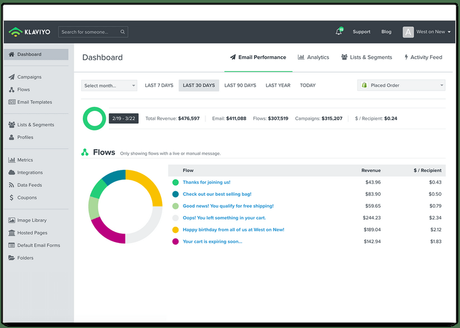 There are many themed templates from which you can choose and they are actually stylish. But there are also basic templates that are suitable for an average online store. Klaviyo also includes templates for newsletters and product sections, so that you can add your product on that particular email. But there are also templates which combine these two so that you are able to include a link to one of your blog posts or your newest products.
It is very easy to understand the design area of the drag and drop interface. If you wanna build your emails properly then you can choose options for styles and block elements which will make it look very interesting and stylish. There are also some elements in drag and drop like split columns, buttons, social links, and images. In emails, you can include your store logo and also a link to your website so that makes it easy for people to visit your website.
The image library of Klaviyo offers many images from which you can easily choose. All the media items are stored in Klaviyo from which you can easily pick and use within an instant. You don't need to upload images on your website on your own.
4. Template Editor and Image Hosting:
Klaviyo has better tools in terms of social media marketing than any other email marketing platform. It has some features which give you an advantage in the social media network.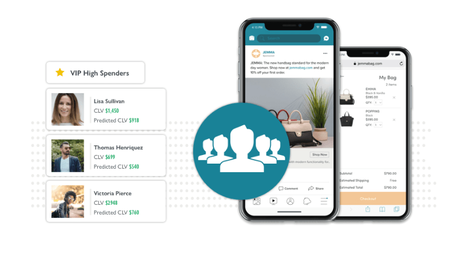 5. Social Media Marketing:
The Facebook advertising tool help you in segmenting your facebook followers any potential customers that may be targeted by your Facebook advertising campaigns. You should link all of your social media handles with Klaviyo so the algorithm of social media marketing starts their work.
It has an effective collection of autoresponders and triggered emails that are necessary to have if you are planning on starting an online store. Those triggered emails have a name on Klaviyo which is"'flows". It can only be created on the basis of the real-time activities of your customers online.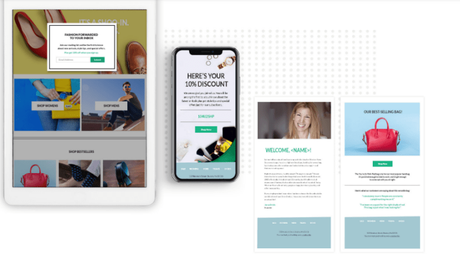 For example, customer signup in your online store so you can create a triggered email that sends them a welcome message along with some important details regarding your e-commerce store.
When people abandon their cart then these flows can come in handy to continually bring back your customers reminding them that they haven't completed their purchase and the product is still in their cart section. You can also include coupons in them to make your customers to purchase those products which they added to their cart and forgot about them.
6. Autoresponders:
Klaviyo has also A/B testing which helps you in deciding which email campaign you should use to increase your ROI. It has an ROI based reporting system which tells you about how your sales are working on the basis of your email marketing. It offers you to link up with Google Analytics.
Website tracking allows you to check the real-time activities of your visitors and customers.
Price Range of Klaviyo
The paid plans of Klaviyo is completely based on the number of email contacts you have. The price gets increased with the increase in the number of contacts. Here are the complete details about how the pricing increases with the number of contacts you have: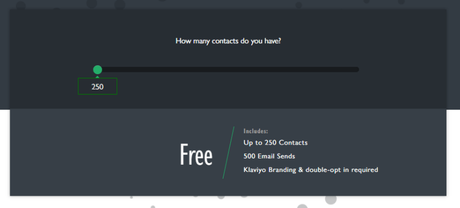 7. Analytics and Reporting:
Customer Support
The customer support system of Klaviyo is amazing and they get potential customers from the free demo. You can see what Klaviyo has to offer with the help of these demos. It gives you a visual representation of how actually the system of Klaviyo works. You can get the customer support through emails and phone number mentioned on the website. By going to help center of Klaviyo you will receive the major customer support. You can search here any keyword or topic and it will provide you all the media content related to that keyword. But you won't get phone support for technical issues, you can get it only for sales-related problems.
Pros And Cons
Free - The free plan supports up to 250 contacts and 500 emails. When you sign up in Klaviyo you can avail this plan instantly but you need to have double opt-ins activated.
500 Contact Plan- This plan charges up to $25 per month for 500 contacts. It also gives you unlimited email sends, chat, and email support
1,000 Contact Plan- This plan charges up to $50 per month for an increase of 1,000 contacts in the free plan. And it also provides the same things which are unlimited email sends, chat, and email support.
1,500 Contact Plan- This plan charges up to $75 per month for 1,500 contacts along with that you will get services like unlimited email sends, chat and email support.
2,000 Contact Plan- This plan charges up to $100 per month for 2,000 contacts with unlimited email sends, chat and email support.
2,500 Contact Plan- This plan charges up to $125 per month for 2,500 contacts with the same services as provided in the above-paid plans.
3,000 Contact Plan- This plan charges up to $150 per month for 3,000 contacts with unlimited email sends and chat and email support.
After all these plans you'll be charged with an increase of $25 per 1,000 contacts after purchasing the plan of 3,000 contacts.
Detailed Review of Omnisend 2019
Omnisend lets you create drives from ready to use templates which actually saves a lot of time. You can increase your click-through rates with its additional elements. Personalizing an e-commerce marketing is not easy but with Omnisend you can do it easily. The solution of Omnisend sends an email which is based on user activities like cart and browsing abandonment.
Pros:
Segment your list on the basis of different factors such as customer behavior on your website, their location, and open rates.
Connecting people from Facebook is possible with the integration of Facebook custom audiences.
You can build flows from its marketing automation with the help of different conditions and actions.
You don't need to start from scratch, you will get all the things like email templates, signup forms and much more only in Klaviyo.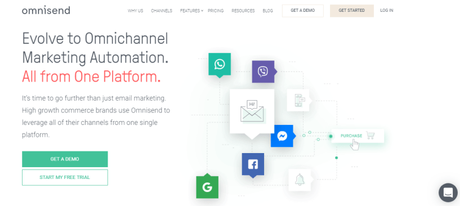 Cons:
Omnisend re-engages with your customers from time to time to increase new traffic and also sends them birthday emails and promotion codes. These tools will help you in keeping your customers happy so they will be a repeat buyer on your website.
The paid plans of Klaviyo is very high than some of the other marketing automation systems like MailChimp, ActiveCampaign, and Omnisend.
Understanding the Klaviyo set can be difficult for some people because it has very advanced functionalities.
The support system is very weak according to many reviews of customers.
It also had a reporting dashboard which shows your campaign performance metrics. With all of these tools in your hand, you can build better campaigns which will increase your engagement with your customers and as well as your profits.
You can easily increase the number of your subscribers with creating a wide variety of signup forms and convert those new subscribers with the easy-to-use editor. It works with every e-commerce platform like Shopify, Bigcommerce, Magento, WooCommerce and many more. It sends emails to the subscribers but these emails sent from business accounts so they mostly end up in spam folder and people rarely open their spam folder so the chances are most likely 20%.
What is Omnisend?
Features of Omnisend
Many of your visitors on your website add the items into their carts and then forget about them like they abandon them but it doesn't mean it's over. Omnisend has an Automation feature which sends email to your customers about their cart and reminds them about what they left behind. It allows them to complete their purchase. People love celebrating their birthdays and they love surprises too.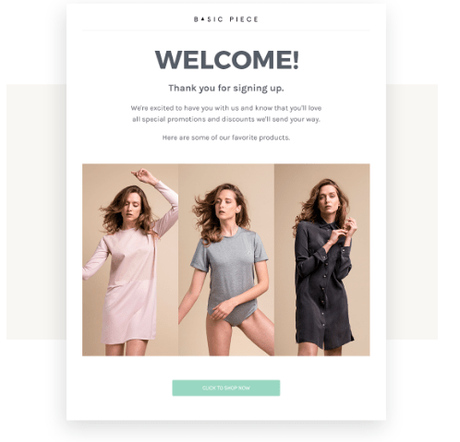 You can help make their day special by sending a greeting email saying happy birthday attached with a special promo code. You can easily set it Omnisend before their birthdays and it will send them on that exact date because of its automation feature. Its automation feature has a lot to offer.
For example whenever someone enters in your website then they'll see the first thing is the signup page after signing up they'll receive an email about them signing up in your website after whenever they make a purchase they will get an email regarding their purchase.
1.Automation: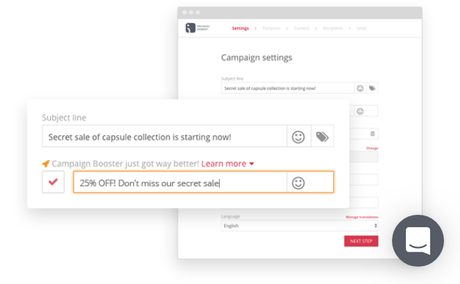 Omnisend has a Campaign feature which gives you tools like A/B testing and Campaign booster. Sometimes you are not able to decide which subject line works best or which name to use as your user's name. But you can figure that out by A/B testing.
It allows you to send exactly two subject lines to two different types of customer to see which is working better. Then it is easy to select the subject lines because you will only select the subject line which has the highest open rate. Its a feature about campaign booster is really simple to use. When you send out your campaign to your subscribers then most likely they won't open it.
You can send unique offers to your subscribers with Content Editor feature of Omnisend. It allows you to create discount coupons for your website. You can easily enter the percentage of discount and a title and then you are ready to go means you can use those coupons to attract your subscribers. To make your campaign easy it gives you ready-made 4 email templates so you don't have to create one from the beginning. You can just edit them out then you can use them.

These email templates will show the best way to present your products and all the other things you will say in that email. It has a gift box feature to where you can add some exciting gifts and send them to your subscribers. Then all they have to click on the box and then will receive the gift from you.
2. Campaign Management:
This will increase the engagement between you and your subscribers because everyone loves unexpected surprises. You can increase the conversion rate with it too because then your subscribers will buy more with your online store.
You can send your campaigns to your subscribers and to make sure every campaign has a different landing page than the others you can use the Form feature of Omnisend. But you just have to make sure that each landing page has the same text, images and even colors with your ads.
Actually, Omnisend makes it very easy to use a landing page for you, all you have to do add some text and discount offer with it. Whenever a person visits your website and doesn't buy anything that it doesn't mean you can't convert them in various ways. You can attract them by creating beautiful popups. These pop-ups come with beautiful images, high converting texts, different styles and you can also customize them to grab your visitor's attention and it'll make them to signup on your website.
3. Content Editor:
Omnisend provides you various reports. You can track your performance with this feature. The automation reports dashboard will show a full overview of your performance. It will show you how many people have visited your website, are currently in it and have exited from it.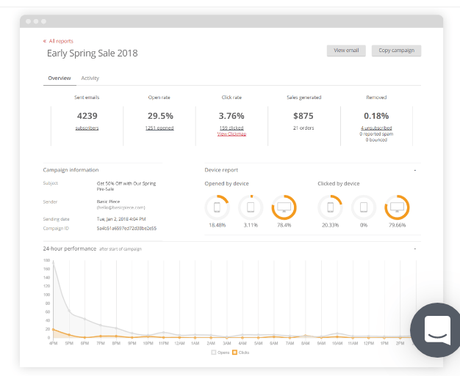 You can see your automation flow by tracking click, open and unsubscribe rates. You can see the data on the dashboard of any time period which will help you understand how your workflows are changing your business. You can compare the last 30 days to the previous 30 days or you can compare on a weekly basis too. You will see the information about how many people engaged with your email as soon as you send your campaign to them. You will see the real-time activity to help you improve your future campaigns.
For the first 24 hours, you will see the hourly reports on your campaign.
There are different kinds of lists of your subscriber in Omnisend. You don't need to create one big list instead of that you can create different lists on the basis of different forms. From this, you'll be able to choose among these lists and then you can send your campaign to the right audiences.
4. Forms: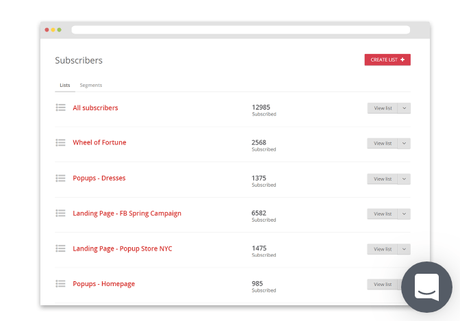 The segmentation tool helps you create different and powerful segments that allow you to send the right messages to the right people. These segments can be made on the basis of your subscriber's shopping behavior. It will only target those people who have not just placed orders from you but also opened and clicked on your campaigns.
5. Reports:
Omnisend Pricing: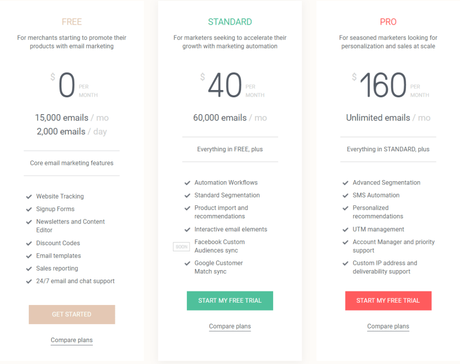 There are exactly 3 options in Omnisend. Two packages cost money but the third one is free. The price actually depends on the number of your subscribers. For example, if you are starting with 1 and have subscribers between 1-500 then you can pay the minimum amount. But if you have more than 500 subscribers then you can calculate the amount through the website's price calculator. Now you'll see the feature you'll get in every offer.
6. Subscriber Management:
Pros And Cons
Also Read:
The Final Verdict: Klaviyo v/s Omnisend!! Which is Better?
Both of these platforms are actually built for eCommerce marketing. Both of these platforms are connected with some of the best eCommerce platforms like Shopify, Shopify Plus, BigCommerce, Magento and WooCommerce.
Free:
Klaviyo and Omnisend have some similar features for your campaigns but there are some features which make Omnisend better than Klaviyo. On the basis of building best subscriber lists, Omnisend is far better than Klaviyo.
15000 Emails per month
Website Tracking
Signup Forms
Newsletters & Content Editor
Discount Codes
SMS Campaigns
Sales Reporting
24/7 Email & Chat Support
Overall, in my opinion, Omnisend is a better marketing automation platform than Klaviyo on many points.
Standard: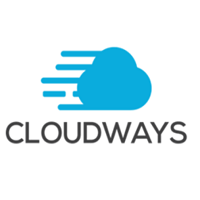 Costs from $10/month or $8/month/annual billing
All Free Features
Automation Workflows
SMS Automation
Standard Segmentation
Product Import & Recommendations
Interactive Email Elements
Interactive Signup Forms
Pro:

Cost from $199/month or 160/month/annual billing
All Standard Features
Unlimited Emails
Advanced Segmentation
Facebook Custom Audiences Sync
Google Customer Match Sync
UTM Management
Account Manager & Priority Support
Custom IP & Deliverability Support
Pros:
User-friendly environment.
Great deliverability.
Insightful reports.
Beautiful email templates.
Cons:
There should be more email templates.
The real-time activity is slower than expected.