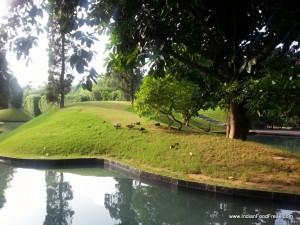 You would miss it if you were not looking for it. Ensconced at a level below the NH 8, with a winding driveway that leads you to a courtyard with trees throwing their lazy shadows, a huge artificial hibiscus at the center and a towering mural of sand-blasted brass Ficus leaves acting as a sound barrier to the noise emanating from the busy highway from up above, Dusit Devarana, the luxury Thai hotel chain has finally set shop in NCR. The huge door opening into winding, stark, beige coloured stairway, spiraling even further down towards more huge doors that take you out to nirvana.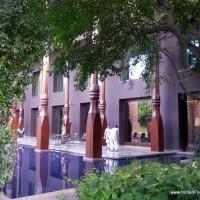 Verdant undulating meadow, stone slat walkways across water bodies, a family of ducks sailing to and fro with gay abandon, huge stone pillars…you almost expect a charpoy to be brought out for you to relax upon. Conceptualized and designed with Thai sensibilities, Dusit Devarana lulls you into serenity.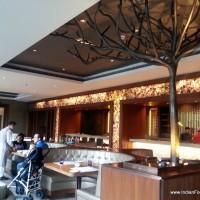 Kiyan, meaning, "sky", and also referring to the Thai royals, is the all day dining restaurant that has opened its doors to weary travellers and eager foodies. Warm toned interiors, with low seated, silver-gray upholstered chairs and semi lunar sofas, Kiyan is warm and cosy with a nice view of the bucolic setting outside. The menu boasting of Western, Indian and Asian dishes, is varied but not overwhelming in number.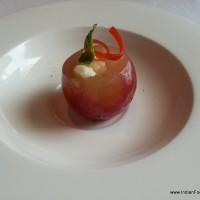 The bread-basket consisted of warm, freshly baked, brown and crusty farmers', soft, herbed white, and multi-grained brown, served with a tangy tomato chutney like sauce which was soon followed by a cute looking amuse bouche of grape stuffed with whipped cream with a tender mint and bird- eye chilli garnish. The bouquet of flavours that this tiny mouthful released set a refreshing tone to the start of our meal.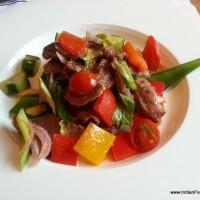 The pan seared Foie Gras on toasted brioche was superlative, the warm foie playing footsie with the sweet fig chutney. But giving it competition and beating it hollow in the process was Yum Nua, the grilled Angus tenderloin salad. The riot of colours and textures rendered by the perfectly grilled meat, the yellow and red bell peppers, cucumber, cherry tomatoes, red onion and bird eye chilli , teased by a Thai-style dressing, the recipe of which the chef was reluctant to part with, was pure bliss. Don't forget to try this while there.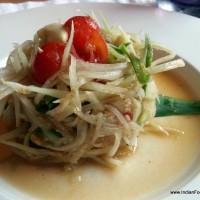 The Issan style Raw Papaya salad, to my mind, while capably plated with shredded raw papaya, tender beans, cherry tomatoes and crushed peanuts, was under flavoured in my opinion, with a very mild chilli lime vinaigrette. The papaya not shredded evenly, with slivers still clinging to each other forming ribbed pieces, was annoying and I couldn't help but recall, the finely and evenly shredded one that was served to us at Neung Roi, Radisson Blu, New Delhi.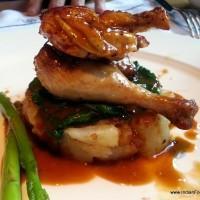 Pla Neung Now, steamed Chilean Sea bass, floating on a clear lemon flavoured soup garnished with bok choy, shitake, cilantro, garlic, tendrils of spring onion and Thai Lemon was the epitome of understated elegance in looks and taste. The fish, so soft that it had to be scooped not cut, paired well with the refreshing lime and lemony broth. The combination of the accompanying fragrant Thai Rice mixed with the citrusy sauce brought to my mind the taste of lemon flavoured mulligatawny soup that is had with rice in the south of India.  Outstanding, was the Corn fed baby chicken. The meat was buttery soft, sliding effortlessly down the throat, the slow cooked baby chicken resting on a bed of soft, hand crushed potatoes, all flavoured with the chicken's own essence.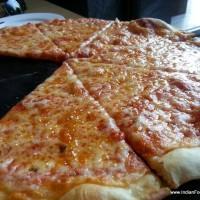 The thin crust Margherita Pizza layered liberally with mouth-watering cheese, easily passed muster with my teenaged companion and self-professed pizza gourmand.  However, the Calzone was a huge disappointment. While beautiful to look at, the closed pizza had a surfeit of tomato based sauce interspersed with pork pieces, and little mozzarella. It tasted more like a tomato empanada than a calzone. To my plebeian taste, any pizza that is scarce in cheese is clearly avoidable. Kiyan could do well to go easy on the tomato sauce.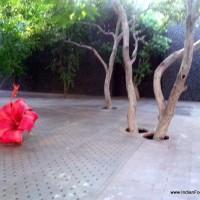 Devarana Signature Toffee Pudding was delightfully oversweet, the strong espresso caramel sauce a studied contrast in taste and texture to the orange sesame filigree crisp, the crumbly soft pudding and the crème glacee garnished by tiny, tender mint leaves. I loved the burst of cool menthol released by the mint. The Chocolate Macademia Brownie served diced and iced was a delectable treat to the taste buds.
S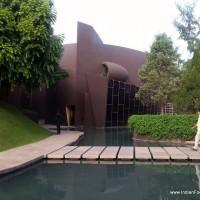 ervice was beyond censure, with the waiter carefully cleaning away the crumbs of our two courses and providing fresh tablemats for the dessert. Similarly he was helpful in our choice of dishes. Small glitches did happen like at the start, the waiter (another one) served the mocktail and Perrier to my companions but left me high and dry, literally (I hadn't ordered anything specific). He had to be requested to add a bit of sparkle to my life too, by serving me a glass of sparkling water.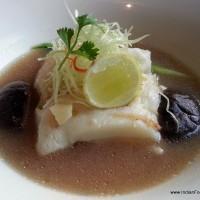 The food at Kiyan is extremely pleasing to the eye and taste buds but it fails to satisfy a hungry tummy. Even after an appetizer and a main, my two companions and I were left hungry which was when we ordered a calzone. Portion sizes are miniscule, for eg. the baby chicken was truly mini-sized with the two pieces sufficient for a couple of mouthfuls; the sea bass fillet was, if I were to hazard a guess, less than the standard 150 gms. The waiter, while taking our orders did inform us that the portions were designed for one single individual.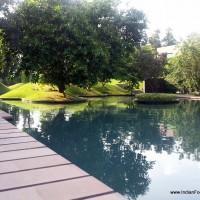 In my opinion, coming from one who has a moderate appetite, a three-course meal served thus leaves one hungry, yet.  Our meal (02 fixed menu and 01 a la carte) for three cost more than Rs.11,000/- without alcohol but inclusive of all taxes,  with beverages of two sparkling water bottles and one virgin mojito. That is steep when at the end of it all we were left "asking for more" a la Oliver Twist.

Disclosure: This review was done after an anonymous visit with the food paid for by the reviewer.

Ratings (Out of 5):

Food: 4.0 | Ambience: 4.0 | Service: 4.0 | Overall: 4.0

Meal for two**: Rs. 4600/++(fixed menu)* (Without Alcohol) | Credit cards: Accepted | Alcohol: Not yet

*Offering both "a la carte" and "table d'hote" (fixed) menu, the three course one is priced at Rs 1800/- (Veg) and Rs. 2300/- (Non- Veg) and the four course one is priced at Rs- 2600/- (Veg) and Rs. 3000/- (Non-Veg) excluding taxes. The pastas and pizzas are not part of the fixed menu.

**Children below 12 years are not entertained at all for dinner, and at lunch, they have to be accompanied by adults.

Address: KIYAN, Dusit Devarana, Samalkha, NH 8, New Delhi | Tel: +91 11 33552211