52 Places to Go: Week 31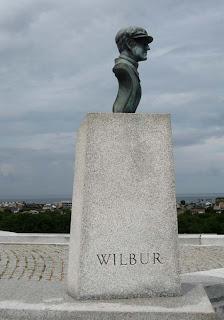 Wilbur Wright, Kitty Hawk, NC
On December 17, 1903, in Kitty Hawk, North Carolina, Wilbur and Orville Wright made the first powered flight in a heavier-than-air machine. In the summer of 2008, as part of a family vacation on the Outer Banks of North Carolina, I visited
Wright Brothers National Memorial
at Kitty Hawk and  saw the museum that displays their airplanes, their workshop, and climbed to the top of the small hill where their historic flights were launched.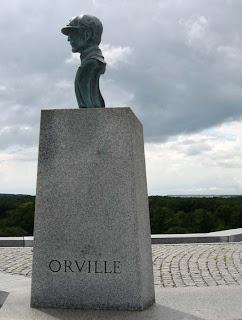 Orville Wright, Kitty Hawk, NC
Before building airplanes, the Wright brothers made and sold bicycles in Dayton, Ohio.  Their experience making bicycles helped them develop the skills they needed to build and fly airplanes.
In 1899, Wilbur and Orville began making airplanes in their bicycle shop.  Other people were also working the invention of flying machines, but no one had successfully flown one. Wilbur and Orville realized that flying a plane was similar in some ways to riding a bicycle.  It required constant small adjustments to keep it in balance.  This idea, combined with the Wright brothers skill at assembling machines, contributed to their success at creating the first airplane.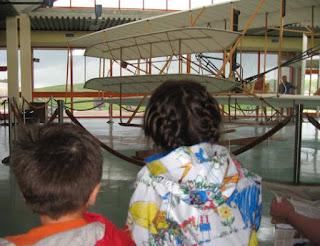 Museum at Wright Brothers National Memorial
During our visit to the museum, we listened to a presentation by one of the park service volunteers, who demonstrated how the various parts of the plane could be controlled by the pilot and keep the plane airborne.  Everyone–including all four generations of our family-- enjoyed the visit and learned things we didn't know before.
Did you know?  On October 24, 1911, at Kitty Hawk, NC, Orville Wright established a new world soaring record in a 50 mile-per-hour wind of nine minutes and forty-five seconds.  This remained a world's record for 10 years.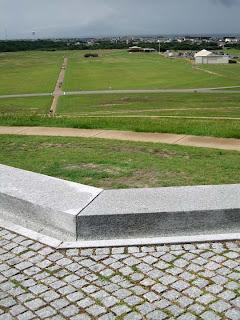 View of the Wright brothers' flight path from top of hill

Details: You can get directions and plan your trip to Kitty Hawk and the Wright Brothers National Memorial at http://www.nps.gov/wrbr/forkids/index.htm
The Wright Brothers National Memorial is operated by the U.S. National Park Service. My National Parks Pass provided free entry for everyone in our car. Check the website for current fees.

History of the Outer Banks:  click here for some nice images, history of the Kitty Hawk area and links to more information.
During the rest of our week on the Outer Banks we enjoyed swimming at the beach and in the pool of our rented house, bike riding, eating fresh local crabs, watching fiery summer thunderstorms from the safety of our porch, and basically, just relaxing.  It was the perfect place for a summer vacation!
 This article first appeared 6/18/2012.

All Text and Photos Copyright by Caroline Arnold