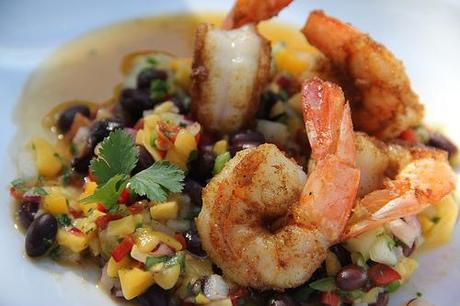 Cumin Crusted Shrimp
After 28 years Kitchenique will be closing its doors February 28th, 2013. They have planned a 6 week long celebration to go out in style, and all are invited! Vicki and staff will be adding a bunch of classes to the February schedule so that those who have Gift Certificates and want to use them for a class can do so. The last class will be Thursday February 14th, 2013. Kitchenique will remain open Monday through Saturday until February 28th to liquidate inventory, furniture and fixtures. Please click this link and sign up for E-newsletters for more information. Kitchenique will still maintain their Facebook page here.
The above photo is one I took last year after Vicki came to my home to cook with me and to promote her cookbook Vicki's Kitchenique Cooking School Cookbook. It was her first which included personal recipes. Vicki has plans for a chef series to follow in 2013- an addition to purchase and add to the existing ring binder of the original cookbook I look forward to cooking with Vicki in 2013, and sharing her news with her fans and 30A EATS readers. if you would like the delicious recipe for Cumin Crusted Shrimp with Black Bean Mango Salsa, click here.