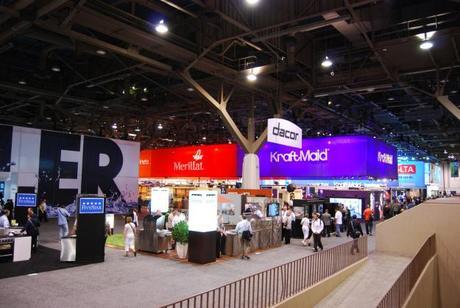 The trade show floor at KBIS 2011. Photo courtesy Charles & Hudson.
Last weekend was the Super Bowl, and this weekend marks the beginning of the Winter Olympics. But right in between these major sporting events is an important trade show for interior designers, builders, and home owners looking to keep up on the latest in design trends: The Kitchen/Bath Industry Show and Conference, known as KBIS.
KBIS 2014 took place February 4-6 in Las Vegas. Unlike other localized home shows, the KBIS is a national conference that focuses on those parts of our homes that require plumbing, practical design, and visual aesthetics that will delight us every time we enter them.
Here are some of the highlights, announcements, and news from this years' KBIS.
Contemporary Style on the Rise, Transitional Still Most Popular Kitchen Style
One of the most-watched aspects of the KBIS show is the annual survey results from the National Kitchen & Bath Association (NKBA) which runs the show.
This year's survey revealed that kitchen styles are trending more toward contemporary style with even cleaner lines and visual space.
"While transitional styles are still number one, we see kitchen design trending more contemporary this year, with clean, simple lines; less clutter, and little ornamentation," said John Petrie, CMKBD, of Mother Hubbard's Custom Cabinetry in Mechanicsburg, Pa., and 2014 NKBA President.
The research also reported that some of the most in-demand features include induction cooktops, steam ovens, french door refrigerators, and LED lighting.
 KBIS joins Builders Show in 2014
This year was the first year that KBIS joined with the International Builders Show to present over 1,500 exhibitors in the 700,000 square feet of exhibition space – parts of which included almost complete demo homes and interiors.
Next year, KBIS, the International Builders' Show, and the International Window Coverings Expo will share the same space.
KBIS Best of Show Awards
Each year, KBIS presents 'Best of Show' Awards to products picked by honorary judges. The products are chosen after being scored in functionality, quality, durability, flexibility, style and innovation.
The 2014 winners were as follows:
Best of Show: Dacor Discovery IQ 30-in. Wall Oven
Best of Kitchens Gold: Dacor Discovery IQ 30-in. Wall Oven
Best of Kitchens Silver: Glideware
Best of Baths Gold: Delta Temperature 20 Technology
Best of Baths Silver: TOTO Neorest 750H
For the first time, KBIS also selected the exhibitors who had the most innovative booth displays:
• First Place: Brizo
• Second Place Tie: Electrolux & Elmwood Fine Custom Cabinetry
• Third Place: Kohler
Outstanding Media Award Presented by National Kitchen & Bath Association
The National Kitchen & Bath Association (NKBA), the organization behind KBIS, presented the second annual KBIS Outstanding Media Award to Samantha Hart, editor-in-chief of Better Homes and Gardens publications Kitchen + Bath Ideas and Beautiful Kitchens and Baths.
Kitchen+Bath Ideas Magazine Picks Most Innovative Products
Kitchen + Bath Ideas MAgazine, a quarterly special interest publication produced by Better Homes and Gardens, picked the 30 most innovative products for 2014 at KBIS.
The list, which features GE Profile Dishwasher Model PDT750SSFSS  at the #1 spot and Samsung's french door refrigerator model RF31FMESBSR at #2, can be viewed in full here.
Viking Reveals Historic Number of New Products
Viking, an appliance manufacturer known for its ranges and cooktop appliances for the kitchen, revealed an astounding number of new products, including outdoor grills, refrigerators, cooktops and ranges.
I have personally, along with the team at Viking, sought input from dealers, end users, engineers and builders both domestically and internationally to develop  innovation that directly applies to the daily kitchen needs,"  said Middleby chairman & CEO Selim Bassoul in an announcement. "We have restructured Viking over the past year to create an environment for new ideas, excited people and great energy."
The new products, intended for the home market, incorporate many features from Viking's commercial product lines.
World Vision Recognizes Jason International
World Vision, a Christian non-profit organization that combats poverty in the U.S., honored Jason International at KBIS for the company's donations to their efforts. World Vision distributes goods that are donated from building industry members and other corporate sponsors.
"Jason has been a consistent and loyal partner with Storehouse [of World Vision] for 10 years," said Efrain Perez, corporate relations director for World Vision in a press release. "We are thrilled to partner with Jason International to bring critically needed bathing products to the vulnerable families World Vision serves."
In one touching case, a 2-year-old girl who suffers from a rare skin disease required hydrotherapy treatments at home, but her parents could not afford the equipment. Jason International donated a MicroSilk Hydrotherapy bath to the family through World Vision.
"It is an honor to receive the Crystal Vision Award from Storehouse of World Vision," said Remo Jacuzzi, founder and CEO of Jason International.  "As a family company, we truly care about the quality of life for other families.  For 32 years our company has created quality hydrotherapy baths in an effort to improve the health and wellness of our customers. Partnering with Storehouse to help low-income families is a pleasure and a responsibility we do not take lightly."
HGTV and DIY Network On-Site at KBIS
Both HGTV and DIY Network had representatives at hte KBIS & IBS show this week. Several of the networks' stars were present to interact with exhibitors and attendees, research, and conduct interviews. Some of the hosts that came were David Bromstad of Color Splash, Alison Victoria of Kitchen Crashers, James Young of I Hate My Kitchen and Jeff Devlin of I Hate My Bathroom. Devilin and Young were shooting specials for their TV programs from the show floor.
To get the most complete experience of KBIS exhibitor announcements, you can read the press releases at the KBIS Pressroom.