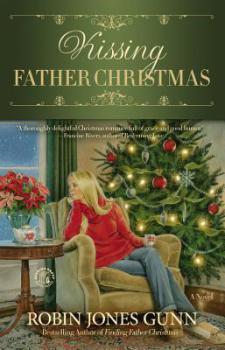 Kissing Father Christmas by Robin Jones Gunn
Published by FaithWords on October 4th 2016
Genres: Christian, Clean & Wholesome, Fiction, Holidays, Romance
Pages: 176
Format: Hardcover
Goodreads


Bestselling, award-winning author Robin Jones Gunn welcomes us back to the cozy English village of Carlton Heath for a winter romance that will melt your heart. Anna's first visit to Carlton Heath in England was last May for the wedding of her cousin Ian to Miranda. The beautiful event ended with a dance under the stars and Anna receiving an unexpected kiss from Peter, the groomsman who caught her eye and now holds her heart.Now, at the invitation of family and friends, Anna is returning to Carlton Heath for Christmas. She has Peter's recent email to fill her with assurance that he's looking forward to seeing her again as well. More than his brief words, though, the vivid memory of their unforgettable kiss provides a promise of more to come. Anna, ever the imaginative artist, has been busy painting a romantic conclusion to her holiday visit. Certainly she's not the only one who has been dreaming of another dance and another kiss. But when she sees Peter again, his intentions seem to shift as speedily as the blustery winter weather. Is Anna's heart misleading her, or will Father Christmas bestow on her the gift of love for which she has long dreamed?
Sometimes when I get a little backed up with my book reviews, I enlist the assistance of my equally book addicted mother, Gloria.  Such is the case with today's review.  Kissing Father Christmas by Robin Jones Gunn seemed like just the perfect book for my mom's "preferred genre", so when I asked her if she had time to read and review the book, it was no surprise she said yes!
WIthout anything further from me, here's Gloria's review:
"This is the third novel in the Finding Father Christmas series. The location of this story is Carlton Heath in England.  Anna first visited England traveling with her mother to attend her Cousin Ivan and Miranda's wedding last May.  The event that Anna could not forget was an unforgettable kiss she shared with Peter the groomsman as they danced under the stars at the wedding.
Receiving an invitation from family and friends to visit them for Christmas, Anna is now returning to Carlton Heath.  She received an email from Peter telling her that he is looking forward to her visit.   The memory of their kiss promises Anna more.  Being an imaginative artist Anna has been thinking of a romantic holiday.
Shortly after arriving when she sees Peter he quickly told her that he hopes that she did not think the kiss was a romantic notion.  Was she the only one who wanted more of his kisses?  He wanted to show her around London and be a good friend.  She wanted more.  Can they rekindle the old flame?  Will they have time before Anna's short Christmas Holiday ends?
Will Father Christmas give Anna her one wish, will it come true?  This is a wonderful Christmas story and the characters are so real you feel that you are spending the holiday with them and sharing their traditions."
What my mother didn't know, but I'll add is the fact that this book and Robin Jones Gunn's other book, which is a 2-novel collection called Finding Father Christmas and Engaging Father Christmas – are all the inspiration for an upcoming 2016 Hallmark movie!  Be sure to be on the lookout for that, because you know it's going to be awesome!
ROBIN JONES GUNN is the much loved author of the popular Christy Miller series for teens and Sisterchicks® novels as well as non-fiction favorites such as Victim of Grace and Spoken For. Her 90 books have sold nearly 5 million copies worldwide. Robin is a frequent speaker at local and international events. She and her husband live in Hawaii where she continues to write her little heart out.
~ ~ ~ ~ ~ ~ ~ ~ ~ ~ ~ ~ ~ ~ ~ ~ ~ ~

It would be great if you would stay connected with me!! You can follow me on Twitter @DebiL1611, like me on Facebook at 2014 and Beyond, circle me on Google+, follow me on Tumblr, Instagram and Bloglovin', subscribe on YouTube, or connect with me on LinkedIn and Pinterest.

Please make sure to visit my homepage and subscribe to my blog for more great posts on running, fitness and lifestyle topics as well as food, product, music and book reviews, and more!