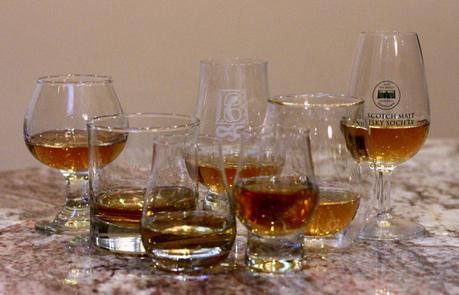 Let us consider the glass. A mere vessel to enjoy liquid libations. It all started innocently enough three million years ago. Two hairy hands with scraped knuckles and opposable thumbs cupped together reached down into that little stream behind the cave and brought up thirst quenching water to the foul-smelling mouth of Urk. Little did he know of (a) dental hygiene and (b) that just a few years later he could take a used jelly jar, wash it out real good and use it for everything from water to beer, and never stick his hand in that river again except to bathe and find fish for the Urk clan.
Luckily, evolution has brought us way past cupped hands and used jelly jars. And if you're a whisky drinker the glassware options are far greater than the number of sticks Urk had at his disposal for hunting and gathering.
Like anything else in our world, if there's one of something, a dozen more would be better. Minimum. There's probably some technical logic to all the utensils on the standard hoity-toity formal place setting, but, please, do we really need 3 forks and 4 spoons, when one of each will do the trick? So be it. Evolution has gotten us this far and we shouldn't put up much of a fuss, though it's doubtful Urk was whining, "Hey, Grg, if we're having the artisan rainwater, can we use the good, pretty turtle shells for a change?!"
The Boozedancing Lab has assembled an array, but not exhaustive (though we are tired) list, of glasses that were allegedly designed for the best whisky consumption. Tests were run (whisky drank), results observed and recorded (uhh), and conclusions were noted (more uhh). Our crack team of technicians compiled the results for you, the whisky drinking public. No doubt a comprehensive white paper will be published. Anyyyy minute now. We've taken a fair amount of samples and published our findings below so that you, the whisky drinking public, can defend your previous glassware purchases to yourself (and your significant other) and/or help you decide on your next silly buy when you really need to save a little this month cuz the Man always wants his. Read 'em and drink, peoples!
Weights & Measures
The workhouse, Godfather, King, General Schwartzkopf, Chief Muckety-Muck of the whisky glass world. It's a tough iconic design to beat with a sturdy base and good feel in the hand. Curves and lines look classical yet feel modern, dram after dram. It's a sexy thang, ain't it.
Pros: It speaks "whisky" when you see it. Good for nosing unless you're from the Durante clan. A good swirler if that's your thing. Chocolate milk is great in them per the offspring. Go to a few whisky events and you'll probably collect a bunch of "free" ones with your admission. This ain't no Solo Red Cup.
Cons: $5-$20. $19.50 for a set of four on Amazon! Or you could spring for the crystal version with custom etching, Richie Rich. Yikes!
Weights & Measures
Hard not to call this a mini Glencairn even though that's basically what it is. Almost seems like the starter version of the Glencairn, you know, for when you start out drinking Chivas or Jameson. Solid little glass with a classic look on a smaller scale.
Pros: Looks like a Glencairn but fits in your palm. Like your whisky hand-warmed? Easily wraps up in your palm so you can bring your own heat to your dram.
Cons: Too small for those owners of big hands, presidential candidates notwithstanding. Swirling with any enthusiasm can create spillage. Tough to find but we know a guy.
Weights & Measures
A Kickstarter venture that started shipping to "investors" a few months ago, this intricately designed glass with a fair amount of science behind it, employs a double-walled structure to enhance the nosing experience.
Weights and Measures
Volume: 12 cl/4.2 ozs
Height: 3″
Diameter of Mouth: 1.5″
Diameter of Body: 2.25″
Base Diameter: 1.25″
Weight: 99 grams of glass on the wall. 99 grams of glass.
The teardrop shape is simple yet artistic, and won't easily get mixed up with Glencairns at your buddy's house who might try to "accidentally" put one of yours in his/her cabinet. Sort of Weeble-Looking, so it'll wobble but probably won't fall down unless you do.
Weights & Measures
A restaurant supply standard that you've seen and held in your finer dining establishments. Ever been to a WCO tasting event? You've seen them there too.
Distillery Taster
Weights & Measures
Skinny and tall, most 'Mericans may not be familiar with this one. They'll say something like, "A champagne glass?" Oh, I love my peeps and their classy perceptions of the world.
Straight Sided Old Fashioned Tumbler
Weights & Measures
Volume: 22 cl/7.6 ozs
Height: 3.5″
Diameter of Mouth: 2.75″
Diameter of Base: 2.75″
Weight: 235 grams
Jelly Jar
Weights & Measures
Volume: varies
Dimensions: varies
Weight: varies
Not related to Jar Jar Binks. Not endorsed by Smuckers or Welch's. Note: We avoided testing plastic squeeze jelly bottles for obvious reasons: much better for gin and vodka.
________________________________________________
The Verdict
Please note that all dimensions are only as good as those listed on product websites (or as good as the accuracy of our $3.00 plastic calipers from Harbor Freight - buy one, get one free!). Let's face it, there are (way too) many glasses available to drink whisky; for all kinds of whisky and for all kinds of budgets. Which is the best? The one that has whisky it in and is in your hand is the easy conclusion. But it really depends on what you're looking for and how you like to nurse your dram. The ones we tested all house liquid (no leaking!) and sip mighty fine, though the Norlan has lip issues (but plenty of sass). If smelling your whisky is your thing, opt for any of the smaller diameter openings; less escaping vapors, and no one likes the escaping vapors, we really think so.
No glass will make a bad whisky turn into a good one. And a good whisky doesn't need a fancy glass to make it even better. The glass is but a vessel to hold on to, to keep close to the heart and lips; and maybe, just maybe, it's truly a window into the charred soul of that precious amber dram and the complex permutations of its simple ingredients which in turn makes us reflect on ourselves and guides us on the eternal quest to define our simple existence in a complex universe.
Nah.
Categories: Booze Banter, Booze Review, Review
Tagged as: Drinking, Drinkwire, Gear Guide, Glassware, Review, Reviews, Whiskey, Whisky, Whisky Glass