KINONA has set out to create golf sportswear which is not only comfortable but also flattering - after slipping on their latest autumn resort wear, chic and elegant are also added to the list!
Female golfers, in my opinion, want to dress for golf but, at the same time, we want to have an enjoyable time on the course without worrying about clothes which don't fit, or feel,  just right.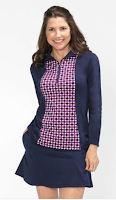 Ladies...how many times have you adjusted the shorts under your skort, or had to tug on your waistband to keep it from sliding below the hips? After slipping on the "Start to Finish Golf Skort", I now believe this problem has been solved!
The KINONA Start to Finish Golf Skort is an easy-to-wear garment which can carry you through eighteen holes and beyond...I just didn't want to remove it!
The waistband on this skort is wider to help smooth out tummy bulge, the shorts are made from a perforated moisture-managing fabric which is soft and undemanding and there are pleats on either side for when you feel like spinning after sinking that birdie putt.
During a round of golf, KINONA has taken care of those times when you are so busy reading your line that you forget you are bending over; the back waist is made slightly higher so that you don't have to worry about pulling down your shirt in the back...now you can focus on the golf, girl!

The Resort Collection features the lovely KINONA Modern Mix Longsleeve Golf Top (see photo) which pairs perfectly with the Start to Finish Golf Skort. This top is strikingly fashionable and it's warm enough for autumn mornings that transition into late afternoon 60's temperatures. The fabric is stretchy but not snug so it offers you a slimming look, the collar will cover your neck for the early morning then simply zip down and pull up the bracelet sleeves as the sun shines on you and your game.
For women who want to project a sense of style, to look flirty and feminine without sacrificing quality and fashion, take a look at what KINONA has to offer -their website says it all and I agree, this golf clothing has both "style and sass".