About king fish fry:
King fish fry / seer fish fry / vanjaram meen varuval is a spicy and delicious meen varuval recipe which is made using king fish marinated with freshly ground spices using onion,garlic, red chilies and other spices. It is deep fried or shallow fried in oil and enjoyed as a starter or as a side dish with meen kulambu or any other kuzhambu recipes.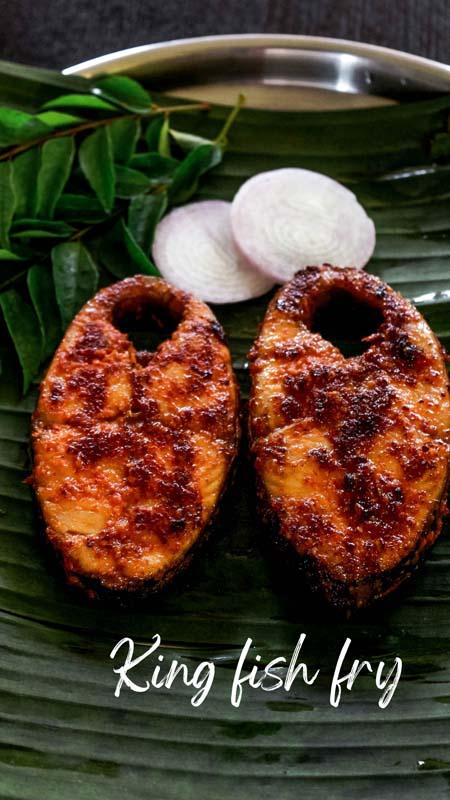 How to serve seer fish fry?
You can serve this king fish fry as a starter along with sliced onions and lemon wedges or in south indian style you can serve with any rice like sambar or rasam as a side dish.
How to store vanjaram fish fry?
Do not store it as fried fish, it tastes good as it is hot. You can freeze the marinated fish for upto a week. Whenever you want to eat, you can take out from the freezer and let it rest for 30 mins to reach room temperature and then fry.
Masala storage: This masala paste you can make in large quantity and store in refrigerator for upto 15 days.whenever you want you can use it.other than fish you can use this masla for potato fry,vazhakkai varuval,brinjal fry etc.,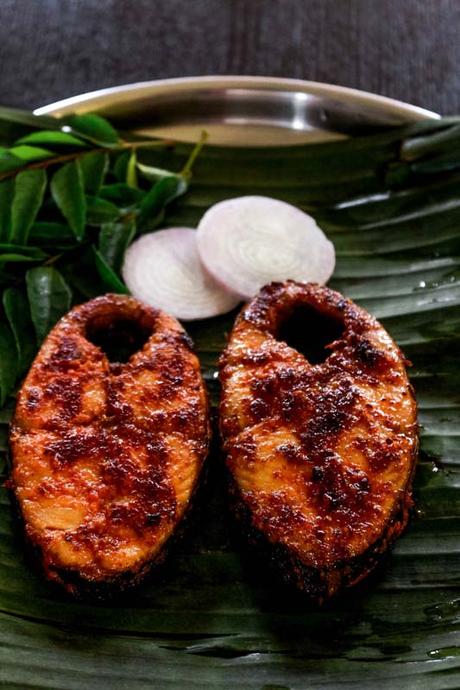 Tips to make perfect vanjaram meen varuval:
Masala paste: Soak the red chilies,cumin seeds and fennel seeds in hot water for 30 mins before grinding. It will make the ingredients soft and give a fine paste.
Coconut oil / sesame oil –  fry the fish pieces in coconut oil or sesame oil for delicious taste.
Marination :  after applying the masala paste, keep it marinated for at least 30 to 45 minutes to infuse the masala into fish.
Fish recipes:
Meen varuval

Meen kulambu

Nethili karuvadu thokku
Ingredients to make king fish fry:
Main ingredients: Buy king fish as a middle cut to get beautiful sized fry. Also make sure to get the cut as thin so that all the masalas will get easily absorbed by the fish.
To marinate the fish: masala paste using onions,garlic,red chilies,fennel seeds and cumin seeds works wonders for many recipes, so you make a large batch and refrigerate for a week.
To fry: in kerala and southern part of tamilnadu, fish fry is used to make in coconut oil only. If you don't like that flavor, you can use either sesame oil or groundnut oil.
Video for seer fish fry:
How to make king fish fry:
In a mixie, add small onions, garlic, red chilies, fennel seeds, and cumin seeds and make a fine paste by adding little water.

Clean the seer fish rinsing in water and apply it with turmeric powder if you want.

Then marinate the required fish pieces in grinded masala.

Let it rest for 30 mins.

Heat a frying pan, add some oil and fry the fish pieces in medium low flame for 4 mins each side.

Do the same for remaining fish slices.

You can serve meen varuval as a side dish or as a starter.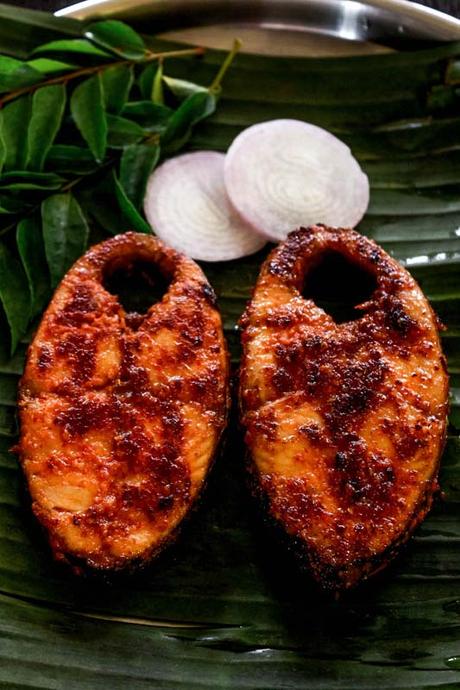 FAQS:
Where do we get king fish?
King fish we can buy in all countries that are exported to everywhere. Seer fish is a fish found in indian and nearby seas, so you can buy fresh ones in india.
What are the other names for king fish?
King fish in tamil is vanjaram meen and it is also called seer fish or batang fish or king mackerel and so many names are there.
What is kingfish called in singapore?
In Singapore shops you can see it as batang fish. 
How are seer fish called in the US?
In the US it is called king mackerel.
Are tuna fish and kingfish the same?
No, both fishes are mackerel family, but they are not the same.