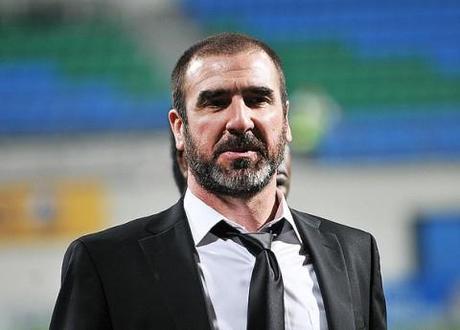 Eric Cantona. Photo credit: KallangRoar.com

French footballer-turned-actor Eric Cantona has announced his intention to run for the post of French president. But before he can go head-to-head with Nicolas Sarkozy and co, Cantona will need to persuade 500 elected French officials to back his shock bid.
Sky News reported that the former Manchester United and Leeds United player has sent letters to mayors across France asking for their support and describing himself as a "committed citizen." Cantona is pledging to represent "the millions of families who have been forgotten", according to a copy of the letter printed by French daily newspaper Liberation. The first round of the presidential elections begins in late April. Socialist candidate Francois Hollande is currently leading Sarkozy in polling.
"This engagement obliges me to speak, more earnestly than usual, but also with a keen sense of my responsibility, at a time when our country faces difficult choices which will be decisive for its future", wrote Cantona. He denounced lack of opportunity for young people in France and social injustices which were "too numerous, too violent, too systematic."
On the pitch, Cantona was certainly no stranger to controversy. Besides being adored for his flamboyant style of play and supremely arrogant goal celebrations, he has convicted of assault in 1995 and suspended from playing for four months after launching a "kung fu" kick on a spectator after being sent off while playing for Manchester United versus Crystal Palace.
No chance. Channel 4 News did not rate Cantona's chances of making an impact: "even if Mr Cantona were able to get 500 signatures, a difficult task without the backing of a party, he would have virtually no chance of reaching the second round as an individual outsider."
The bookmakers don't fancy Cantona's odds of making it all the way to the Elysee Palace. Earlier today, Ladbrokes installed him as an 100/1 shot in their French presidential election 2012 market. Hollande is 4/6 favourite.
Little previous form. Reuters flagged up just how little influence Cantona seems to have in his homeland: "It is not the first time Cantona, who earned large sums as a footballer from sponsorship by brands such as L'Oréal and Nike, has tried to draw public attention to social inequality. Last month he called on savers to stage a run on banks across France by them withdrawing their money in protest at their role in triggering the global financial crisis. Panned by the media as a flop, almost no one in France heeded the much-hyped call."
Political Scrapbook joked "Scrapbook trusts the 45 year-old he has learned to control his temper" above a YoutTube video of the infamous kung-fu kick.