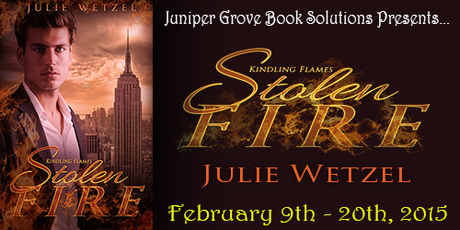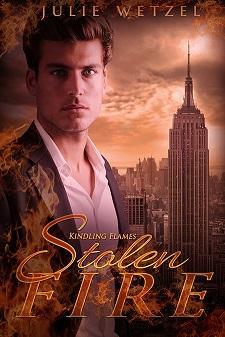 Title:
Kindling Flames:
Stolen Fire
Series:
  The Ancient Fire Series #4
Author:
 Julie Wetzel
Published
:  March 3rd, 2015
Publisher:
  Crimson Tree Publishing
Genre:
  NA Urban Paranormal Romance
Content Warning:
 Violence, adult language
Recommended Age
:  18+
Synopsis:
  Night. A time of quiet, of peace, of rest, and now, a time of terror.With an uncontrolled vampire plaguing the city, the Vampire Council of Brenton once again calls on Darien Ritter for help.
Overwhelmed with the issues of a new menagerie and plans for his wedding, Darien still manages to step up and answer the call. The only problem is, he suddenly finds himself a little too…
human.



Amazon | Barnes & Noble | GoodReads
Excerpt:

"We are at your call, Master." A male voice rang out across the room, drawing everyone's attention.
Darien turned in his chair to see Josh coming through the doorway. His brother was only a step behind. "I don't have full control over my powers at the moment." Darien stood up as he addressed the new vampires. "What I ask of you could be dangerous." "We know," Josh answered as he leaned his hip against the railing that divided the room. "We were wondering when you were going to bring this problem to us." "Yes." Jakob continued down the steps towards Darien. "A few of us have felt the subtle shift in power." He stopped to look Darien over. "How much of your power do you have left?" Darien tensed at the question. "Practically none," he admitted. If he wanted help, he was going to have to be up front and honest with these people. An evil glint flickered in Jakob's eyes as he stepped around the end of the couch. Darien turned to face him. "So, I could bleed you out, and there'd be nothing you could do about it?" A hint of fangs slipped past Jakob's lip as he spoke. The cocky smile vanished from his face as Elliot's hand closed around his neck. Vicky blinked in surprise. She hadn't even seen him move. Darien smiled at him. "Yes," he admitted. "You could bleed me dry right now, and there would be nothing I could do about it." He looked pointedly at Elliot's hand, pressed into Jakob's throat. "If you managed to survive the night, my death would leave you tied to this inexperienced rogue. And, if he isn't stopped, the Council will hunt him. They now know he has my powers, and Clara will stop at nothing to destroy him, leaving this kiss masterless." Reaching out, Darien drew Elliot's hand away from the stunned vampire. "Who do you think will take you in, then?" Understanding flickered in Jakob's eyes. Hurting Darien would be a death sentence for all of them. "Forgive me, My Master." Jakob dropped to a knee in front of Darien. He raised his hand to his heart and bowed his head. Darien reached out and touched him on the shoulder. "Remember this." Jakob looked up as Darien spoke. "Just because someone is down, doesn't mean they don't have unseen strength."
MY REVIEWS

Title:  Kindling Flames: Gathering Tinder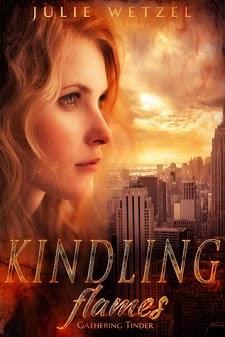 Series:  The Ancient Fire Series #1
5 STARS
I became hooked right off the bat.  Vicky is not the kick-ass heroine that I generally prefer but she can be stubborn when needed.  Vicky has certain serenity about her and an attitude of acceptance that is really refreshing. Without guile, Vicky manages to intrigue and astonish a formerly jaded Darien Ritter time and again.  I loved the easy banter and chemistry between Darien and Vicky that just seemed to ooze off the pages of this book.  Their relationship develops slowly over the course of their interactions.  It is a sweet progression that felt natural to me. 
This is a wonderfully entertaining opening to what I am sure will be an unusual and exceptionally imaginative saga.
This book was given to me in exchange for my honest review.

Reviewed by  Laurie-J
Title:
Kindling Flames:
Flying Sparks
Series:  The Ancient Fire Series #2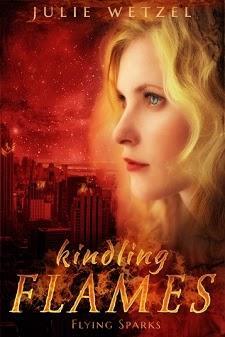 5 STARS

I jumped right in to this installment almost as soon as I had finished the first. I was so excited to continue reading about Darien and Vicky's exploits. Vicky's world is turned upside down as her eyes become unexpectedly (and sometimes horrifically) open to the supernatural world all around her.  Vicky is innocent of deceit or subterfuge and has an almost limitless ability to bounce back from adversity.
In this book there is a greater sense of a community in peril and feuding supernatural species are forced to work together in an attempt to eradicate the threat so that normal humans remain ignorant of the creatures sharing their world.  I loved the expansion of Darien's world and the way in which the author wove the mystery, romance and humor into a mesmerizing story. 
Zak becomes a key supporting character who just steals every scene.  The rivalry between Zak and Darien was especially fun to watch. This book was given to me in exchange for my honest review.

Reviewed by Laurie-j
Title:
Kindling Flames:
Smoke Rising
Series:  The Ancient Fire Series #3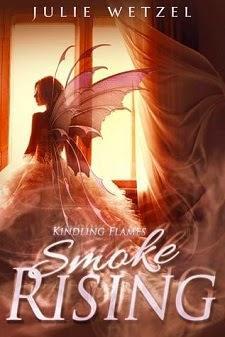 4 STARS

The magical world around Vicky continues to expand as she and Darien embrace their love for each other.  Darien is being challenged in a sneak attack that almost results in Vicky's death.  The lesser fey play predominate roles in this installment, and Vicky gets marked and "magically enhanced".
 The Halloween Ball was an imaginative romp that became tangled up in a mass of borrowed identities and craziness.  I personally would have liked a bit more detail with The Wild Hunt and a bit less detail surrounding the Halloween Ball.
 Vicky is still very susceptible to magic and I got a little frustrated with her fainting spells.  Vicky continues to be an interesting character to me because she exhibits toughness at unexpected moments.  Vicky is a compassionate and loyal person.  I Love that about her, but I would like to see additional areas of growth for her, as well.I am very much looking forward to reading the next installment, Stolen Fire, when it becomes available.This book was given to me in exchange for my honest review.

Reviewed by Laurie-J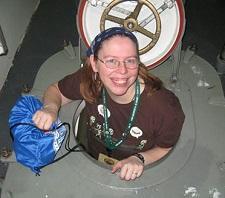 About the Author:

Originally from Ohio, Julie always dreamed of a job in science. Either shooting for the stars or delving into the mysteries of volcanoes. But, life never leads where you expect. In 2007, she moved to Mississippi to be with her significant other.
Now a mother of a hyperactive red headed boy, what time she's not chasing down dirty socks and unsticking toys from the ceiling is spent crafting worlds readers can get lost it. Julie is a self-proclaimed bibliophile and lover of big words. She likes hiking, frogs, interesting earrings, and a plethora of other fun things.
Julie Wetzel is the author of her debut novel Kindling Flames. Kindling Flames was released through Crimson Tree Publishing in 2014.
Amazon Author Page | Facebook | Twitter | GoodReads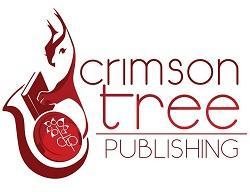 Crimson Tree Publishing Links:
Website | Facebook | Twitter
Giveaway Details:

There is a tour wide giveaway. Prizes include the following:
A bookmark swag pack, winner's choice of any Clean Teen Publishing eBook, and a $15 Amazon gift card.
Giveaway is International.
a Rafflecopter giveaway