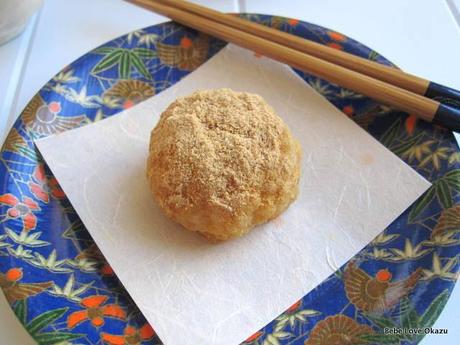 Today's indulgent Japanese afternoon snack was ohagi. Over the weekend, we spent some time at my parents home and my beautiful Mom made ohagi.
If you're not familiar with ohagi, it is glutinous sweet rice that is steamed in a rice cooker and then slightly pounded, or in this case it was gently mixed and mashed with a wooden spoon until it resembled a sticky mass. If this glutinous rice is pounded until it is smooth, it is then referred to as, what we call mochi or rice cake.
Personally, I like ohagi because it requires less physical labor to make. Who wants to pound rice, right? Ok, well yes, there are mochi-making machines and my Mom has one, but I love the texture of the ohagi and the fact it requires little attention to make.
My Mom likes to eat traditional ohagi which is tsubuan (sweet red bean paste) wrapped with glutinous rice. I prefer my ohagi plain, with no red beans, so I asked my Mom to make me a few special plain ones. (Tsubuan recipe is available here.)
My favorite way to enjoy ohagi is with kinako, or sweetened soy bean flour. I was lucky enough to bring home fresh made ohagi that my mom dusted with kinako, but when I brought it home, all the powder had disintegrated into the damp ohagi rice ball.
Fortunately, I like to keep a small package of soy bean flour in my pantry (it's a staple in every Japanese girl's pantry, right?) and I made a small batch of sweetened kinako and decided that kinako deserved a recipe post all of it's own. So here it is!
For your reference, my ohagi recipe post along with my Japanese Children's Day post can be found here.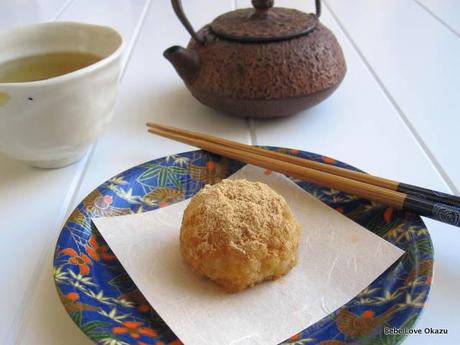 Print
Kinako (Sweet Soy Bean Flour) for Ohagi (Glutinous Rice Balls)   Ingredients
½ cup kinako (Japanese soy bean flour)
3 to 4 tablespoons granulated white sugar, to taste
1 – 2 dashes of salt
Instructions
In a small resealable plastic container, combine kinako flour, granulated sugar and salt.
Stir generously until all ingredients are combined.
Serve over warm ohagi (Japanese rice balls)
Notes Recipe for ohagi (glutinous rice balls) is available on the Recipes Index of BebeLoveOkazu.com 3.1.09