Kim Kardashian Defended Her Aayliah Costume And Pissed Off More People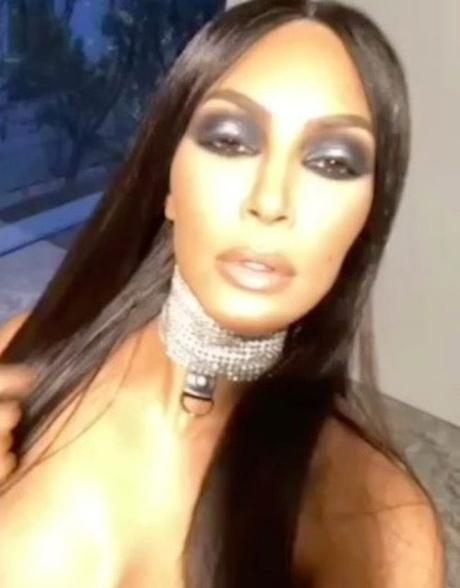 Kim Kardashian thought it would be an awesome Halloween idea to dress up different "icons", including Aaliyah, and it turns out it wasn't. When she tried to defend her choice of dressing as a black celebrity, she pissed off even more people, who don't realize that this was absolutely planned to fulfill her part of the contract to piss as many people off for maximum attention.  
In addition to the dearly departed Aayliah, Kim also dressed as Selena, which again pissed people off.  gave us a cavalcade of celebrity impersonations. The astute observationists of Twitter expressed their dismay.
Today Kim is Aaliyah in Try Again video. #kimkardashian #halloween #aaliyah

A post shared by Kim Kardashian Snapchats (@kimksnapchats) on Oct 28, 2017 at 5:29pm PDT
Legend or not Aaliyah is a black woman and you're not. It's offensive and you shouldn't push this limit, but ok…

— Blogger Cassie (@LAGrlCrookdSmle) October 29, 2017
Kim's response to these complaints was to claim that her family is "colorblind" on her app. Another poor choice.
Aaliyah was such an amazing singer and she will forever be a music legend. I saw online that some people thought my costume was in poor taste and I am truly sorry if that offended anyone. When I was creating the costume, I wasn't dressing up as a race or culture but rather as a woman whom I will always admire. I play every kind of genre of music in my home and I like for my kids to be exposed to many different artists. For me, it's always about love and respect. I loved that Kourtney was Michael Jackson for one of her costumes, and that my son was Axel Rose. We don't see color in my home. We were paying homage to people and artists we love and respect— it's that simple!
Judging by the comments section of Bossip, it really isn't.
I wasn't offended by the costume. I'm offended by the statement, "We don't see color in our home." Bish, you're half Armenian and your husband is black. Those kids are more colored than white. You better explain that to them before they learn it on the streets.
She's lying AGAIN lol she needs to write down her lies so that she'll remember them the next time she opens her mouth.
The next time someone tells you that they don't see color offer them $10 to pick out either the black people or the white people on the street.
May she should see color then she would not have to apologize…ask 'what will Black people think when I disrespect one of their loved ones'.
Mostly Kim's actions reminded people how rad a song "Try Again" is, and made them wish for the real thing. *sad-face*
Pic: @KimKardashian
Source: Kim Kardashian Defended Her Aayliah Costume And Pissed Off More People
3 total views, 3 views today