Kim Jong Un poses for a commemorative photograph with members of KPA Unit #323 (Photo: Rodong Sinmun)
DPRK state media reported on 20 February (Wednesday) that Kim Jong Un (Kim Cho'ng-u'n) inspected of Korean People's Army [KPA] Unit #323.  It was his first reported public field inspection of a KPA Unit in 2013 and his first reported public appearance outside of Pyongyang since his visit to the Sohae Space Center in late December 2012.  KJU's last reported public appearance was his attendance at a statue unveiling ceremony of Kim Il Sung and Kim Jong Il statues on the campus of the Mangyo'ngdae Revolutionary School.  Accompanying him were VMar Choe Ryong Hae (Director of the KPA General Political Department), Gen. Hyon Yong Chol (Chief of the KPA General Staff), VMar Yong Chun (Vice Chairman of the National Defense Commission [NDC] and Director of the Korean Workers' Party [KWP] Civil Defense Department), Hwang Pyong So (Deputy [vice] Director of the KWP Organization Guidance Department), along with Ra Chong Il, Hong Yong Chol and Pak Jong Chon.
After arriving at KPA Unit #323, KJU was greeted by Gen. Ri Pyong Chol, commander of the KPA Air and Anti-Air Force.  There was also a short presentation ceremony at which Kim Jong Un presented an automatic rifle and binoculars were presented to the unit.  Kim Jong Un then participated in a commemorative  photo session with officers and service members of KPA Unit #323.  KJU toured the unit's historical exhibitions.  Kim Jong Un asked to meet the unit's soldiers who had personal ties to late leader Kim Jong Il.  According to KCNA he said,  "I'm very pleased to meet you and feel recovered from fatigue" and remarked that he "he attaches greatest importance to this unit which President Kim Il Sung and Kim Jong Il considered as important."  KJU also " reposed deep trust in it, saying that it should further step up its preparations for battles, well aware of the intention of the Supreme Commander, and play its big role in the showdown with the enemies."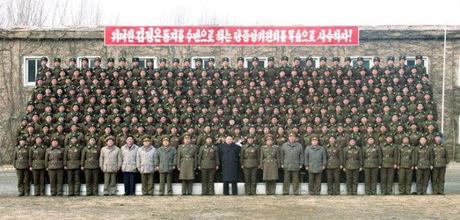 Kim Jong Un poses with service members and officers of the 4th Battalion of KPA Unit #323 (Photo: Rodong Sinmun)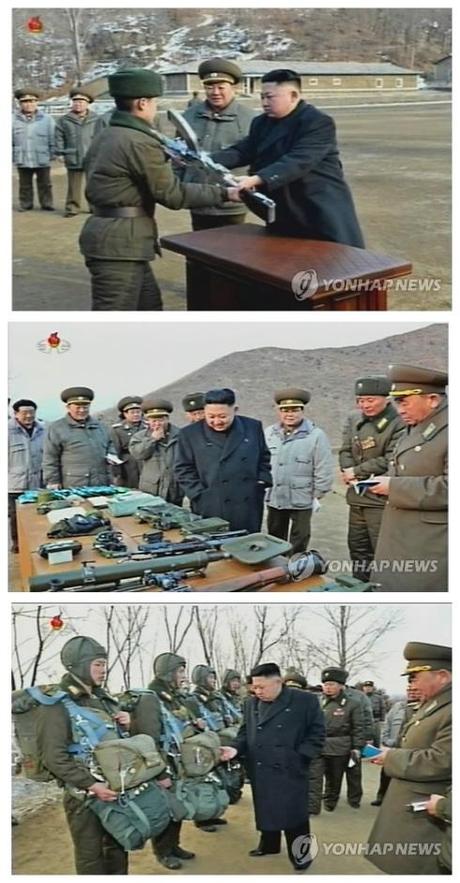 During his inspection of KPA Unit #323 and its 4th Battalion, he presents an automatic rifle (top) to commemorate his field inspection and examines the unit's equipment (bottom images) (Photos: KCTV-Yonhap)
Kim Jong Un toured the unit's library for ideological education and assembly, KCNA reported that "he was satisfied to learn that the unit was conducting fresh political and ideological education appropriate to the characteristic features of the soldiers by displaying lots of various data and building facilities for ideological and cultural education."  KJU also visited the mess hall, lecture halls and the unit's gym.  Kim Jong Un then proceeded to inspecting the KPA Unit 323′s 4th Battalion and visited its political education room, the barracks and the washroom.  He also visited the O Jung Hup Political University, under the battalion, and its mess hall.  KJU also watched a performance and according to KCNA "was pleased to know that commanding officers and their families were doing all their sincerity for soldiers."  After his tour Kim Jong Un commanded and observed the unit's training drills and was shown the units "combat and technical equipment.

Kim Jong Il inspects KPA Unit #323 in December 2008. At that appearance he was accompanied by (currently military ranks), VMar Kim Jong Gak, VMar Hyon Chol Hae, Gen. Kim Myong Guk, Jang Song Taek, Hwang Pyong So, Ri Jae Il, Gen. Ri Pyong Chol and the late Ri Yong Chol (Photos: KCNA)
Filed under: Central Committee, Central Military Committee, Choe Ryong Hae, Civil Defense Department, colonel general, corps command, Events Management Section, Gen. Ri Pyong Chol, gsd, gsob, Guard Command, Hwang Pyong So, Hyon Yong Chol, Kim Chong-un inspections, Kim Family, Kim Jong Un Visits, Kim Jong-il, Kim Jong-un, KJI Personal Secretariat, Korean People's Army (KPA), Korean People's Air Force, Korean People's Army Air Force, Korean People's Army Supreme Command, Korean Workers' Party (KWP), KPA General Political Bureau, KPA General Political Department, KPA General Staff, KPA in Vietnam War, KPA supernumerary organizations, kpaf, Lt. Gen. Pak Jong Chon, military security command [msc], ministry of people's security, Ministry of State Security, Ministry of the People's Armed Forces (MPAF), MPAF GPB, National Defense Commission (NDC), North Korean press, Organization and Guidance Department, Political Bureau, State Security Department, VMar Kim Yong Chun