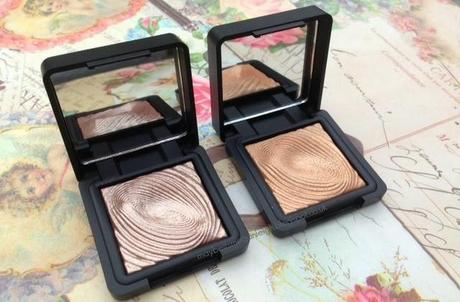 This kiko purchase was solely down to the YouTube beauty guru Nikki Tutorials, who said that Kiko Water eyeshadow in 200 was a spot on dupe for macs whisper of guilt. Now 'whisper of guilt' is a Mac Extra Dimension Skin Finish/Highlighter this is like gold dust, the hardest highlighter to come across.
So when in my local Kiko store in Westfield Stratford, I spotted these beauty's and HAD to have them. Out of the 32 luminescent shades available I picked up shade 200 & 208.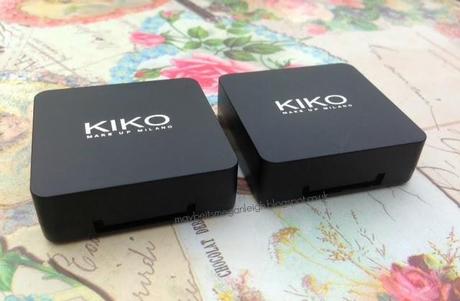 Before we go into more detail about the shades I picked, let me quickly explain how the Kiko Water eyeshadows are actually used;
Kiko Water shadows are a soft to the touch shimmery shadow. When used dry they give a soft shimmery metallic finish, that can be easily blended out. Giving the shimmery nature of the shadow there is surprisingly no fall out at all. When applied wet the shadows metallic finish intensifies to a gorgeous, stunning almost wet looking foil on the eye.
 The pattern of the actual eyeshadow itself is absolutely beautiful, they are presented in a three-dimensional shape very similar in effect to the Mac Extra Dimension Skin Finish. Apparently the special ergonomic design of the shadow facilitates product uptake, making the shadow quick and easy to pick up & apply?! Well all I know is they are some serious eye candy for any makeup lover.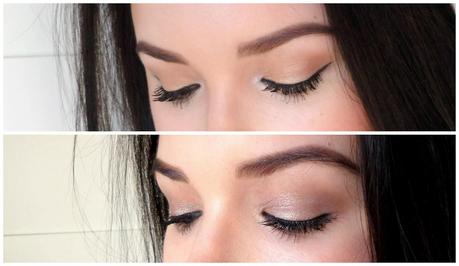 Let's talk shades; 200 is a golden peachy champagne shade. That has to be my favorite of the two, but just by a smidge.
208 is a true golden shade, that will look stunning in the summer with a nice tan.
Now for using these shadows as a highlighter like I've heard suggested by other bloggers & vloggers, I'm not convinced. On the eyes the shimmer looks no where near chunky, but when on the cheek the formula looks completely different. It looks too patchy & glittery for my liking, so these Water eyeshadows will be used as just that, an eyeshadow.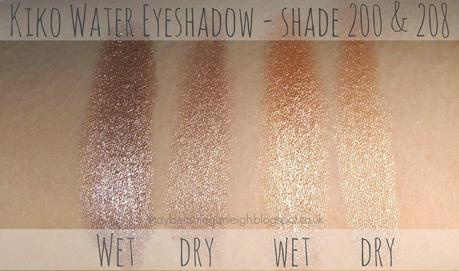 For anyone looking for an opaque glisten for there eyes I highly suggest these shadows.
£8.90 from Kiko stores & £5.90 on there online sale right now.