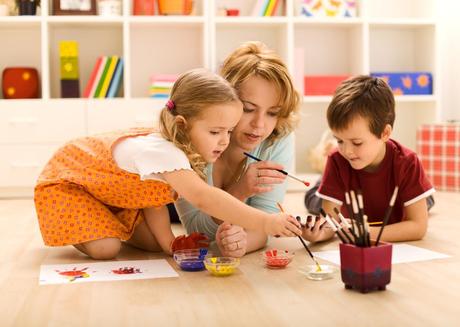 If you have kids, you've surely gone through the child-proofing stage of securing furniture, covering electrical outlets, etc., but what about the literal foundation of every room in your house? You may not have stopped to think about what the best flooring options are for children, but whether you're putting in a new floor or thinking about covering an existing one, it's worth considering your options.
Below are a few considerations to consider when looking for your flooring with your kids' safety in mind.
Allergies
If having a soft surface to cushion your child when he falls was the only consideration, then a deep pile or even a shag carpet might be a great option, but if you have allergies to deal with, then that may not be the way to go. Carpet can be great for kids who like to roll around and wrestle on the floor, but it can catch and hang on to allergens like pet dander and other environmental triggers much longer than a hard floor does. Also, if you've ever tried to clean fruit punch out of a light colored carpet, you may have been dreaming of wood or laminate floors ever since.
Durability
Most floors these days are pretty tough, but no floor is completely impervious to damage and when it comes to potential, you can be sure that your kids are going to push it to the limit. Ceramic tile and concrete floors are probably among the most durable, but they're also the floors you don't want your kids to fall on. Hardwood floors can be pretty tough, but they can still be scratched or dinged, and repairs can be expensive. Vinyl tiles and linoleum floors present an appealing mix of durability and affordability, but may not offer the family room aesthetic you are looking for. For many people, laminate floors offer just the right combination of cost, durability, and design options to fit into their plans.
Cleaning
Safety might be the paramount concern when you're thinking about your children, but cleaning up after them is a close second. As mentioned above, carpets aren't the easiest to keep clean, even with the greater availability of stain resistant options. Hardwood floors may require some regular maintenance, but in general, they're usually in the same easy-to-clean category with laminates and other manufactured options.
So, once you've got your priorities lined up, you need to decide what to go with. Below are a few guidelines to help with your decision.
Carpet
Pros: Soft floor for play, endless color and texture options
Cons: Hard to clean, traps allergens
Ceramic Tile, Stone, Cement
Pros: Very durable, very little maintenance
Cons: No cushion to protect from falls, can be expensive
Linoleum, Vinyl tiles
Pros: Affordable, can be self-installed, easy to clean
Cons: May not meet aesthetic goals
Laminate
Pros: Padded underneath for softer impacts, multiple design options, easy cleaning and maintenance, can be self-installed
Cons: Can be more expensive than other choices
Other Options
You don't have to start from scratch to make your floor safer for your kids. If you're not interested in replacing the floors in your house, then maybe you just need to cover them up. There are plenty of options that allow you to either keep the existing flooring or even lay the not-so-child-safe floor of your dreams, and then cover it up to ensure it's a good surface to play on while they're young.
Area rugs can be a great solution to many of the issues highlighted above. They can be inexpensive, come in endless color and textures, and can be sized to fit the spaces you need them in. Whether it's a high-traffic area near a door that's always getting dirty or covering the entire surface area of a playroom, you can find an area rug to meet your needs. Plus, there are great play rug options that have patterns designed on them designed to be used with toy cars or dolls.
Foam floor tiles are another way to go. This is different from ceramic or vinyl tiles in that you can get them specifically designed for use in kids' rooms. They're available in bright colors and you can even get sets that have world maps or the alphabet on them. And if you're looking to floor rooms that are not just for kids, there are also options that are printed with wood patterns to give the room the appearance of real hardwood, but with a kid-safe impact protection.
Just like kids, every floor presents a different challenge in balancing form, function, price, and safety, but by keeping an open mind to the available options, you should be able to find just the right mix to maintain an attractive home and keep your children safe and healthy at the same time.
Chris Long is an on-the-floor store associate at a Home Depot in Illinois. Since 2000, Chris has been providing DIY advice on all types of flooring — including tile, hardwoods and laminates, for Home Depot customers. Chris is also a frequent contributor on floor decor, such as carpeting and rugs, for Home Depot's website.