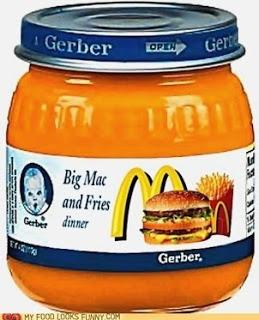 This kiddie party food hack: six most important foods to feed kids at a party is paramount for the nutritionally-minded party maven mom. 

Because... well, you already know processed foods are unhealthy. And, that even the baby food you buy is tainted too. 
Sadly, due to people being busy and with the "quickness", if you will, of Frankenfoods, it's come to this: kids don't stand a chance... not unless you, as a parent or guardian, step in and intervene. 
This is scary. No kidding, it's really scary. 
Did you know that the American Heart Association reports that one in three kids and teens is overweight or obese? 
That information informs me of this: a lot of kids walking around today; if their diets don't change, the reality is they have shortened life spans and are essentially walking, ticking time bombs waiting to happen. 
To prevent cardiovascular disease, Type 2 diabetes, high blood pressure - which obviously lead to strokes and goodness knows what else, the "Western diet", which we know largely consists of fast food that is high in sugar, salt, fats and starches, and meats, and low in vegetables and fresh fruits (sorry, that would include Mikey D's, pizza, pre-prepared frozen foods... you get my gist), has got to go.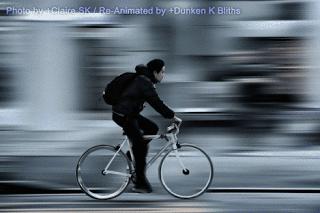 Of course, most kids need to get up and get moving. 
Get them doing some form of consistent exercise, be it playing tennis, roller skating, little league baseball, or simply bike riding is extremely important. "Thumb exercises", such as sitting around "Facebooking" and playing video games just won't do.
But before you even say it, I know... I know... your kids are picky eaters. So, getting them to eat what is actually good for them is a job. 
You love them, so you won't give up on them. 
So here's information that can help. 
Six 
Important
 & 
Nutritional
 Powerhouse Party Foods for Kids to 
Eat
with Tips to Please Their Palates

1.) Avocado - Creamy avocados are loaded with healthy monounsaturated fats, potassium and folate. 
How to serve: B
lend with water, vanilla, cocoa powder, and agave nectar to use as a fruit dip or chocolate pudding - depending on the consistency... it's actually yummy and irresistible! 
Use as a spread on a sandwich or on whole-grain toast (in place of butter or mayonnaise), spoon straight out of rind, , or mash into guacamole with cilantro and garlic.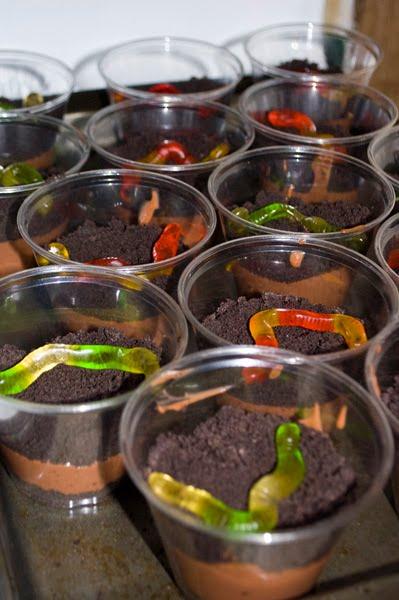 Avocado chocolate "Wormy, Muddy Dirt" for kids party
Avocado Chocolate Pudding - Fruit Dip Recipe for Kids
 (Printable Recipe) 

1 Avocado
1/2 cup agave nectar
1/4 cup cocoa powder 
1/4 cup water (vary amount for consistency)
2 tsp. vanilla extract 
1/4 tsp. sea salt 
Instructions 
1.) Place avocado, cocoa powder, agave nectar, vanilla extract and sea salt in a blender. 
2.) Gradually add 1 tablespoon of water at a time to achieve creamy consistency. 
Cater-Hater Tip: To make Wormy, Muddy Dirt: top with ground up Oreo Cookie exterior and add Gummy Worms.
2.) Berries - To start, buy organically grown berries to avoid serving "Frankenfood" (berries full of pesticide reside), then serve raspberries, blackberries, strawberries, and blueberries to help prevent illness and improve brain function. Or, serve acai berries which are antioxidant-rich (in frozen smoothie packs or in dry powder form) or dried goji berries. Frozen berries are just as good as fresh berries (that actually taste better), nutritionally speaking. 
How to serve: Add as cereal or oatmeal topping, blend with yogurt and bananas for a healthy and delicious smoothie. Or, puree and pour over healthy whole-grain pancakes or waffles in lieu of butter and syrup. And of course, eat plain.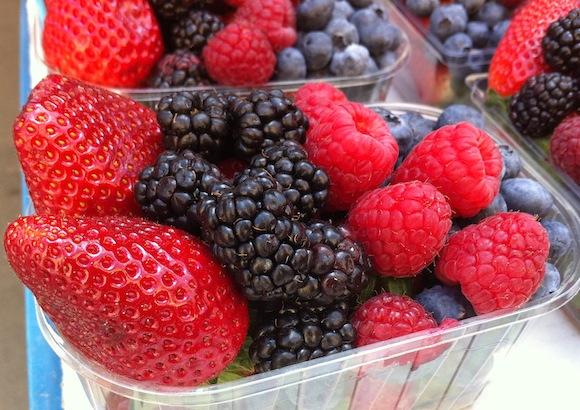 Delicious fresh strawberries, blackberries, raspberries, and blueberries.

3.) Chia seeds - You're a trendsetter when you serve gluten-free chia seeds - which may be the world's healthiest seeds - at your child's next party, as this South American grainis relatively new to the U. S. market (the most researched variety is Salba seeds). Chia seeds are a rich source of vitamin C, protein, fiber, magnesium, and iron. They also contain six times more calcium than milk, provide more omega-3 fatty acids than any other plant food, so their nutritional value goes "through the roof ", so to speak. Also, flax and hemp seeds are nice alternatives.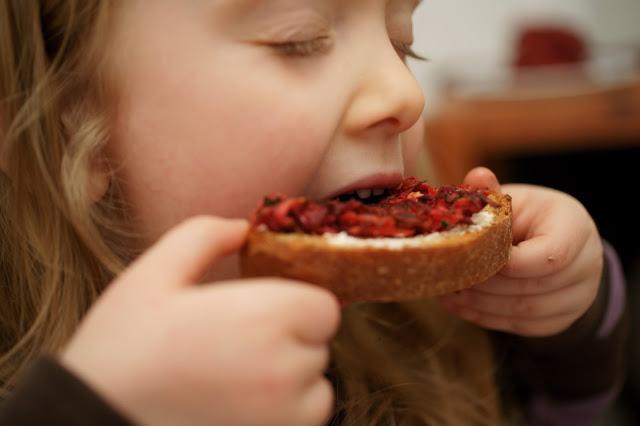 This is Ella... taking a big bite!
Beet Burgers with Millet and Salba Seeds
(Printable Recipe) 

Recipe from Raised From Scratch, based on recipe at Greenkitcenstories.com)
Ingredients 
1/2 cup millet, rinsed in hot water  
1 cup water 
1/2 t. salt Pinch fennel seeds, crushed 
1 and a 1/2 large beets, peeled and grated 
1/2 large zucchini, grated 
1 large carrot, grated 
1/2 red onion, very thinly sliced 
3 eggs 
1 salba egg (3 T. water combined with 1 
T. salba/chia seeds and allowed to sit 10 minutes) 
1 t. kosher salt 
1/4 to 1/2 t. black pepper 
Olive oil for pan 
Instructions 
1.) Combine rinsed millet, water, fennel and salt in saucepan with tight-fitting lid. 
2.) Bring to a boil, cover, reduce heat to low and cook 15 minutes or until fluffy. 
3.) Meanwhile prepare salba/chia "egg" by mixing the water and seeds in a small glass and allowing to it to sit and congeal for 10 minutes. 
4.) Combine vegetables (use a mandoline to grate quickly) with all remaining ingredients in large bowl and mix well. 
5.) Add cooked millet. Heat a couple tablespoons of olive oil in a large sauté pan. 
6.) Cook one test patty to see if salt/spices need to be adjusted, then cook 3 or 4 at a time, re-coating the pan with oil as needed, and c
ook about 3 minutes on each side. 
Cater-Hater Tip: Wonderful served on bread or pita with goat or cream cheese. Raised From Scratch reports that Ella, the cute little girl in the picture, ate six of these patties for dinner!
4.) Quinoa and amaranth - Gluten-free and full of more calcium and protein than wheat, rice, oats, and rye, these grains are traditional foods in South America and Africa, respectively, and certainly trump North American grains by leaps and bounds. 
How to serve:
 Triple- wash quinoa, rubbing grains vigorously to remove bitter outside coating; cook in hot water; cook quinoa or amaranth just like you'd cook rice, for 20 minutes in water. Cook in broth and stir in chopped, fresh herbs. Or, stir into applesauce, add cinnamon and serve as cereal.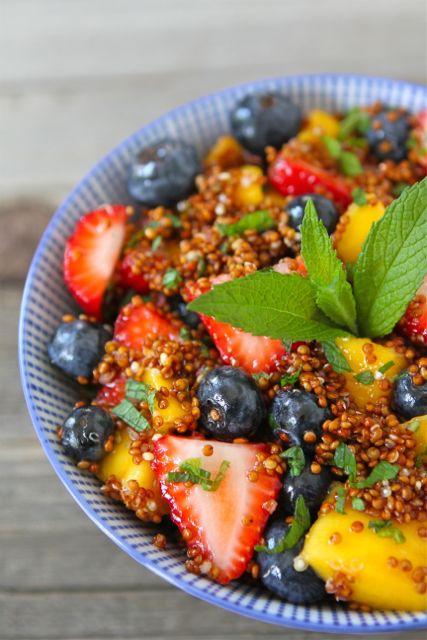 Healthy quinoa fruit salad
Quinoa Fruit Salad 
(Printable Recipe)  

Recipe from Two Peas and Their Pod)
Serves 6 Adults or 10 to 12 Children
(as a side dish)
Ingredients:
1 cup quinoa (I used Red Quinoa)
2 cups water
Pinch of salt
For the Honey Lime Dressing: Juice of 1 large lime
3 tablespoons honey
2 tablespoons finely chopped fresh mint For the fruit: 1 1/2 cups blueberries
1 1/2 cups sliced strawberries
1 1/2 cups chopped mango
Extra chopped mint, for garnish-optional Directions:
 
1. Using a strainer, rinse the quinoa under cold water. Add quinoa, water, and salt to a medium saucepan and bring to a boil over medium heat. Boil for 5 minutes. Turn the heat to low and simmer for about 15 minutes, or until water is absorbed. Remove from heat and fluff with a fork. Let quinoa cool to room temperature. 
2. To make the Honey Lime Dressing: In a medium bowl, whisk the lime juice, honey, and mint together until combined. 
3. In a large bowl, combine quinoa, blueberries, strawberries, and mango. Pour honey lime dressing over the fruit salad and mix until well combined. Garnish with additional mint, if desired. Serve at room temperature or chilled.

Cater-Hater Tip: Blackberries, raspberries, peaches, kiwi,  pineapple, and grapes, etc. are great options for this 5 minute prep time fruit salad. Quinoa cook time is only 20 minutes, making this delicious salad a 25 minute, from start to finish, easy to make dish. It's perfect to serve at kid's parties, and a great complement to any summer meal.
5.) Wild salmon - The healthiest of all fish, salmon is full of the two most important nutrients that kids need to grow; protein and omega-3 fats. To avoid contamination, choose wild-caught salmon (fresh or frozen).

How to serve: According to several parent shoppers of Costco Wholesale in Madison Heights, Michigan - who told me their kids didn't care for fish, that served my salmon recipe, their kids love, love, love my grilled salmon recipe. What a nice compliment! As an easy party dish, make a grilled salmon and goat cheese wrap, cut into spirals and serve.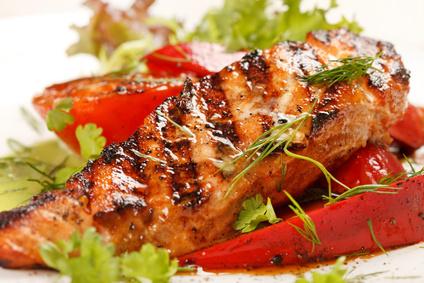 The Best Grilled Salmon Marinade... Ever!
(Printable Recipe) 
Ingredients:
3/4 cup Soy sauce
1/2 cup Honey
2 tbsp. Minced fresh 

garlic
1 tbsp. Fresh chopped 

parsley
Salt and pepper

 to taste, if desired
Directions:
1.) Measure and pour soy sauce and honey into a non-metal large bowl, slowly stir ingredients well.
2.) Add minced garlic and stir slowly.
3.) Add fresh chopped parsley and continue to stir until all ingredients are thoroughly blended together.
4.) Add vegetable or meat, cover and refrigerate to marinate from 2 hours to overnight. Now you're ready to grill, add salt and pepper if desired and use the leftover marinade for 

basting

.  
Cater-Hater Tip: I advise that you buy and grill more salmon than you plan to serve and eat. This marinade recipe makes oily salmon grease-free and makes a delicious grilled salmon hors 'oeuvre to serve cold with crudites and an array of crackers at parties.

Sponsor of the Month
*****
I do this... I write to help to create to opportunities for all who choose to pursue their passion to have parties almost irregardless regard to economic constraints.
I think if we keep talking about the cost of parties (I write blog posts, you write comments), together, maybe we can break down some of the party industry's price barriers and shame some of the people who've taken your money and delivered a poor quality product right into growing a conscious and treating you right (nice thought, huh?).
Opportunities to be inspired about parties are everywhere. Yet, people looking out for your wallet are few and far between. My goal is to inspire you, causing you to question the way things are that have been the status quo for too long. When we stand together and speak up, we can be a powerful force.
Let's keep the conversation of change going. Because in the sea of everyone talking, one voice is a whisper... several voices are a scream.
Leave a comment and share your thoughts, ideas and suggestions below. Remember to be as specific as possible because what you have to say helps us all.
Always... be encouraged and encourage others too,