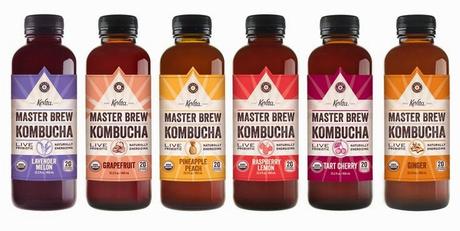 I'm always on the search for healthier beverages. Too many sodas and sugary drinks can really add pounds to my figure. Fortunately, there are plenty of better options to explore. I was recently given the opportunity to review KeVita's new line of Master Brew Kombuchas. They provide live, energizing probiotic cultures without sugars and unnecessary calories. KeVita Master Brew Kombuchas are also USDA Organic, gluten-free, non-GMO Project Verified and vegan.
There are currently six flavors in the Master Brew Kombucha line:
GingerGrapefruitLavender MelonPineapple PeachRaspberry LemonTart Cherry
My local Whole Foods store carried the Tart Cherry and Grapefruit flavors. I have to admit that the taste was a bit of an adjustment to me, but I found they went down much better with ice. My husband, who doesn't like sweet stuff as much as I do, really enjoyed the flavor of KeVita Master Brew Kombuchas.
How do KeVita Master Brew Kombuchas compare to other leading Kombucha brands? They offer twice the amount of probiotic culture, 33% fewer calories and five times the organic acids. Plus, KeVita uses a multi-stage filtration process, which ensures quality as well as alcohol and calorie compliance in every bottle.
Visit KeVita's store locator to find a store near you that carries KeVita Master Brew Kombuchas and give them a try next time you're there. Get rid of your bad soda habit by drinking healthier alternatives like KeVita Master Brew Kombuchas!