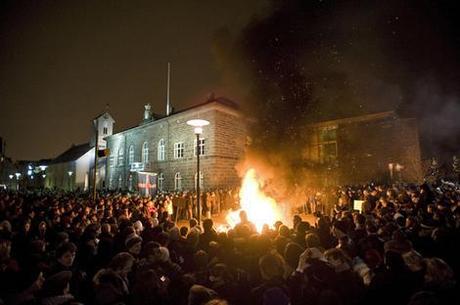 2009 - saying "NO!" Iceland-style
You all remember 2009 when Icelanders kicked the bankers out of their country, right?
You all remember how 'terrible a thing that was seen as being' at the time?
You all need to read this new report from Business Week:
Icelanders who pelted parliament with rocks in 2009 demanding their leaders and bankers answer for the country's economic and financial collapse are reaping the benefits of their anger.
Since the end of 2008, the island's banks have forgiven loans equivalent to 13 percent of gross domestic product, easing the debt burdens of more than a quarter of the population, according to a report published this month by the Icelandic Financial Services Association.
"You could safely say that Iceland holds the world record in household debt relief," said Lars Christensen, chief emerging markets economist at Danske Bank A/S in Copenhagen. "Iceland followed the textbook example of what is required in a crisis. Any economist would agree with that."
So, those 'corporate entities known as 'countries'' who are being aggressively pursued to accept self-assaulting Austerity Measures should just say NO. Refuse that heavily-leveraged IMF 'bailout loan' so that they won't go bankrupt under the all-seeing-eye of Banksters. Excise that cancer from the 'body politic' of your country.
A strategy encouraged by this report from Zero Hedge:
While Greece and Europe continue sinking ever deeper into the colonial quicksand of Pax Goldmania, Iceland, which blew up, pushed its banks into bankruptcy, and arrested its corrupt bankers, is well on its way to being the world's only normal country.
ICELAND RATINGS RAISED TO INVESTMENT GRADE BY FITCH
FITCH UPGRADES ICELAND TO 'BBB-'; STABLE OUTLOOK
FITCH DOES NOT EXPECT ICELAND TO SLIP BACK INTO RECESSION
FITCH SAYS ICELAND GOVERNMENT DEBT PEAKED AT 100% OF GDP IN '11
Too bad the Goldman colony of Greece (and soon everyone else - thank you first lien "bailout" debt) will not see headlines such as these written about it any time in the next century.
So, stand up and do what's right by Free Planet -
that seems to be the financial message
. Local solutions for global problems - let's carry that through to 'all aspects of our lives on our homeworld'.
"David Cameron, why do you harbor financial terrorists in City of London?"
Max Keiser goes apeshit this morning on his RT show.