Keyword Research Tools
: are tools used by internet marketers with the help of which they find the words and queries that people search on the search engines, this way they improve the content of their web pages to improve SEO, or they use this data to create optimized ads that appear on the search engine result pages (SERP), or in the pages of websites that run ads throughout the world wide web.
Keyword Research Importance
Keyword Research
is not only important but is also essential for the analysis we should do before
writing or producing content
and also, for all the SEO strategy of the website.
It is important because it will help us to focus on the keywords that your website can rank for.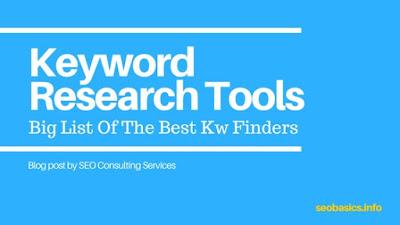 Keyword Research Tools
It will reveal you such important metrics based on what you will make such an important decision about what kind of content to produce for your company.
Search volume, ads competition, keyword difficulty for organic rankings, analyzing your competition are all the metrics you should evaluate before making a decision to produce content.
Based on these metrics and also your domain authority you can decide whether to focus on the long tail or medium tail keywords.
Best Free and Freemium Keyword Research Tools
Warning:
The order of the listed tools does not reflect in any way their quality or my preferences, the order is simply random and casual!
1. Google Keyword Planner
GKP -is most known keyword research tool because it is provided by Google and its main purpose is to research keywords for the advertisers that want to advertise their products, websites or apps through Google ads.
But it is used by SEO for the keyword research for SEO and creating content purposes.
2. SEMRUSH
SEMrush
is one of the best freemium tools for SEO where you can do a lot of complex work to optimize the websites, you can research keywords, your competition, yours and competitions backlinks, your site's rankings, and a lot more tasks for you.
To use in full you need to purchase one of the plans provided by SEMrush.  
3. Serpstat
Serpstat
- is very similar to SEMrush, but it gives you more opportunities to work with the free plan.
4. SEOChat Keyword Suggestion
Seochat Keyword Suggestion Tool
- it is a great longtail keyword suggestion tool, you only need to write your focus keyword and choose level 3 and then hit suggest and it will provide you with a lot of longtail keywords.
5. Ubersuggest
Ubersuggest
- this is also a great completely free tool where you can find a lot of suggestions for of long tail, medium tail, and relevant keywords.
6. Keywordtool.io
Keywordtool.io
- a freemium tool very similar to ubersuggest, just that here you can research keywords not only for Google but also for Bing, Amazon, Youtube, and Appstore.
7. Seranking
Seranking
-  a great tool which will offer you with longtail and semantic keywords.
8. Keyword Tool Dominator
Keyword Tool Dominator
- unlocks the searching power of the large autocomplete databases from Google, YouTube, Amazon, Bing, and eBay.
9. Keyword Revealer
Keyword Revealer
- Discover low-competition keywords. find many long tail keyword concepts in seconds with the superb keyword analysis tool.
10. Keyword Research Made Easy! 
Keyword Research Made Easy - find profitable, low competition keywords in seconds and begin ranking today!
11. LSIGraph
LSIGraph
- a free tool where you'll be able to find a lot of LSI (semantic) queries and use them to unfold them on your article.
Generate Latent semantic indexing (LSI) Keywords for your SEO content with their free LSI Keyword Generator tool.
12. K-meta - Keyword Research Tool for Winning Competitor SEO & PPC Strategy!
K-meta
 - find high-performing keywords to increase your sales, quickly and accurately analyze your competition's website metrics, etc...
Simple competitor Keyword research and Suggestion Tool for SEO and PPC! Analyze strategic website metrics and realize relevant longtail keywords in seconds! try it for free!
13. HyperSuggest - Your advanced keyword research tool
HyperSuggest
 - provides you: Reverse-Suggest, Normal-Suggest, Both-Suggest, W-questions. Get new keyword ideas and w-questions in seconds.
HyperSuggest offers seven completely different suggest Networks like Amazon, Google, YouTube & News. you'll be able to additionally generate WH-questions that are great for new content concepts.
Start your keyword research now with HyperSuggest and keep ahead of the competition.
14. SEO Power Suite's
SEO Power Suite
 - Offers four freemium tools that you must download on your PC.
Those are:
-
Rank Tracker
is an advanced search engine position rank tracking tool that helps you check the rankings of your website and your competitors.
- Website Auditor it helps to do a complete website and content audit.
- LinkAssistant that lets you find link building opportunities for your website, create and manage link building campaigns, etc...
- SEO Spyglass is a tool that helps to find backlinks that point to any website and in this way, you can find your backlink profile and backlinks of your competitors and their link building strategy.
All-in-one SEO software to run and manage full-blown SEO campaigns.
Do not forget you can download SEO Power Suite software for free!
15. Free Google Keyword Research Tool | SERPS
Free Google Keyword Research Tool | SERPS.com - this quick and free keyword research and suggestion tool (formally Keywordini).
Research keywords to focus on for SEO, Google PPC and more.
16. Answer the Public
Answer the Public
 - that free visual keyword research and content concepts tool - is a fully free tool that when you write your main keyword on it provides you all the queries associated with that keyword and in this way it helps you with the topics that you just wish to write.
Find out what queries and queries your consumers have by obtaining a free report of what they're searching for in Google.
17. Moz Keyword Explorer
Moz Keyword Explorer
- One tool to discover and prioritize the most effective keywords to focus on - a superb freemium tool developed by Moz that provides some nice metrics like keyword difficulty variety searches, add plenty of related keywords.
18. The Reddit Keyword Research Tool
The Reddit Keyword Research Tool
, - begin typing within the name of a subreddit below and pick one from the auto-generated list.
19. Ispionage - #1 Adwords and SEO Keyword, Ad Copy and Landing Page Competitor Research Tool
Ispionage
- #1 Adwords and SEO keyword, Ad copy and landing page contender research tool - steal your competitors' traffic and uncover their conversion strategy.
20. Bing Keyword Tool
Bing Keyword Tool
- this is the Bing version of Google Adwords Planner and you'll be able to research keywords for the Bing search engine.
21. Wordstream
Wordstream
- is a digital marketing agency specialized in advertising and PPC.
There is an internet tool on the Wordstream website relating to keyword research and it's called the Free Keyword Tool, therefore it's free.
22. SEOBook Keyword Tool
SEOBook Keyword Tool
- The quick, free alternative to the Google AdWords Keyword Planner Tool - this free tool offers calculable search volumes, estimated bid costs, related search terms, calculable search price, data for the united kingdom market beside the U.S.A. market.
23. The Best Keyword Research Tool for Long Tail Keywords - LongTailPro
With Long Tail Pro, merely utilize the intrinsic Keyword competitiveness (KC) metric and automatically calculate an easy 0-100 score using LTP's proprietary formula that's systematically being tested and tweaked.
24. SpyFu
SpyFu
 - Keyword research and tracking Tools - download Your Competitors' Most Profitable Keywords and Ads For Paid and Organic Search.
SpyFu exposes the search marketing secret formula of your most successful competitors.
25. Content Idea & Market Research Tool - FAQ Fox
Content Idea & Market Research Tool - FAQ Fox
- How can you interact with, interact with, and supply real value to your customers while not knowing what they need in the first place?
FaqFox simplifies this method. find queries your viewers are asking online, free.
26. Mondovo - Digital Marketing Toolset. SEO, Social Media & Analytical Tools
Mondovo
 - is your all-in-one digital marketing platform for measurement & managing everything to try to with SEO, Social Media & Analytics. Mondovo offers a set of tools that facilitate make digital marketing easier to manage.
Be the SEO authority for your clients with each tool, workflow or service you'll need for tracking, Researching and reporting.
27. Keyword Keg 
Keyword Keg
- Keyword tool to examine Google suggest keywords with Google Keyword Planner metrics.
Keyword Tool to look at keyword search volume and CPC information on suggested keywords from Google, Youtube, Bing, Amazon, eBay, Wikipedia, Yahoo, Yandex, Baidu Ask.
28. Keywords Explorer by Ahrefs
Keywords Explorer by Ahrefs
- can get you a lot of promising keyword ideas from the four billion keyword database and supply you with the most accurate keyword metrics.
Discover thousands of nice keywords to rank for, analyze their ranking difficulty, calculate traffic potential.
29. SEOPressor Wordpress Plugin
SEOPressor Wordpress Plugin - is one of the most common and the most used Wordpress plugin for
finding LSI keywords
.
30. Keywords Everywhere
Keywords Everywhere
- is a must have browser extension for SEOs. it is a free browser add-on for search volume & CPC of all your favorite keyword tools.
Keywords everywhere is a FREE browser add-on for Chrome & Firefox that shows search volume, CPC & competition on websites utilized by internet Marketers - Google Search, Google Trends, Google Search Console, Google Analytics, Google Keyword Planner, YouTube, Bing, Amazon, eBay, Etsy, Ubersuggest, Answer the public, Soovle, Majestic, Moz & more.
31. Keyword Analysis Tool - Market Samurai
Market Samurai
- Discover the most effective keywords and your competitor's weaknesses with our keyword analysis tool.
32. AdWord and SEO Keyword Permutation Builder
AdWord & SEO Keyword Permutation Generator
 - the aim of this tool is to mix completely different keywords with a permutation and find different keywords.
33. Google Trends 
Google Trends
- Explore what the world is searching.
Explore what the world is searching for by entering a keyword or a subject within the Explore bar.
This is an important free tool from Google that may help us find the search trend of a specific keyword and a few related keywords.
34. Google Correlate 
Google Correlate
 - finds search patterns that correspond with real-world trends.
It helps us to seek out related keywords and sometimes if learned the way to use it right, it will provide us with some keywords and their information that we can't find anyplace else.
35. Keyword Eye
Keyword Eye
- SEO Tools for web marketing Domination - Your single platform for information sourced from SEMRush, Grepwords, Google/YouTube/Amazon Autocomplete.
36. KeywordSpy
KeywordSpy
- No1 Keyword software and Keyword Tool for Keyword research.
Through this keyword tool and keyword software, you'll be able to perform advanced keyword research and keyword tracking to check what your competitors are advertising in their Adwords campaigns and different PPC campaigns.
37. KWFinder - Keyword research and analysis tool
KWFinder
- Keyword research and analysis tool, it's an easy-to-use keyword research tool bringing good keyword ideas, finding long-tail keywords with low SEO difficulty.
38.  SeedKeywords
SeedKeywords
- Seed Keywords Engine, a free keyword tool, find seed keywords for free of charge.
Simply produce a search scenario and ask your contacts to type in the keywords they might use to solve it.
39. Soovle
Soovle
- Let the web help - Search suggestions and completions from the highest providers on the internet.
Hit the proper arrow to change engines, and use your arrow keys to search without all the typing.
40. Bulk Keyword Generator | IMforSMB
Bulk Keyword Generator | IMforSMB
- A bulk keyword generator tool that's aimed at local businesses & marketers. Generate keywords from category selections.
41. Jaaxy
Jaaxy
- The Worlds Most Advanced Keyword Tool - Jaaxy is the worlds most advanced keyword tool built for web marketers. Use Jaaxy to reveal the most popular and also the most profitable keywords online.
Jaaxy is the keyword and research platform that was developed by affiliate marketers for affiliate marketers.
42. Keys4Up - Content Marketing and Semantic Keyword Research Tool
Keys4Up
- Content marketing and semantic Keyword Research Tool - notice related keywords for any topic, improve rankings on Google.
43. Keyword Match Type Tool
Keyword Match Type Tool
. - The 100% free Adwords Keyword Wrapper and Keyword Match type Tool.
Merge words, build keyword lists for your Google Adwords campaigns.
44.  Nightwatch - All In One SEO solution
Nightwatch
is an all-in-one SEO solution equipped with an advanced keyword discovery mechanism. 
Apart from discovering and tracking keywords, Nightwatch allows users to visualize gathered data on flexible and detailed graphs, monitor and analyze the website's performance, and spy on competitors.
It is currently one of the most accurate SEO and keyword research tools available.
What is the best keyword search tool?
This is up to you to decide for yourself!
Everybody has their favorites, but the most popular ones are Google Keyword Planner, Google Trends, SEMrush, Moz Keyword Explorer, Ahrefs Kw Explorer, etc...
If you liked this article please use the social sharing tools on the webpage and share it with your friends and followers in social media.
 If you have any further questions and feedback about this article then you can share your opinions in the comment section below.
For 
SEO consulting services
 you can always write us in an SEO consultation form and we will contact you ASAP!
---
SEO Consulting Services Consultant, Specialist, Freelancer