True Blood's  Kevin Alejandro is the criminal-of-the-week on Breakout Kings, and from the looks of the exclusive clip below, it could be one of his most intense roles yet.
The clip is mighty brutal, but here's some context: Alejandro plays a man dying from lung cancer who tries to atone for his past sins by serving justice to those who have escaped it. First stop on his murder tour? This pedophile's face.
Click on the image to go to the site and see this clip: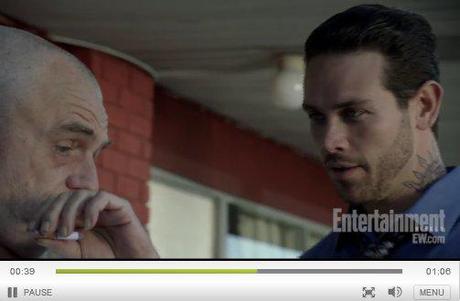 But that's not all that Kevin will be seen in coming up.  He will also be seen in the new film called "The Legend of Hell's Gate: An American Conspiracy," which will be released on March 30. The film is written and directed by Tanner Beard. The western stars Eric Balfour, Lou Taylor Pucci, Henry Thomas, Jenna Dewan, Summer Glau, Jamie Thomas King, Kevin Alejandro, Tanner Beard, James Lafferty and Robert Buckley.
In 1870s Texas, a ruthless bounty hunter and an Irish desperado flee the law with a young criminal claiming to possess a treasure more valuable than gold. Crossing paths with some of the West's most notorious figures, the three outlaws fight for their lives in the pursuit of fame and fortune. Fueled by an ensemble cast and inspired by actual events, "The Legend of Hell's Gate" blends legend and history into a Western spectacle that recounts a treacherous existence in post Civil War Texas.
Below is the trailer:
source: insidetv.ew.com
source: comingsoon.net