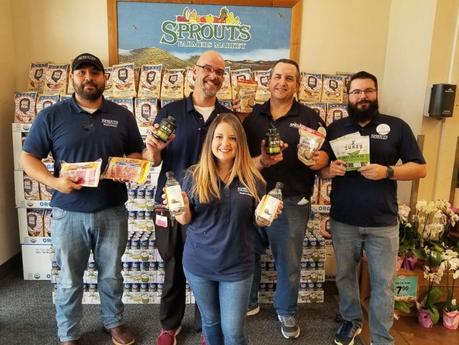 The "Keto Krew" at a Sprouts grocery store in greater Houston is leading by example. This spontaneously-formed group of five employees has collectively lost 200 pounds, all by following a ketogenic diet.
They have dropped pants sizes and gained endless energy, by cheering each other on, sharing recipes and finding new keto-friendly products in the store, they said.
Even the customers are catching on.
"When I have [customers] asking for certain [keto] information, I can say, 'Let me take you to the star of the building,' and take them to Farley or take them to Ana, 'the keto queen,'" Glidden said. "It's nice to work for a company that supports healthier decisions and [a healthier] lifestyle, and is working hard to provide even more support."
In spite of all the fabulous results experienced by the Keto Krew, the registered dietician interviewed at the end of the ABC News article offered perfunctory cautions about lipid profiles, even characterizing a keto diet as unsustainable. But we know keto often improves heart disease risk markers, and have shared hundreds of success stories that demonstrate a long-term commitment is not only possible, but embraced by many who transform themselves with keto.
A workplace is a great place for keto to take off. It is hard not to notice when a coworker is losing weight and gaining energy. Others jump on board, and colleagues can offer one another support - encouragement, tips and recipes. Can you spread the word at yours? Feel free to share our beginners' guide with those interested in giving keto a try!
ABC News:
Inspiring grocery store coworkers lose over 200 pounds on keto diet
Men's Health: The Keto Diet Helped These 5 Coworkers Lose 220 Pounds
Earlier
Success story: "People connecting together has saved my life and my health!" Doctor transforms her health with low carb and pays it forward Success story: "Had to tell the world about It!"
Guides
A ketogenic diet for beginners
Get started
Do you want to try what the Keto Krew is doing? Sign up for our free 2-week keto low-carb challenge!
Alternatively, use our free keto low-carb guide, or for maximum simplicity try out our keto meal planner service with weekly delicious keto menus and shopping lists - it's free to use for a month.
Support
Do you want to support Diet Doctor and get access to bonus material? Check out our membership.
Start your free trial here
PS
Do you have a success story you want to share on this blog? Send it (photos appreciated) to [email protected], and please let me know if it's OK to publish your photo and name or if you'd rather remain anonymous.
It would also be greatly appreciated if you shared what you eat in a typical day, whether you fast etc.