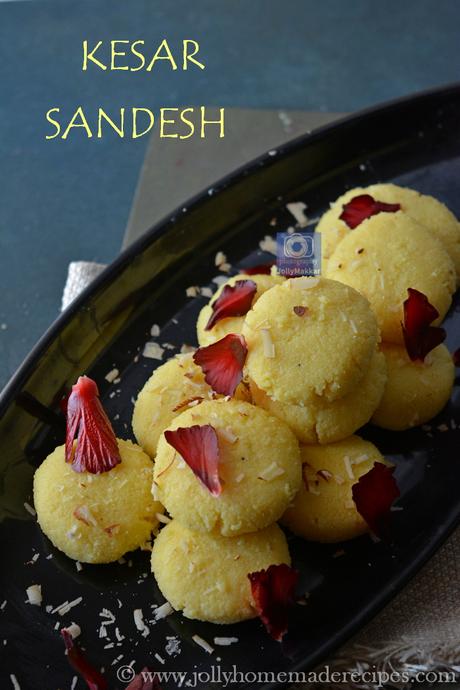 SAFFRON SANDESH is a popular Bengali sweet dish that is made up with fresh chenna or paneer and sugar which is flavored with saffron. It's very easy recipe to make at home with simple steps. This soft fudge is melt in your mouth yummy!
This sweet dish is prepared on special occasions, festivals, durga pooja and the Bengali weddings. A divine tasting sweet made with just few ingredients and easy to prepare too. You don't need to wait for long hours to prepare it.
WHAT IS SANDESH SWEET?
Sandesh is just a soft fudge made with Indian cottage cheese or paneer. It can be flavored with Kesar Sandesh, Nolen Gurer Sandesh, Chocolate Sandesh, Rose Sandesh, and many more that you can choose from your favorite ingredient or make it simple without any essence. It is pronounced like "SONDESH"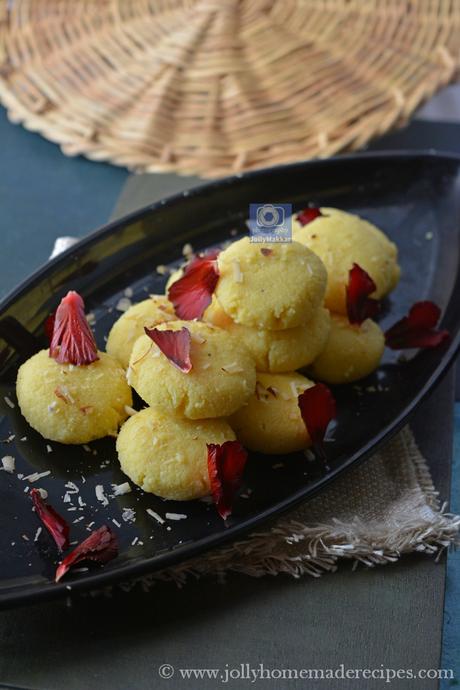 Checkout the video recipe
First is to make chenna from milk, chenna is mixed with other ingredients and cooked on low heat, flavored with kesar which is option you make it simple. 
If you are using market paneer for making sandesh, churn everything on grinder. I used homemade chenna with the heels of your hands for a 5 minutes.
Then rolled and flattened it and serve with your favorite dry fruits or rose petals or any flowers for decorations on top, it looks more appealing. See below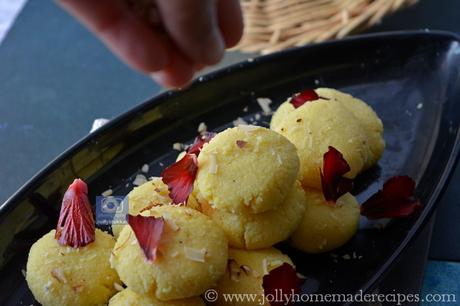 INGREDIENTS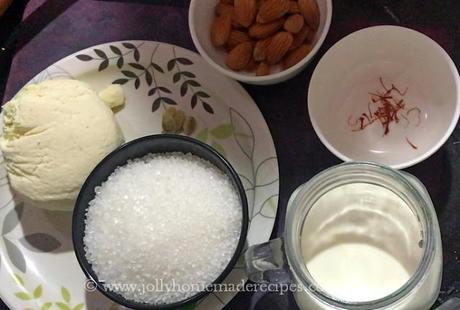 Milk – Always go for whole milk or full-fat milk to prepare this delectable Sandesh Sweet recipe, for the best results and authentic taste.
Lemon Juice – Lemon juice is added in the milk, which curdles it to make chenna. You can even use vinegar instead of lemon juice.
Sugar – Add in some powdered sugar, so that it gets mixed with the chenna properly, giving it a smooth and soft texture.
Milk Powder – Milk Powders adds to the taste furthermore and also helps in the texture of this Mithai.
Cardamom Powder(totally optional) – Flavor it up with some cardamom powder, its totally optional, I didn't used it you can used it, quantity is mentioned in ingredients list
Saffron – Saffron is mixed with milk and then added in the chenna mixture, which gives it a nice subtle yellow color.
Dry Fruits – At the end, make it look more appealing by garnishing it with some almonds or pistachios and flower petals fruits on the top.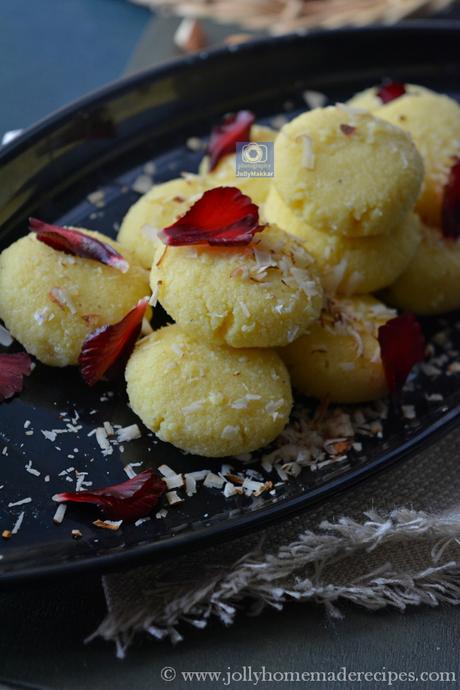 Course: Dessert
Cuisine: Indian 
Prep Time: 30 minutes
Cook Time: 20 minutes
Total Time: 50 minutes 
Servings: 5 people
Author: Jolly Makkar
Ingredients :
Full cream milk - 1 litre
Lemon juice - 2 tbsp 
Powdered sugar - 4 tbsp 
Milk powder - 1 tbsp 
Cardamom powder(optional)- 1 tsp (I didn't used it)
Pinch of Saffron (soaked in 2 teaspoon milk for a few hours.)
Dry fruits for garnishing
flower petals for garnishing
Preparation Method :
1. Boil milk in a heavy bottom pan. When the milk comes to a boil, add lemon juice.

2. Let the curdled milk rest for 5 minutes.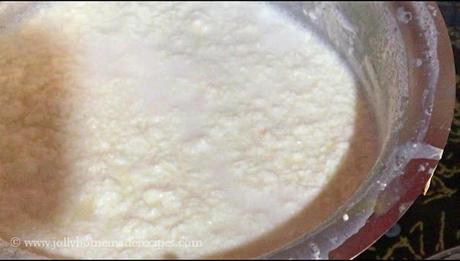 3. Line a big bowl with muslin cloth and pour the curdled milk in the cloth, wash the curdle milk 3 to 4 time with drinking water and let the whey drain.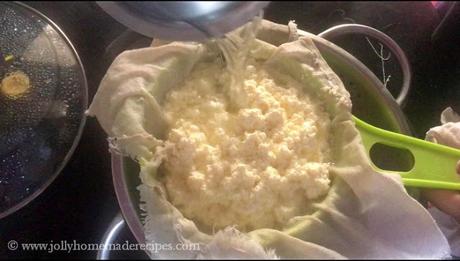 4. Add 4 tablespoon of sugar on mixer, make a powder sugar and soaked the saffron in 2 teaspoon milk for an hour.
5. In a big steel plate, add chenna first mash with your fingers. Then add powdered sugar, milk powder, saffron soaked in milk.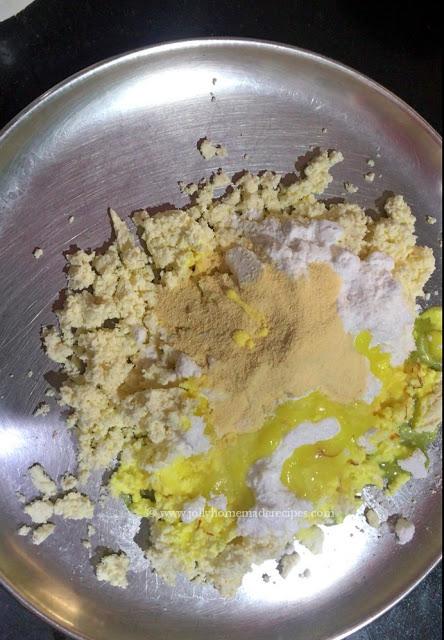 6. Mash with the heels of your hands for a 5 minutes. Important step don't skip this!!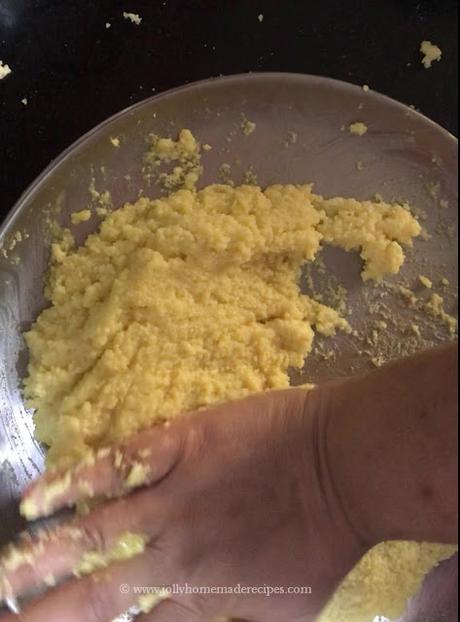 7. Take a non stick pan and cook the chenna for a 3 minutes or not more than 4 minutes, otherwise it become hard, we need to cook till remove all the excess moisture.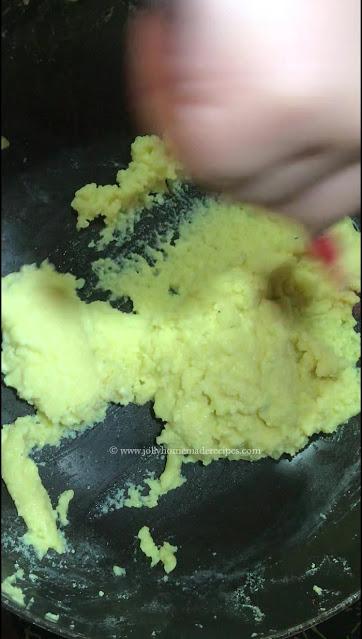 8. Remove it from pan and Let it cool for a few minutes.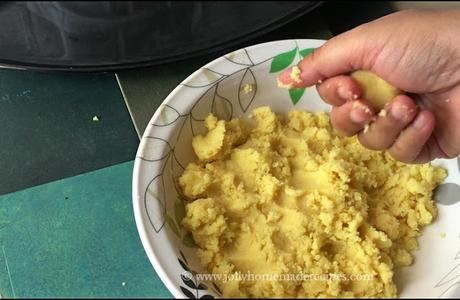 9. Take small amount of chenna in your palms, shaped like a rounds and flatten them a little bit
10. Make small rounds and flatten them a little bit. Make all the Sandesh in the same way.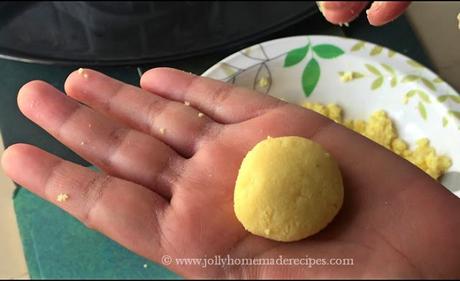 11. Garnish with slivered dry fruits and serve.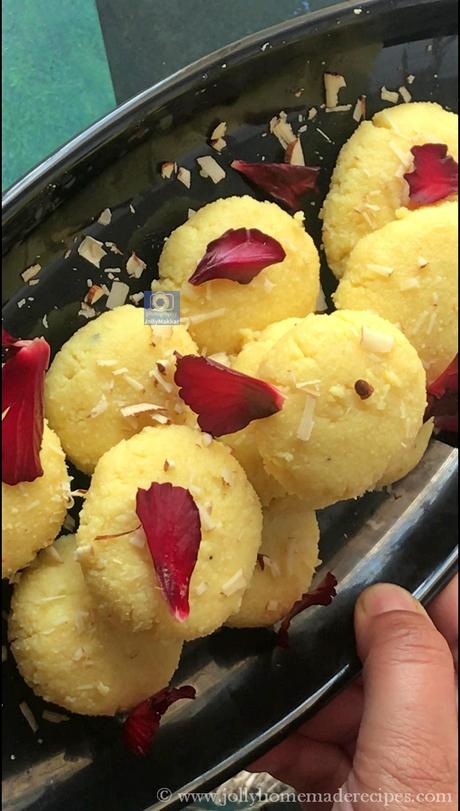 Check out the video of how to make chenna at home with all tips and tricks
You can try more easy and simple sweet recipes from my blog like 
mughlai style kesar phirni 
dry sweet vermicelli, 
oats sesame fudge
kesar rasgulla
vermicelli pudding
Important Notes
Once you mix all the ingredients in the Chenna, mash it properly using your hands for 3 to 5 minutes for the best results. Do not miss on this step, this is very important.
Chenna should have a little moisture in the same, before cooking. 
Do not over cook chenna for more time, it will become crumbly and grainy.
Use a muslin cloth or clean cotton cloth to make Chenna.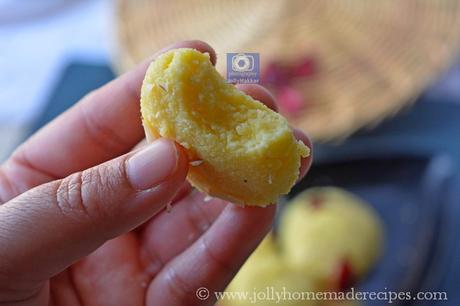 This recipe is a part of 
A to Z recipe challenge
, we choose key ingredients alphabetically to cook and post a dish every month. This month it was alphabet time "R" so I choose my key ingredients SAFFRON and make this easy and simple KESAR SANDESH SWEET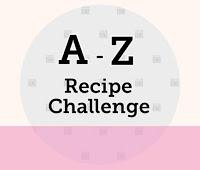 Did you try this recipe? 
Click a picture and mention 
@jollyhomemaderecipes
or tag 
#jollyhomemaderecipes 
in Instagram or Twitter
Subscribe to our 
YouTube 
Channel 
Click here to 
Subscribe
our 
YouTube 
Channel and stay updated with our latest video recipes
PIN IT
 later for your future use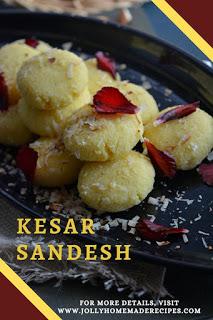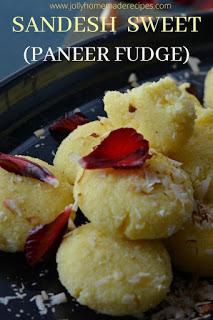 HAPPY COOKING & ENJOY!!