If a specific hair oil sells 1 bottle every 2 minutes worldwide you ought to be paying attention.  Since the original Kerastase Elixir Ultime was released that's approximately the rate it's been selling at.  Elixir Ultime has been hanging 10, surfing the huge  hair oil swell the beauty world is having at the moment.  It's true, have you seen the arsenal of hair oils now being marketed everywhere?  Women the world over love Kerastase, so you know that when a brand like this does a hair oil, they're making it their own way and they do it real good.  The Elixir Ultime family has expanded with 3 newly scented variants with specific benefits for different hair types.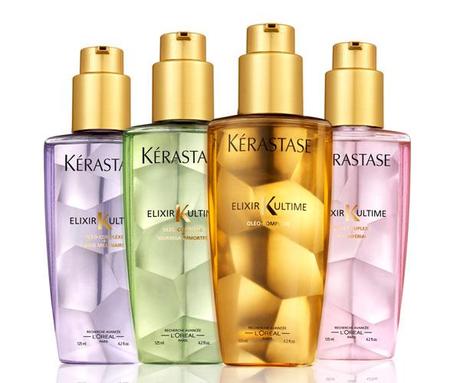 LEFT TO RIGHT: 1.) Grand Cru, ROSE MILLENAIRE – for fine, sensitive hair, 2.) Grand Cru, MORINGA IMMORTEL – for damaged hair, 3.) Elixir Ultime, OLEO COMPLEXE – original base formula, ALL HAIR TYPES, 4.) Grand Cru, THE IMPERIAL – for color-treated hair
The original base formula of Kerastase Elixir Ultime (which is part of all variants)  is a power-packed combination of 4 treatment oils.  Please do not confuse these 4 ingredients with the 4 Elixir Ultime variants, this is what the Oleo-Complexe contained in all variants consists of.
1. PRACAXI OIL – Originating from the Amazonian regions contains active anti-oxidants.

2. ARGAN OIL – One of the rarest oils in the world from Morocco known for its reparative and regenerative properties.

3. MAIZE OIL – The star ingredient in Kerastase's first ever hair mask, "Masque Mais" Rich in vitamins A, E, and Omega 6.

4. CAMELLIA OIL – Extracted from Camellia flowers in Asia, this oil is a source of Vitamin F and fatty acids, and Omegas 3 & 6
Exactly one month ago I attended the exclusive Kerastase Grands Crus launch and I came home with these two variants.  We who were invited were all given two random variants each.  Oddly enough, I ever so randomly ended up with the exact pair I would have chosen, who knew right…the gold Original Oleo-Complex (not especially scented) and the pretty in pink "The Imperial" Grands Cru, the one specifically formulated for protecting and defining color-treated hair, which I absolutely like the scent of, and so does my mother.
THE IMPERIAL FORMULA (pink): Oleo Complexe + Imperial Tea, with the highest concentrations of antioxidants and white tea extract, Imperial Tea enhances the true depth of color.

INGREDIENTS: Cyclopentasiloxane, dimethiconol, zea mays/corn germ oil, argania spinosa oil/argana spinosa kernel oil, camellia oleiferas, pentaclethra macroloba oil, butylphenyl methylpropional, benzyl salicylate, hexyl cinnamal, benzyl alcohol, linalool, limonene, citronellol, geraniol, coumarin, camellia sinensi extract/leaf extract, parfum/fragrance, C52498/1 (indicated on the bottom, behind the box)
Here's a tip to get you a bit more expertise when reading ingredients.  When reading ingredients know that predominance by weight means the ingredient which weighs the most is listed first (*FDA).  An ingredient that comes first, in a proper, official list generally means that is what it contains most of.  I'm not surprised a silicone ingredient came first, most of these highly commercial hair products that promise "instant" effects usually contain a combination of silicones in them, no biggie.  What's great to note though in this product is that the "magical" 4-oil combination, aka the "Oleo-Complexe", already comes into play beginning with the third listed ingredient, maize oil ("zea mays/corn germ oil).  I've read up on some hair oils where the prized oils in the formula were only read out from the 5th, 6th, or even 7th ingredient counted.  So you can be assured in this Elixir Ultime product that you're getting a good amount of what you expected.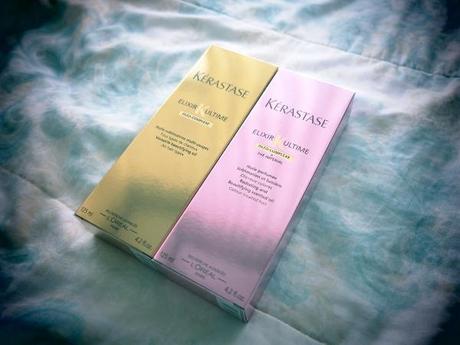 It doesn't make much sense to show how this enhances my hair since I've got a pixie do but I'll tell you what I like about it is it's a thin oil, it's not gloopy.  Since I'm not aiming for volume with this hair oil its smoothing and soft shine effect is exactly what I need when frizz and too much lift come into play.  It's not unattractively greasy as long as you only put 1 pump on, or 2 pumps for longer hair and rub the oil briskly between your hands before applying.  I would strongly advise against applying this directly from the bottle onto your hair, put it on the hands to warm up the product prior to application and avoid the roots at all costs if you don't want to kill volume on long hair after blowouts.  It's absolutely marvelous for the ends if you've got dry, damaged hair and is more often used as a finishing product or different sort of leave-in conditioner.  I have to say this again, the Pink variant smells super lovely, even if it's specifically for color treated hair you can still use it even if your hair isn't colored.
A bottle of Kerastase Elixir Ultime costs Php2,280.00.  To avail of Elixir Ultime, visit your nearest salon that carries Kérastase products.  For more information, visit the official Kérastase website at www.kerastase.com or call the local Kérastase RP hotline, (02) 672-7200.
*product provided by brand for review