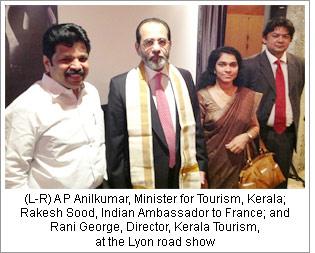 The Kerala Tourism Department recently concluded its three-city road show in Europe - Brussels in Belgium, Lyon in France, and Rome in Italy. A P Anilkumar, Minister for Tourism, Government of Kerala, who led the delegation from the state, said the tremendous response from buyers to the road shows in each of the three cities showed that the state continues to be a prime destination for European tourists. "We will certainly plan more activities for this market in the future. I'm sure our efforts to promote environmentally -sustainable projects and Responsible Tourism will attract more travellers from Europe," the Minister said.
Trade participants from Kerala included Ayurveda Mana, CGH Earth, Eastend Hospitality, Hi Tours, Intersight Tours & Travels, Oriental Routes, Pepper Tours, Pioneer Personalized Holidays, and Somatheeram Ayurveda Group.
In Brussels, Dinkar Khullar, Indian Ambassador to Belgium, was the chief guest at the programme in which around 90 buyers took part. They interacted with representatives of Kerala Tourism trade to explore business opportunities. The turnout was similar at the road show in the historic French city of Lyon, where Rakesh Sood, Indian Ambassador to France, was the chief guest.
As many as 86 buyers participated in the event in Rome where Kerala showcased its tourism products and services, including the latest offerings in Ayurveda, Heritage, Wildlife, Adventure Tourism, etc. A 'Go Kerala' prize draw was held in each of the three cities, in association with Qatar Airways.
Rani George, Director, Kerala Tourism, who made presentations at the road shows, said that travellers from Europe are also likely to be interested in new products designed to promote historically- and culturally-significant destinations in the state. "Our history and heritage are opening up new avenues for tourism. For visitors from Europe and elsewhere, these will offer new ways to discover and explore Kerala," she added.
Source: http://www.travelbizmonitor.com/kerala-tourism-concludes-3city-road-show-in-europe-19208