Staying in a lodge and sleeping in a tent is a big part of the experience of doing a safari. These lodges are inside the park so there is always the possibility of having wild animals outside your tent. I am using the word "tent" very loosely as these tents are actually more like hotel rooms. Whatever the case, it can get pretty unnerving because in the middle of the night, you hear strange noises outside your tent. Twice we stayed in a lodge built a few meters from a body of water. Both times, the water was populated by crocodiles and hippos. Crocodiles sometimes go out of the water and stay a few meters from the tent! I was always afraid that I wouldn't see them and they would bite me. The hippos on the other hand like to go out of the water at night. They are most dangerous when they hurry back into the water at dawn.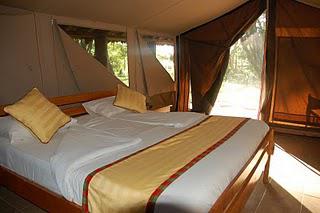 Tents at the Vogayer Safari Lodge
Hippos run over anything between them and the water. Of course, there is always the possibility of a leopard waiting to eat you when you step out of your tent at night. Thank goodness for the Maasai warriors protecting us!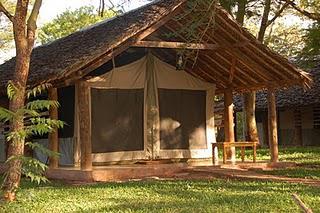 Accomodations at the Vogayer Safari Lodge
It was an eerie experience being the "hunted".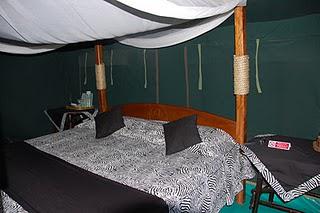 Patterson Camp