Kendall Jenner wants to get a gun & Kim Kardashian hates the idea of it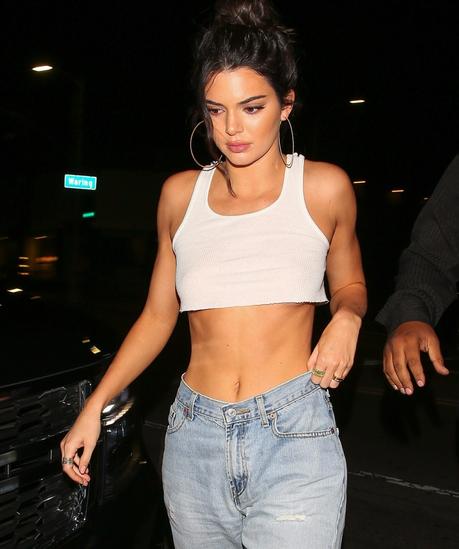 Kim Kardashian was assaulted and robbed at gunpoint, and she has strong feelings about guns. To be fair, before the Paris robbery last year, Kim was already finding her voice as an anti-gun-violence advocate. I think for Kim, becoming a mother made her think differently about a lot of issues, and she started getting much more political, from openly supporting Hillary Clinton, to speaking out about gun violence, and using the reality show platform to highlight reproductive choice issues. I have no problem with any of that, and I don't think Kim is "wrong" to be scared of guns or to be afraid of being around guns. Perhaps this will come as a surprise as well, but I also don't think Kendall Jenner is "wrong" for thinking about buying a gun. In a new clip from Keeping Up with the Kardashians, Kendall, Khloe and Kim debate gun ownership:
Kim Kardashian is not here for Kendall Jenner getting a gun to protect herself. On Sunday's all-new Keeping Up With the Kardashians, Kendall and Khloe Kardashian sat down with Kim to talk guns.
"Kendall and I were talking earlier and she just feels really unsafe. She says she has literally a different stalker outside of her house every few days. She's a single girl who lives alone, like someone's already broken into her home, what if she was there?" Khloe explained. Kim, an advocate for gun safety laws, insisted that a gun just isn't necessary.
"Well, that's what you have security for," Kim shot back. In an effort to help Kim understand, Khloe asked Kim if she thinks having a gun would have helped her during last year's Paris robbery.
"In your situation, say that gun, you were able to get access to it, would you know what to do?" Khloe asked. Even if she did know how to use one, Kim wasn't so sure a gun would've changed the outcome of that fateful night.
"I would not shoot these, it was three against one, or six, you know, or seven, I didn't know about. There was no way I was gonna get out of there, I'm not like, Laura Croft," Kim said.
At the end of the day, guns are a no go for Kim. "I'm not comfortable with it. I wouldn't want my kids around it. I wouldn't want sleepovers going on here, with the kids here and I know there's a gun," Kim insisted.
[From E! News]
If Kendall wants to get a gun and she thinks it would make her feel safe, then I support that choice. I think Khloe is coming at it from that angle too – Khloe isn't thinking "will the gun actually make Kendall safer?" she's thinking "will it make Kendall FEEL safe?" Kim's not wrong either – she would feel uncomfortable being in a house with a gun, or having her kids in a house with a gun. There's zero harm in Kendall's curiosity, nor would there be any harm in Kendall learning more about guns and going out for some target practice, just to make sure that she would know how to use a gun if she needed to. Basically, I'm sort of shocked by how educational and after-school-special this clip was. There are no bad guys, no petty beefs. It's three sisters talking realistically about what guns and gun ownership would mean to them.
Photos courtesy of Backgrid.
Source: Kendall Jenner wants to get a gun & Kim Kardashian hates the idea of it
5 total views, 5 views today