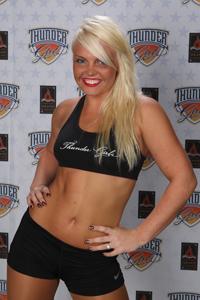 The 2012-13 NBA Playoffs are in full swing. Fifteen teams are in the tournament looking to unseat the Miami Heat as NBA Champions. One team in particular is receiving quite a bit of press - the Oklahoma City Thunder. OKC is the number one seed in the Western Conference and would enjoy nothing more than a chance to avenge last years loss in The Finals to the Miami Heat. However, a couple of challenges have arisen....
Is it possible, i'm referencing All-Star Russell Westbrook and his knee surgery? Certainly that's going to present a challenge to the playoff hopes and dreams of OKC.  Yet, that's not the challenge this post will focus on. The focus of this writing is.....
Kelsey Williams.
Kelsey Williams - is she a roster replacement for Westbrook? Of course not, yet Ms.Williams is an integral part of team OKC. How so? Remember what James Brown told us:
This Is A Man's World
But it would be nothing, nothing 
Without a women or a girl
Kelsey Williams is a member of the Oklahoma City Thunder Girls. Last year i included the OKC Thunder Girls, in a post about that very subject. Ms. Williams finds herself in the eye of a media storm. For what reason? The same billion-dollar reason Superstar Sports Illustrated model Kate Upton is deemed controversial.
Is Kelsey Williams Too Chubby for A NBA cheerleader?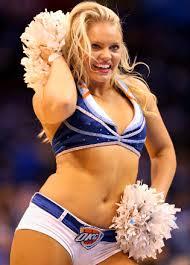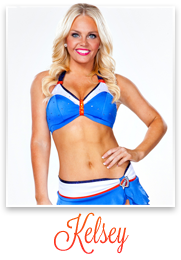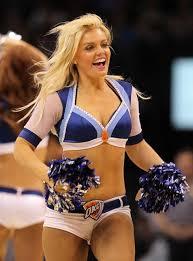 WOW!!
Seriously??
With televised HD network broadcasting of some of the most gifted athletes in the world, tongues are wagging about the supposed "chubbiness" of  OKC Thunder Girl Kelsey Williams as a NBA cheerleader?
Unbelievable!!
Ms. Williams is NOT a cheerleader.  She's a highly skilled dancer, one of 20 chosen from a rigorous audition process.Take a look at this video:
http://www.nba.com/thunder/video/2012/08/03/TGfinals120802mov-2175422
In a way, this media storm can be positive. The way Ms. Williams has handled being singled out in such a manner, is impressive. Hopefully, this will showcase how people of all shapes and sizes are athletic, healthy and happy.  Hopefully, this will put another dent in the media-born definition of what beauty truly is. Thank you Kelsey Williams, for your contribution!!