True Blood's new hot and high-tempered werewolf, Rikki, played by Kelly Overton just started showing up this season on True Blood, but now she is also going to be featured in Runway Magazine.
In addition to True Blood, Kelly has also been seen in other major TV series such as Criminal Minds, The Practice, Medium, Numb3rs, and CSI.
Naturally beautiful Kelly shows up to the covergirl shoot in Culver City Park, Los Angeles wearing a cute blouse, skinny jeans, and taupe leather ankle boots. She's got a sincere smile and a sweet voice, and fills us in on her True Blood character, her experiences in the acting industry, and her short-lived stint as an alien.
Click on the image below to go to the site and see the video of Kelly at the photo shoot.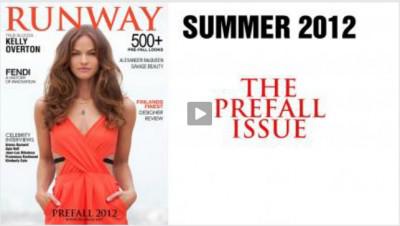 Here's the first bit of the interview in the magazine with Kelly. To read the whole interview, you'll have to purchase the Summer Print Version of Runway.
RUNWAY: So you started off in theater. What was it like to make the leap from the stage to the silver screen?
KELLY OVERTON: Yes, I started off in theater. I went to the Academy of Dramatic Arts in NYC. I starred on Broadway in the Graduate with Kathleen Turner and Jason Biggs. And then coming out West, you know, it's a very different medium. I had to learn the art of subtlety. Your emotional life is the same if you're on stage or on the silver screen, as you say. But the difference is in how you express it, how you portray it. So, I had to learn the art of trusting that the camera and viewers, who are going to be so much closer to me than if they were watching me in a play, that they can see everything I'm feeling, even in just my eyes. I had to learn to trust that and connect with the audience in a new way.