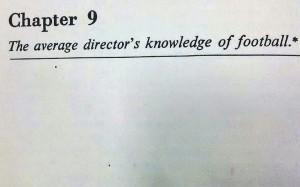 From Len Shackleton's autobiography (with David Jack), Clown Prince of Soccer?

What would Keir Bradwell
, our marks-out-of-10 columnist, make of it? One reader, Bill, said Seb Larsson was the only player whose head failed to drop: 'I would say he was [our] Man of the Match and give him a 5, so Keir will probably give him -5.' One newspaper had Santiago Vergini on 1.5/10, Vito Mannone on 2/10 and other team members on three or four, a shamefully low set of ratings for a top-flight side.
Here is the answer. It reveals either the justifiable anger of a supporter of any age or the impetuosity of youth, as you prefer, and draws for inspiration on the great Shack.
I shall quote Keir's e-mail in its entirety:
Sorry about the lack of an attachment this week, I've copied and pasted them in below instead. Here it is:

Southampton 8 – 0 Sunderland: Player Ratings I have decided, after some consideration, to put as much effort into this week's player ratings as the players put into the game against Southampton. Here they are:

All the best,

Keir