Martin Kaymer is standing up for Tiger Woods before their two-day golf pairing at the Dubai Desert Classic this week, defending the now number three's right to sort out his private life for the sake of the game.
"Tiger shouldn't be getting a hard time," number two golfer in the world, Kaymer, told reporters, declaring that the world of golf should be "thankful" for what Woods has done for it.
Lee Westwood, playing in the pairing with Kaymer and Woods at Emirates Golf Club, may not be defending Woods' honor but understands that Woods still adds excitement to the game, "I'm watching how Tiger is playing. I'm seeing if he's playing well."
Speaking of a great honor, golf fans around the world should congratulate Westwood for being awarded lifetime membership on the European Tour.
George O'Grady, Europe's chief executive, said of Lee Westwood, "the fact that only 12 other players have claimed the position of Number One over a 25-year period speaks volumes for the enormity of his achievement. He has done this through the quality of his golf and sheer force of personality – and is undoubtedly one of our greatest champions."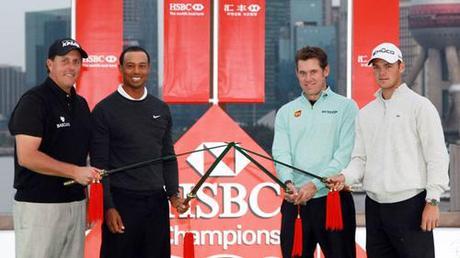 Mickelson has a sword in his hands! Is he looking to depose all three of the world's top golfers? ;-)




credit: MyAvidGolfer.com



Although the top two European Tour golfers are concerned with playing their own game, Kaymer's "fan" status has placed him in a precarious position. The "stars" in Martin's eyes for his teen idol could blind him from a Woods thrashing if Tiger's game rebounds in Dubai. Kaymer believes and insists that Tiger is still "the best player in the game."
Here's the part that could hurt Kaymer's mental game. Kaymer said of Woods, "At the moment, Lee and me, we are Numbers One and Two, but in every golfer's mind, he is the best player in the world."
Kaymer's sensitivity to Woods' plight might also take down his guard.
Still, all Martin Kaymer wants is a fair fight, wishing to go one-on-one with Woods in a Sunday duel.  
May the best golfer win.
What do you think? Voice your opinion on Golf4Beginners on Twitter.
Read Golf for Beginners blogs here.

Posted via email from stacysolomon's posterous